Finally Firefox / Mozilla community has unleashed the most deadly feature which will change the way Firefox Add-ons used to spread out in community. They call it as Mozilla Firefox Add-on Collector.
This is another Add-on which can be used with Firefox to manage collection of extension which you use with Firefox and it is directly linked with your account i.e. All your Add-on list is available in your account. This is like creating your own play-list of your favorite song and you can share it with anybody.
What are the advantages of using Collections ?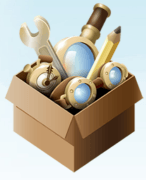 Synchronize Same add-on's in any computer.
Build a collection suitable for your friends falling in different class. Like you can have one set for Developers one for Webmasters and so on.
Sync devices and keep all your browsers stocked with your latest collection. So if you install one add-on on your office computer same gets on to your home computer once you login there.
In case you have subscribed to somebody Else's list, you will get notification if they add new add-on to the collection and only when you say yes it will install it in your computer.
Power of collaboration for Add-on building companies or free-lance developers.
Give users power to share their favorite add-ons to community
Which in turn will let it calculate an internal ranking on which Add-ons are people recommend most.
Developers now can keep all their add-ons in one place and find out how community reacts to that by using voting system.
Share Add-ons between multiple profiles in Firefox Itself.
Prerequisite for Mozilla Firefox Collector

You need a Mozilla Account
You need to Install Firefox.
How to install Mozilla Firefox Collection ?
First install the collector from here and then you should configure with your Mozilla account as seen below. Since this is an Add-on itself you will find it under Tools > Add-ons > Subscription.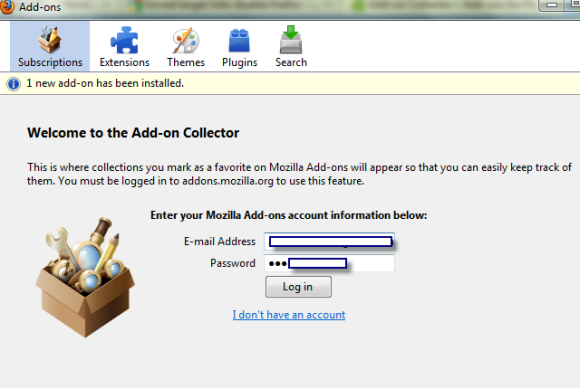 The above screen is just to link your Firefox with Mozilla Account. Next you should click on Extension tab and look for Add-on named as Add-on Collector.
How to Publish your existing Add-on to A collection ?
This was the first thing I looked upon and you will be Glad to know that it is amazingly easy.
To publish all your existing Add-on in a new collection, you should go to Add-on collector settings.
Give a name in the collection name.
Select what kind of add-ons you want to publish. This is very important step as here you will define right from collection name to what kind of Add-on i.e. Themes, Dictionaries etc you want to Auto Publish to collection. Also make sure you don't share Disabled Add-on if you feel they are buggy.
Click on Create Auto Publisher.
Now Go to general settings and define how often you want to update this collection and You are done. IF you login to your Mozilla Account you will be able see the list you just created.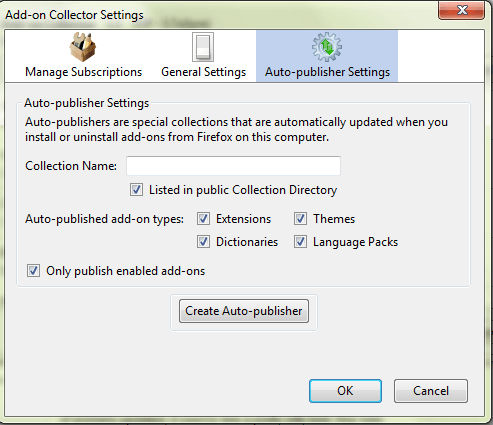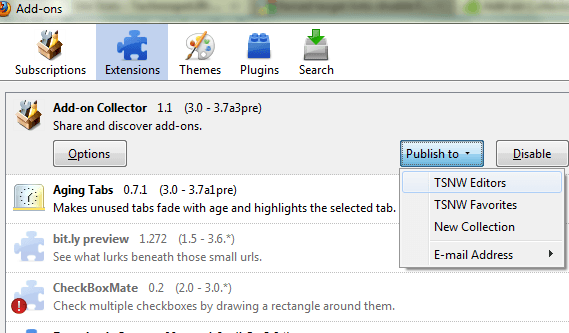 Adding Existing Add-ons to other collections
Once you install this collector add-on every Add-on gets a button which says "Publish to ".  This feature allows you to :
Let you see all the collections you have.
Add any of the Add-on to another collection.
Also it lets you share a single add-on to any email address by selecting Publish to Email Address. While sending it you can choose to remember that email id.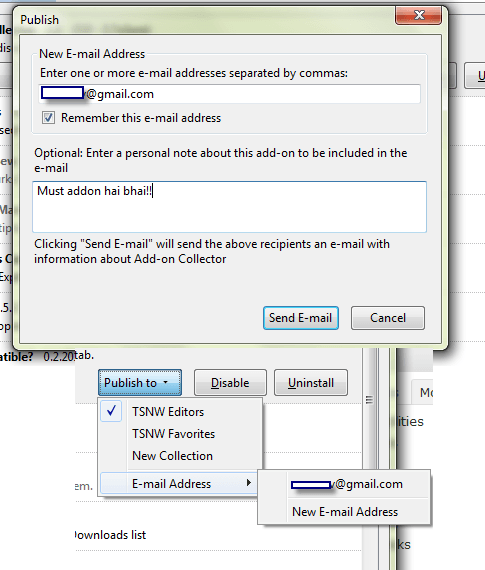 How to Create new collection ?
Go to Mozilla Collector and Signin.
Look for My Account Link on top right.
Select Collection when you click on it.
Once you get to that Page Look for Create Collection link and you would see the screen below.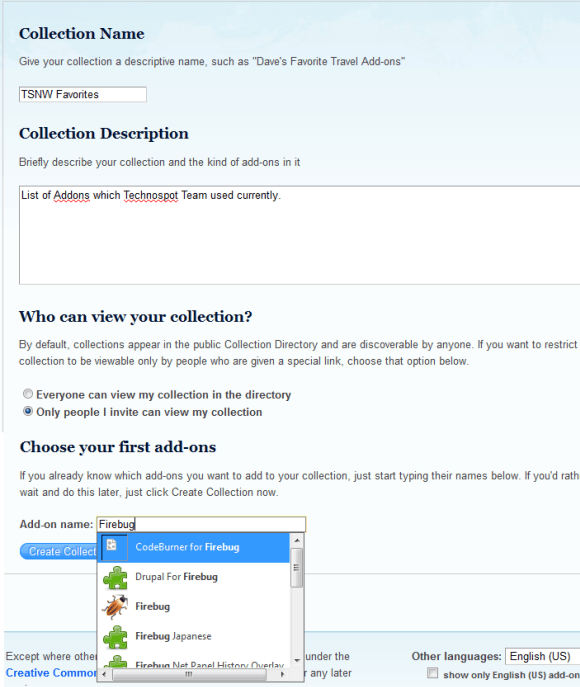 To start with a new list you can search and add-on one Addon to it. The best part of this is that it's a Auto Complete Field.  🙂  Once done you can see all your collection here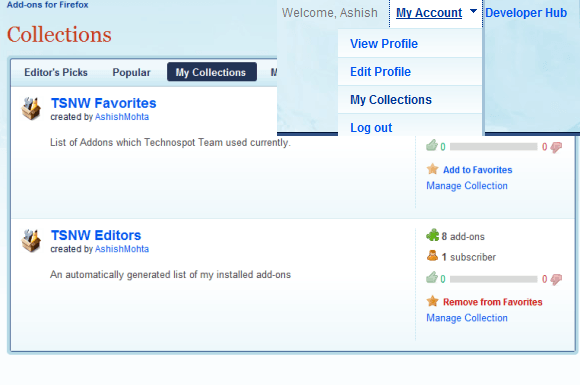 Managing Mozilla Firefox Collections :
This is extremely important from point of view of developer who want to promote his collection or  marketing team trying to popularize the collection.  Click on the Manage Collection to edit the look and feel and few more configuration you can change :
Create a Unique URL of the Add-on collection. When you create it looks like https://addons.mozilla.org/en-US/firefox/collection/307ef57e-539b-be56-f013-a711729ee16a but you can change it to https://addons.mozilla.org/en-US/firefox/collection/tsnw-recommended
Add an Image which might represent your collection. Like if you club together Travel Add-ons give add a thumbnail which represents it.
Support to Others. In case your Addon works for Thunderbird, SeaMonkey, Sunbird and Mobile you can do that too.
Deleting a collection
Collaborating In Collection :
This is one of the deadly feature which I have not seen in any Browser yet. ( If I am not wrong, Google Chrome has already started working on it. )
Lets you are a company who develop Firefox add-on and you have huge developer team. You can add all of them to a collection and let them publish their add-on into collection. "I can add you to add the add ons to my add-on collection" , simple but powerful.
You can also have a team who manages the Add-on when it comes to permission, adding few developers or removing them etc.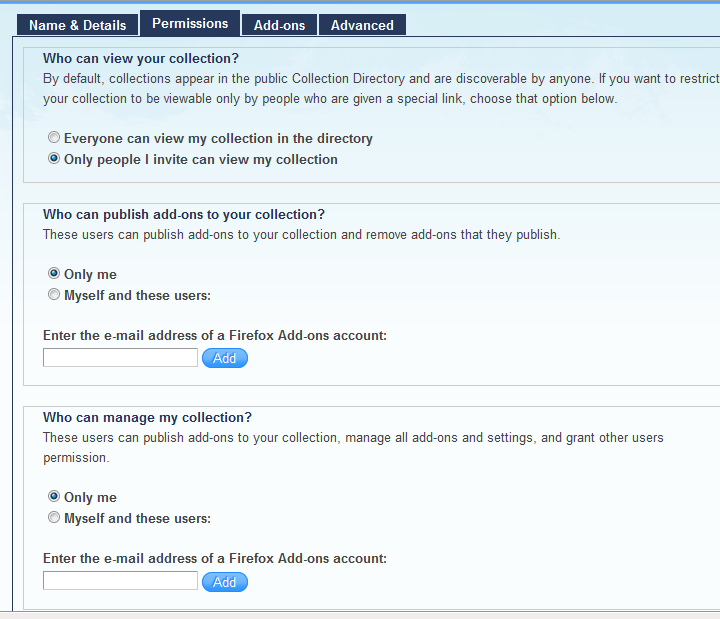 Drawbacks / Bugs of Mozilla Firefox Collector
You need to click twice to get to Manage Collection.
Syncing the collection you create online or even from Auto publishing feature is not instant. You can either wait for Update to happen or restart your Firefox to get it update.
Few Resources :