You might be experiencing screen and display-related problems on your Windows PC. So, you would have tried several troubleshooting methods and gained assurance that nothing is wrong with your display monitor. The easy way out is to reinstall the display driver, but it is tough to remove it. This post will share how you can manually uninstall or remove display drivers in Windows using the Display Driver Uninstaller software.
What Is DDU, Why Use It?
DDU is an abbreviation for Display Driver Uninstaller. It does the task of removing the graphics processing unit driver from your Windows OS. It supports AMD, NVIDIA, and INTEL GPU and uninstalls its related packages or remnants from your Windows OS. These include driver stores, registry keys, files, folders, etc.
For multiple reasons, whether your graphics card goes corrupt or you wish to change your GPU driver, you should uninstall Display Driver. Though you can do so from the Control Panel of Windows OS, it sometimes does not work.
Besides, it often works but is not that effective for numerous reasons. In such cases, Wagnardsoft DDU comes to the ultimate rescue for it.
Note: It works on Windows 10, Windows 11 and any other version of Windows.
How Does DDU Work?
DDU presents a configuration panel wherein you have to give specific prompts, select GPU driver(s), and then proceed further to uninstall. You should figure out your situation:
You have one GPU driver and have not used any other before
Whether you had multiple drivers installed.
The latter is when you change the GPU hardware on your PC.
Depending upon them, you should choose Clean and Restart or not. Besides, what's noteworthy is that though it removes the GPU driver, related packages, and such stuff, it doesn't affect system performance.
After removing it, Windows OS uses the default or generic GPU driver to ensure the display works. However, all the features of the driver, especially the resolutions, will not be available.
After uninstalling, you can choose the DDU to install the latest driver or download drivers from OEM or any third-party software to update the drivers of your PC.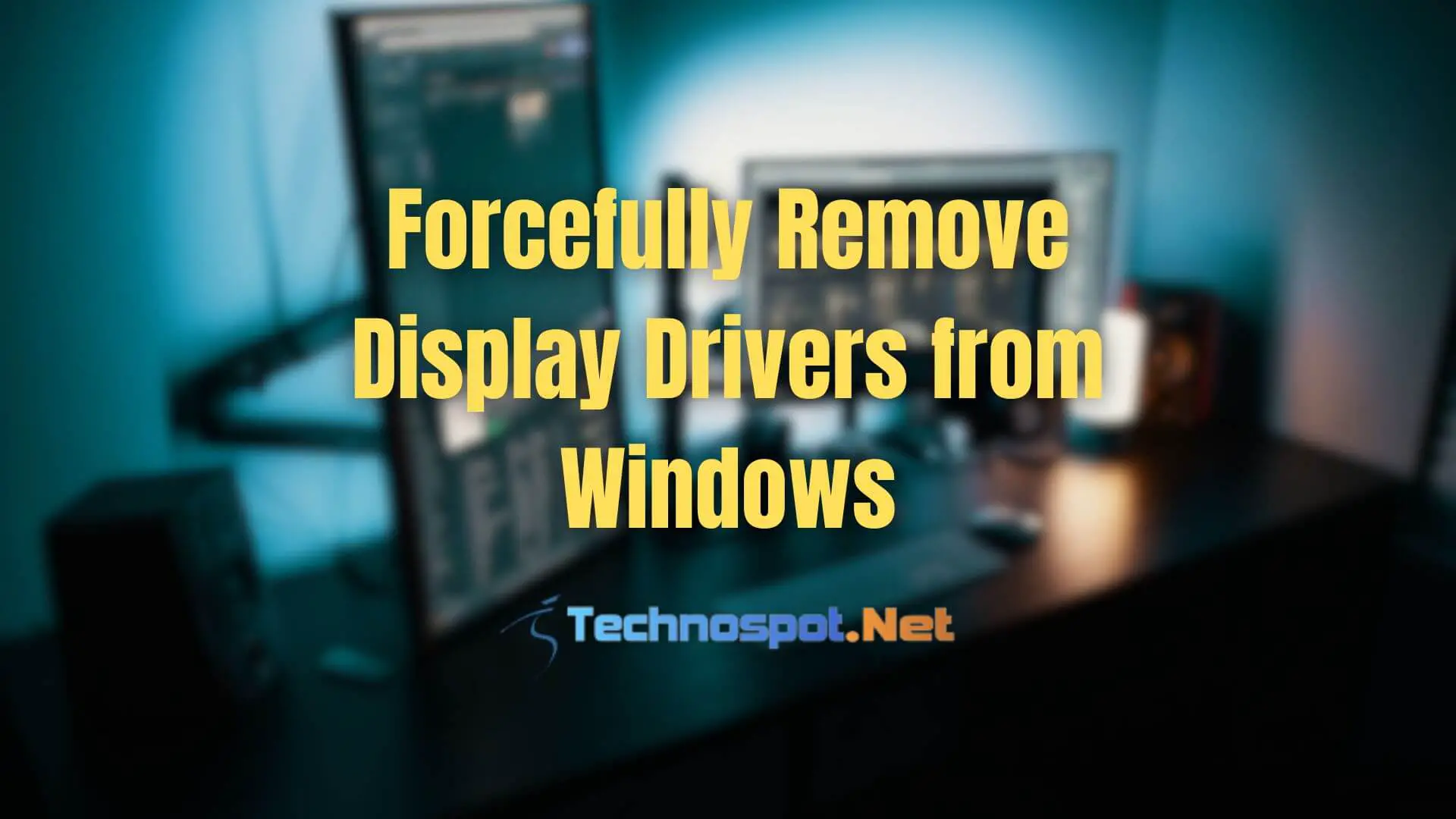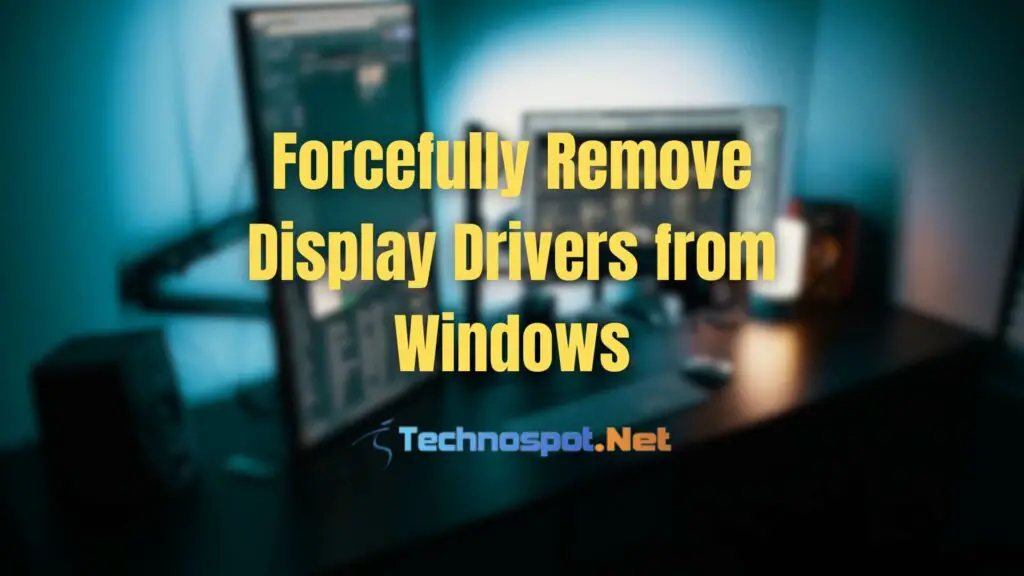 Uninstall Impossible to Remove Display Drivers from Windows
It would be best if you used the DDU in Safe Mode. It will ensure no conflict or restriction by the OS or any other software, and uninstall the display driver in Safe Mode easily. While you can use it in normal mode, you will be warned about it when you launch it for the first time.
Note: Make sure to create a system restore. If something goes wrong, you can use advanced recovery and restore your PC to a working state.
Follow the steps given below to use Wagnard DDU:
Download Wagnard DDU's exe file by visiting the link given here
Locate the DDU file, double-click, and extract the exe file on the Desktop.
Now, open the extracted folder, and click Display Driver Uninstaller to open it.
Check the options for the driver you want to uninstall.
Check the respective folder, i.e., C:\NVIDIA or C:\AMD folders, so the software can delete them.
On the right pane, you will see a drop-down menu; click on the arrowhead and select your GPU driver.
Besides, if you were using an AMD before and switched to NVIDIA, you must eliminate AMD and proceed with NVIDIA. The vice-versa is also true, but it's not applicable if you have used Intel before, as it doesn't cause any issues.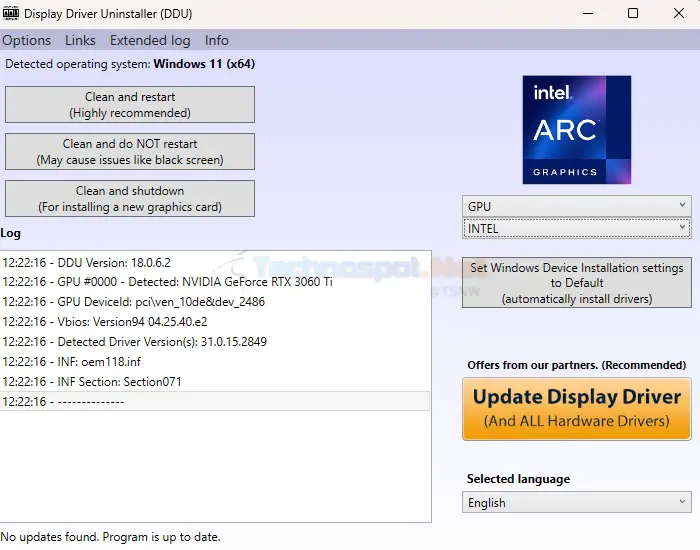 Clean and Restart:

Removes the GPU driver you are using and reboot your device. Don't choose it if you have installed any other GPU driver also.

Clean and Do Not Restart:

It works similarly to the above option but doesn't restarts. Choose it if you have previously installed drivers. You can choose it once and the above option for the second time.

Clean and shutdown:

Use the option to change your current GPU driver and install a new one. 
Depending on your chosen option,  the software will remove Display Drivers from Windows, and action (restart or shutdown) will be taken.
Conclusion
You would have gotten your answer when you learned what DDU is, how to use it, and how it works! DDU stands for Display Driver Uninstaller, using which you can uninstall GPU drivers which are hard to remove. It is much more effective than using the Windows Control Panel. This is because the latter does not remove files altogether; in some cases, users have found it ineffective.