Every Mobile Manufacturer provides their own custom software which helps you transferring what you love most, music, videos and photos so if you want to share or just spend sometime watching it, you can do that.  Now consider couple of situations here :
Situation One :
Now imagine a family where everyone has a different choice, which means everyone needs to have their custom software and in case their friends drop in with completely different mobile, he or she might not do it because the software is not there and you are not willing to download it.
Situation Two :
One of the major drawbacks of many mobile software or media organizer is support of formats, specially when it comes to movies and videos.  The reason primarily has to do with DRM, but if you have the song you do own the rights to get it at least on your phone.
Double Twist
Keeping these situations in mind, Double Twist is a free media manager which helps you organize music on your computer and can sync with almost any mobile your friend or you have and without installing any software that came along with your handset.
This application look and feel is very similar to iTunes but can detect any mobile phone. Once you are done installing it on your Mac or PC,  plugin your device and it will be automatically detected. For most of the mobiles you will need to enable the mass storage mode so music, videos and images can be accessed.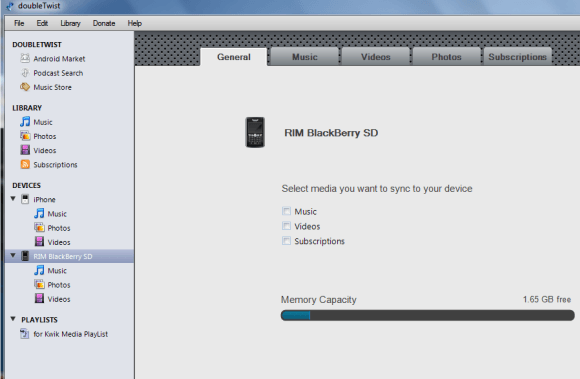 The only place it did not work very smoothly was with iPad and iPhone. For example it was not able to detect images and syncing music was bit sluggish. However the advantage you get here is that it can convert into a required format which your mobile understand, which iTunes and many other applications fail to do so.
Double Twist for Android
They recently have released an Android app which is super awesome. The app is called as AirSync which transfer music to and from your Android over Wi-Fi network.  This means it can work with Galaxy Tab or Nexus running Android.
This remind of the Blackberry 6 feature for Music where I can queue a song when at Office and it gets downloaded as soon as I get to home.
Download DoubleTwist Software from here and learn more about AirSync here