WinZip and WinRAR are both zip tools that you can use for decompressing and compressing files without trouble. They allow you to compress large files and decompress every significant file format such as rar, tar, zip, gzip, etc. They can also be connected to OneDrive, Google Drive, Dropbox and email, and many others. However, if you need to open the zip or the archive files without WinZip and WinRAR in Windows, you can read this quick and easy guide.
Windows Support for Archive files
Windows 11/10 has a built-in compression tool that you can access with right-click on any files/folders, then selecting "Send To > compressed (zipped) Folder'. It is suitable for occasional use, but it is limited in terms of features.
Furthermore, the built-in Windows Zip and RAR tool cannot create multiple volumes of a specific size, and it doesn't allow you to repair damaged archives and doesn't provide encryption. If you make use of it to compress an encrypted file, it will be decrypted after extraction.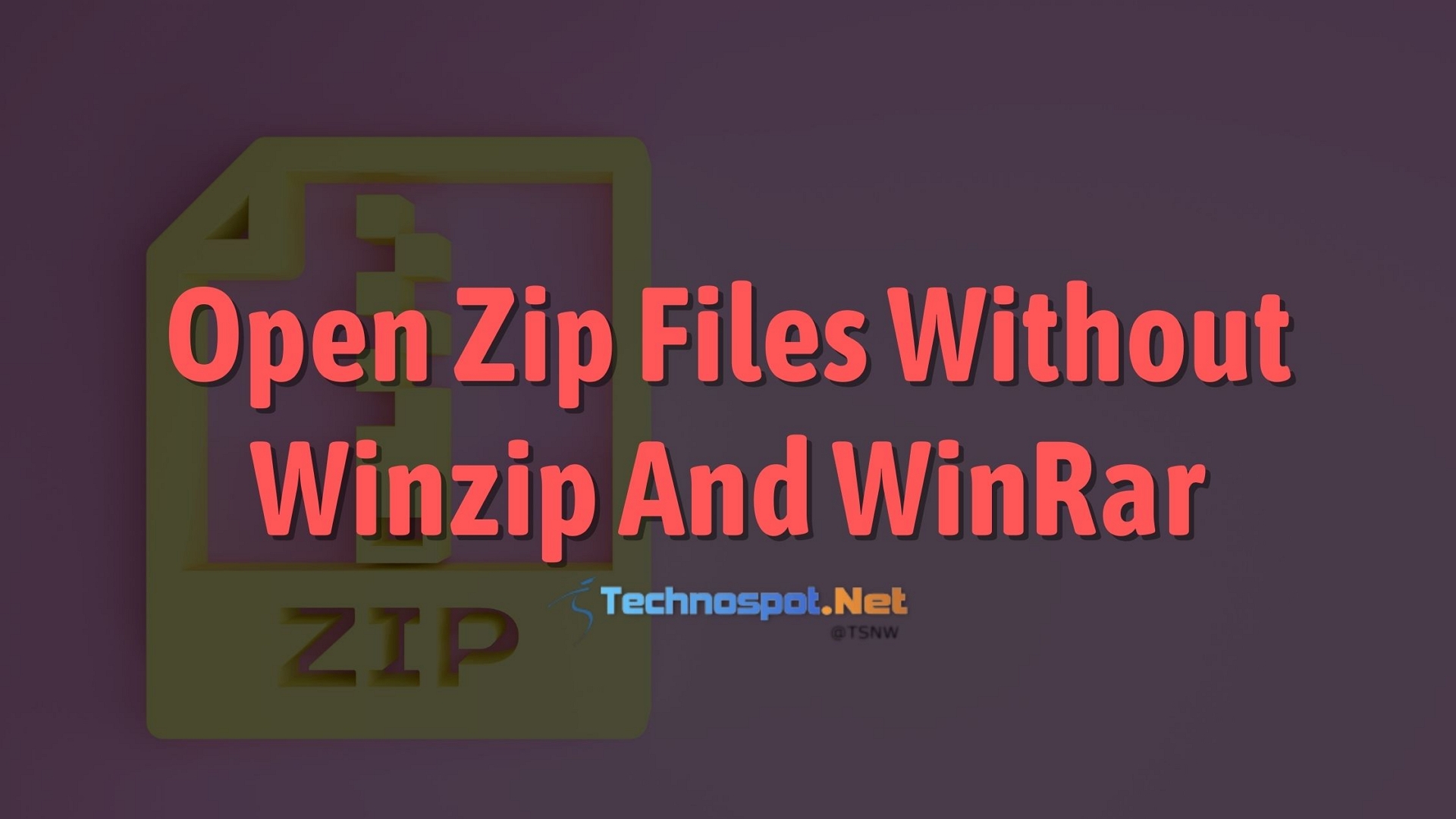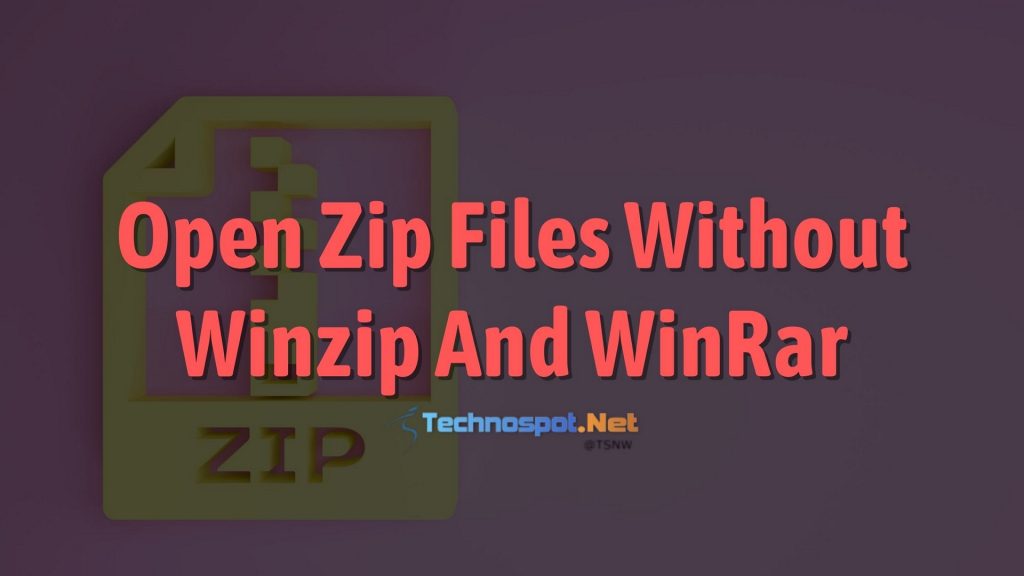 Open Zip Files without WinZip and WinRAR in Windows
Many users are looking for an alternative to the Windows utility, and it's important to know what options are available other than WinZip and WinRAR. These are the top free WinZip and WinRAR alternative tools that we found:
7-Zip
PeaZip
Ashampoo Zip Free
Zipware
Zip Archiver
Try each of these tools to see what fits your requirement.
1] 7-Zip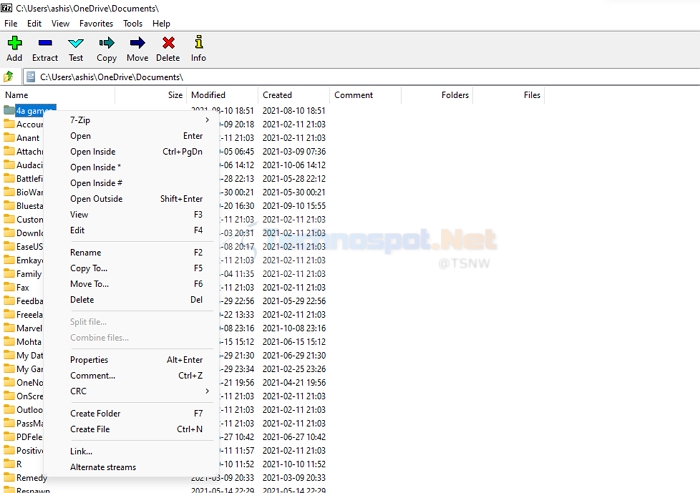 7-Zip is a unique program that is a free WinZip or WinRAR alternative, even for commercial usage. It's just 1MB in size and can zip and unzip almost every compressed archive you want to throw at it.
7-Zip's design is so impressive that you won't notice the sleek interfaces of its paid-for counterparts. It is possible to locate files that need to be archived with an easy Windows Explorer-style file tree or drag them onto the window you want to open.
This application uses robust AES-256 encryption for security. The application can be used in the commercial and business sectors. The formats supported by 7-zip include 7z, GZIP and BZIP2, and XZ.
The format itself is specifically designed to be high compression and is used by a majority of file archiving tools (both paid and free), making it a great choice to share. 7-Zip also allows self-extracting archives in 7z format.
7-Zip provides a plugin for FAR Manager (A software to manage archives and files). This toll can be Localized for more than 87 different languages.
It is possible to put password protection to archive packages and divide them into multiple volumes, which can help share extensive archives. The only thing it's lacking is the capability to repair damaged archives.
2] PeaZip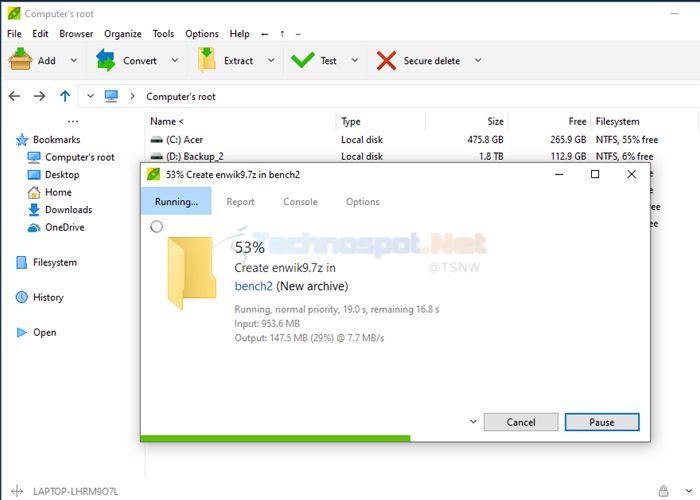 PeaZip is a compression tool that can support more than 150 file formats. This tool supports several security features, such as an encrypted password management system and two-factor authentication.
PeaZip is an open-source WinZip and WinRAR alternative that comes with additional features inside a significantly more extensive package of 10MB. PeaZip's default installation can create associations between files and add context menu options for you automatically.
PeaZip works with all compressed file formats. PEA is their file format that prioritizes security over compression and comes with optional integrity checks and authenticated encryption.
It is a user-friendly tool that doesn't contain harmful software. It can repair damaged archives and find duplicate files: additional features that convert archive formats and test for errors in archives.
It is not able to batch compress watermark images like other tools. However, it can rotate them and crop the images automatically.
3] Ashampoo Zip Free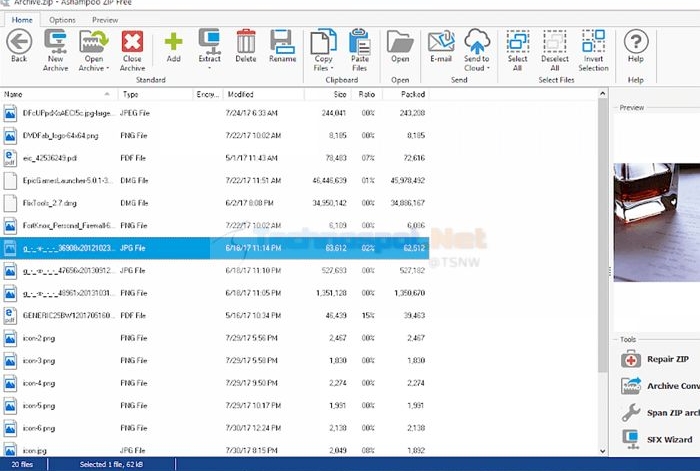 Ashampoo Zip Free is a user-friendly graphical interface and a touch mode with more prominent icons. It doesn't come with many choices, and all of its features are easily explained. It integrates well with Windows Explorer.
Many options on the main screen contain options for paid applications such as dedicated encryption and decryption tools. The essential features you'll find in other compression software for files are available, such as archive creation, repair, extraction, and multi-volume ZIP writing. This tool supports creating and extracting file formats like 7-ZIP, LHA, TAR, CAB, etc.
It is interesting that Ashampoo Zip Free also previews the files you download before extracting an archive. It happens automatically, so don't be surprised when a song starts playing when you click.
The more advanced users might prefer the more advanced customization options offered by other programs like 7-Zip. However, for the general user, this is a great alternative.
4] Zipware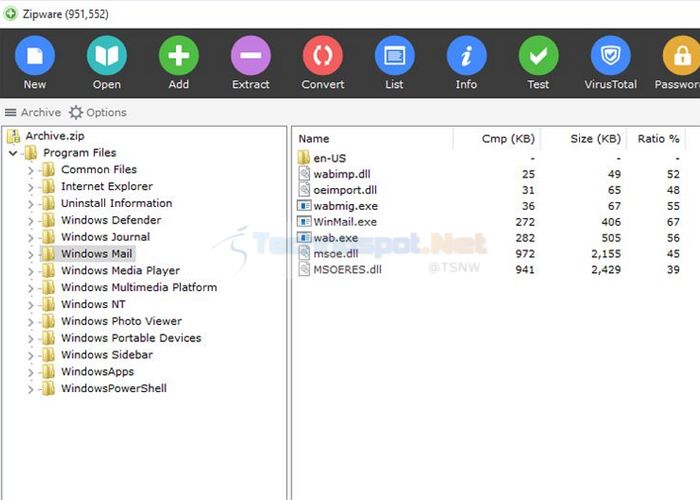 Zipware is a useful software for compressing files and is extremely easy to use. Select 'New' and "Open", select the source file or archive, adjust the settings to your liking, and you're finished.
Zipware's most distinctive feature scans for viruses. If the archive is less than 32GB, it can be checked for threats using VirusTotal. This won't be an issue for power users, but it's a valuable option for those who aren't sure about removing downloaded archives.
Zipware is entirely free to use.
5] Zip Archiver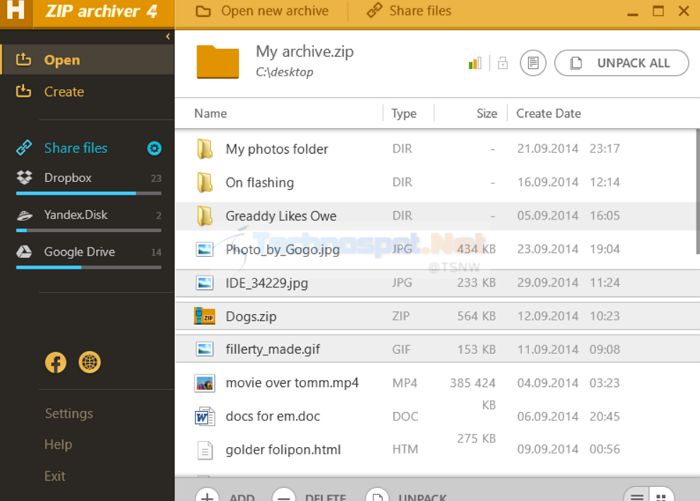 Hamstersoft's Zip Archiver is a free option for WinZip and WinRAR designed to be similar to numerous other paid applications. Its navigation is easy, with user-friendly features like the simple slider that allows you to alter the compression rate and the capability to upload archive files to cloud-based services.
Hamster Zip Archiver offers far fewer options for creating archives. And even though it can open a wide variety in compressed formats, it only allows the creation of zipping and 7z files.
But Hamster Zip Archiver's leading installer is written in English; however, if you decide to upgrade the program manually, you might find that there are few options in the native language of the Russian developer. Be sure not to install additional software or browser plugin that you do not want.
What is ZIP?
Zip format is an archive file that provides data compression without loss of data. Zip files are compressed images, folders, files, videos, and various other compressed data types.
What Are The Most Important Factors To Consider When Choosing A Zip File Opener?
It is essential to consider these aspects when choosing an open-source ZIP file:
Simple to use interface
Speed of compression
Security
Integration with different tools
Plugins support
Support for various platforms
Supported file formats and compressions
The encryption algorithm
How To Unzip Files On Windows 11/10 Without WinZip Or WinRAR?
Right-click on the zipped folder.
From the Context menu, choose Extract All.
The compressed files will be extracted in the exact location (by default) as the zipped folder. However, you can click the Browse button and choose another destination.
Conclusion
Compression is one of the most used PC features, being used for both personal and business use. We need to compress or decompress files to decrease the size or to email the files. WinZip and WinRAR are paid tools, but there are many alternative free third-party tools available on the internet to compress files or decompress different formats for free. They provide similar features as WinZip or WinRAR but with even better features. I hope the post was useful, and you are now able to open Zip Files without WinZip and WinRAR in Windows.