Cloud Drives are everywhere. If you have a Google account, you have access to Google Drive; if you have a Microsoft account, you have OneDrive. That said, the could drive can also be used to create backups of each other. This post looks at multiple services and tools to transfer & sync files between multiple cloud drives or file-hosting websites.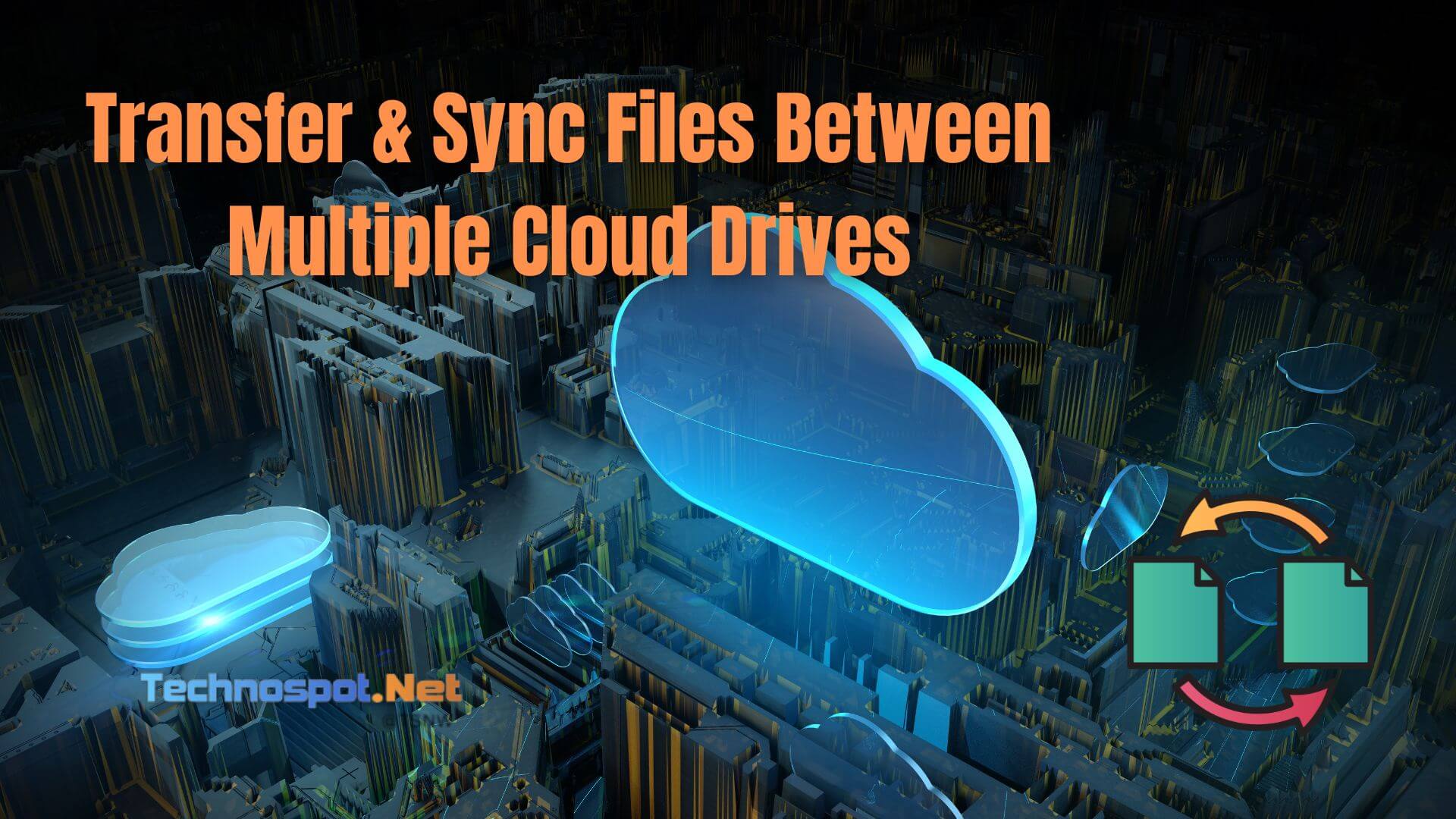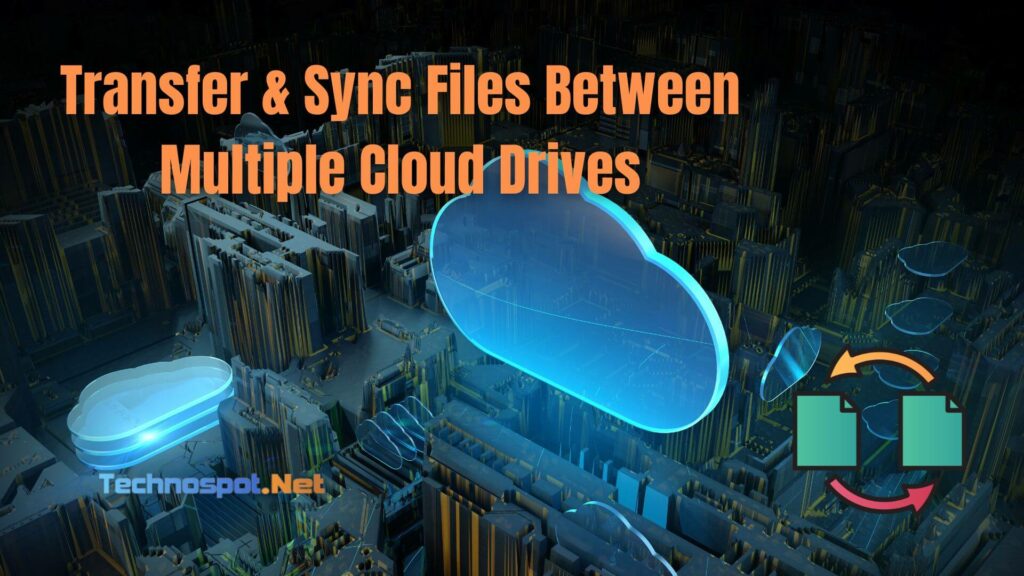 How to Transfer & Sync Files Between Multiple Cloud Drives or Multiple File Hosting Websites
You can use different services to share files between cloud drives or file hosting websites to create a backup. Besides, it makes management more effortless. But you would want to know the services which let you do so! We have carefully selected the best ones!
Below mentioned is a list of the same:
Cloud Files
MultCloud
Zapier
IFTTT
It's essential to understand and know that not all the applications in the list are free, and while some offer free plans, they are limited. If your need is such that you need to transfer files daily, it's best to pick up paid plans for the services.
1] Cloud Files
How about a professional tool that lets you share files instantly to plenty of hosting websites?
If yes, then Cloud Files is a must-check on your list!
The tool lets you share files instantly to multiple cloud drives or hosting websites, be it Google Drive, Dropbox, OneDrive, or Box. Plus, you also get shareable links to your files which you can share through any medium you prefer. Besides, you can even modify access to these links. You would be using Dropbox for managing the business files. However, you can monitor all your directories on multiple sites using these.
There's no restriction to the file types you can share with it. Be it Word, Excel, ZIP, PPT, PDF, exe, jpg, png, mp4, PSD, KIT, or any other, and you can upload them all.
Pros
Multiple File upload options
Advanced security
Easy to use
Cons 
Restricted to five file uploads/user/month
Limited analytics, i.e., five views/link
Check out the tool here
2] MultCloud
How about transferring and sharing files to over 30 cloud services with a single platform?
If that is suitable for your purpose, then MultCloud should be your go-to choice!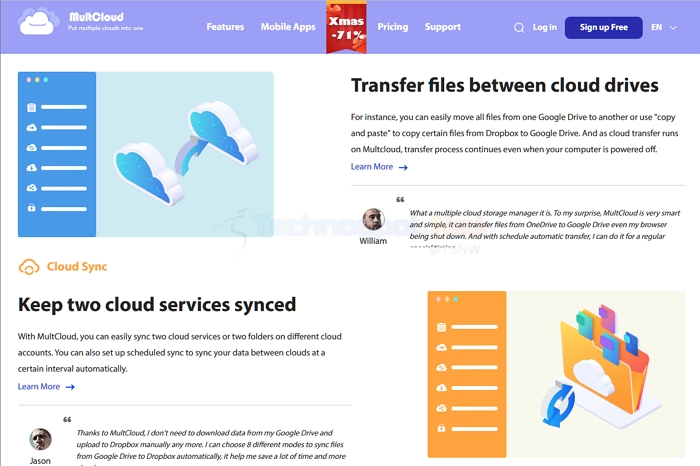 Apart from transferring files to multiple cloud services, it's also quite reliable. Besides, its quick working and intuitive interface is what grabs eyeballs. While most other services stop file transfer when your device turns off, this does not. Yes, you heard that right. You can also schedule the processes or automate them as per your preferences. If you are a novice to such services, this one is for you.
With its ease of use, you can adapt to it seamlessly. There are no specific modes of the file transfer. For instance, you can sync files from Google Drive to DropBox, and there are eight ways to do so. Hence, you can choose one that works best for you.
Moreover, if you use multiple cloud drive accounts of a single one, then you can integrate them over it for better management. It lets you transfer files to and from FTP servers also.
Pros
Allows you to connect with the FTP server for file import/export, also
Plenty of storage available in the free plan also
5GB free data traffic per month and two threads for data transfer
Cons 
Does not have two-factor authentication
Check out the tool here
Related: Best File Sending And Sharing Services for Windows
3] Zapier
Do you want to integrate your Google Drive with Dropbox and automate its processes too?
If yes, then Zapier lets you do so legitimately.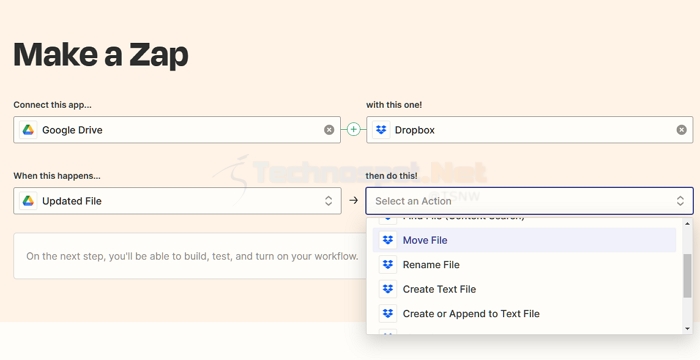 It's one of the most trusted services, so there are no security issues. Moreover, you don't need to learn to code to automate the processes, making it hassle-free. You can copy folders from Google Drive and paste them to Dropbox or vice versa. Furthermore, it lets you create folders on one platform that reflect on another.
The most exciting part is that you can scan files from one platform and upload them on the other. You can also schedule triggers when a file or folder is added to the drive. Besides, it uses Base64.ai for many of its processes, that's again secure. However, it is a bit complex to use, which is annoying for some users.
Pros
Faster file sharing
Multiple customization options are available
Cons 
File transfer is limited to 100 MB.
Paid Plan is required.
Check out the tool here
4] IFTTT
Are you looking for a tool that transfers files to multiple file hosting websites that even has an app? 
If yes, then IFTTT is something you must check out!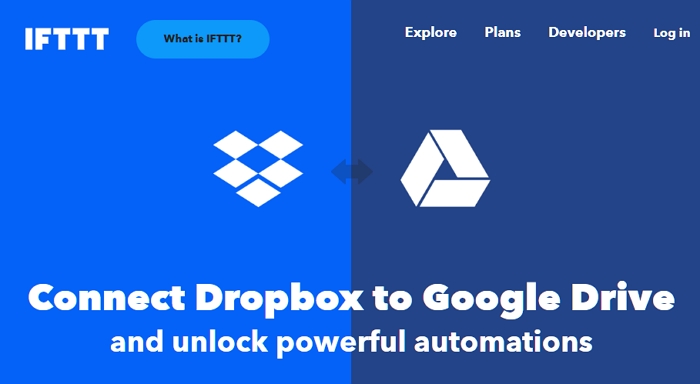 IFTTT allows you to connect multiple services using triggers and actions with the help of Applets. The best part is that tons of applets are available, and you do not need to write one on your own.
When using IFTTT, you need to search for services you want to connect, and once you find them, you can use actions and triggers to initiate the process. In our case, it will be to transfer files between the services. While it is not as refined as Zapier, a simple search can help you figure out which applet to use.
Pros
A wide variety of services is supported.
Easy to build applets or reuse existing ones
Cons 
Limited applets in the free plan
Limited triggers or actions
Check out the tool here
Conclusion
You were thinking about transferring files to multiple cloud drives or file-hosting websites and would have gotten your answer! Several services let you do so. Amongst them, four of them are the most efficient with their functionalities. Cloud Files is a free tool for instant sharing, which is easier to use. Besides, its support for multiple file formats makes it the best. MultCloud enables you to share over 30 cloud services at once. Zapier works well for Dropbox and Google Drive and lets you automate workflows. Moreover, IFTTT has support for Amazon Cloud and has a mobile app too.