USB drives are vastly responsible for planting several unwanted programs on your system, USB firewall is a small application, which protects your from this.
How the computer gets infected via USB devices
The whole mechanism goes like this, whenever a USB drive is inserted on the USB port of your system, there might be several programs, which enter your system without any notification, because they are the part of the Autorun.inf on the USB drive, so as soon as inserted these unwanted programs get activated and make your system a Victim, though antivirus software installed on your system takes care of this, so why to use this program, reason being, no antivirus is classified as perfect, the efficiency of a traditional antivirus software is around 80%, moreover this application provides you added protection, without  hampering the performance of your antivirus software.
How USB firewall protects you from infected USB drives
USB firewall also has the capability to clean the Autorun.inf on your local hard drives, remember the issue, when the double-clicking on the partition on your HDD asks you to choose the program to perform this action.
Once installed, it keeps an eye on every USB drive inserted to your system, if any suspicious file, with intruding nature is exposed to it, it renders the control to you and make a choice between 'Cancel' and 'Delete', which either keeps the files intact or remove them from USB, respectively.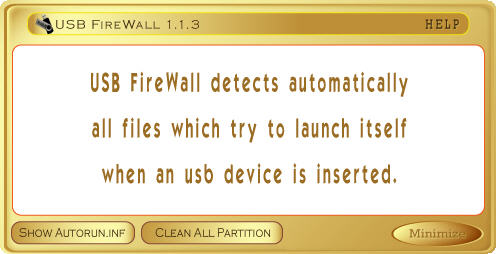 However after installation you can manually launch it to check such kind of files already on your drive, by clicking on the 'Clean All Partitions'.
This added security can be easily enjoyed with a small download of 3.34 Mb .rar file, and application is light on resources, sits silently in the tray, until and unless a USB drive is detected, also, it doesn't require any updates. Give it a try and Share with us, how did it work for you, do you find it useful? It works both on Windows XP and Vista.
Download USB Firewall