In Windows 11/10/8/7, a common problem for many users is that the system doesn't play a sound when they connect their headset or an extra speaker. Users struggle and assume a problem with the driver or the headset even though they see the audio device listed in the Sound. This post will share how you can fix the problem in Windows and use Audio Playback or Recording Troubleshooter to Switch to Default Audio or Recording Device
What Is the Primary Reason for the Issue?
The problem is that Windows doesn't automatically switch to the new device and keeps using the previously connected audio device set as default for it. That is where the problem. To switch the default audio device, you need to go to Control Panel > Sound where you should see your new device listed. Right, click, and set it as the default audio device, and it should work. I have talked about it in detail here.
However, for some reason, Set as default is grayed out for some users. If that's the case you can use "Find and Fix audio Playback problem" troubleshooter in Windows to change it. This problem applies to both recording and audio playback device selection.
Windows: Use Audio Playback or Recording Troubleshooter to Switch Default Audio or Recording Device
Type in Find and Fix audio Playback problem and you should see that in the Windows Start Menu.
In case of recording, select Find and Fix audio recording problems. This is useful when you want to use the microphone of your headphone, but for playing audio you want your speakers to be used.
Once you click, it will launch the wizard, and it will ask which device has a problem and needs troubleshooting. You get complete detail of hardware right here including the location.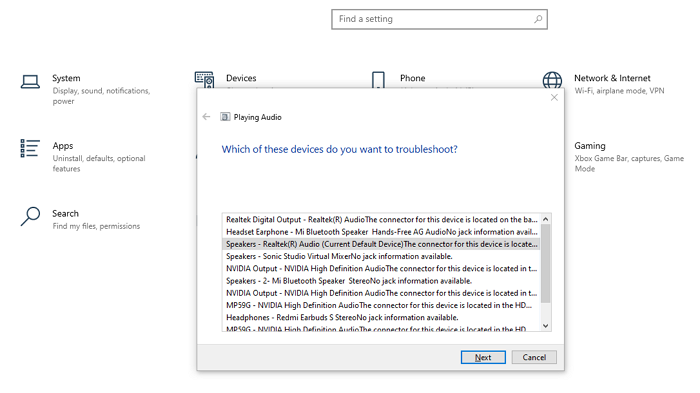 Select the device you want to switch to and follow the instructions.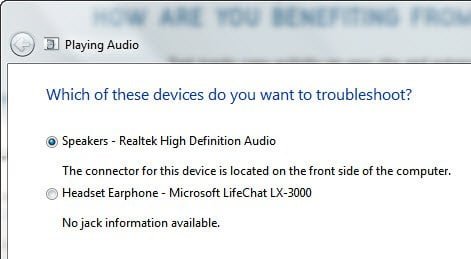 In the end, it will say, "Making this device the default audio device will help ensure other programs can use it to  play or record sound."
Apply the fix, and you are good to go.
You can again start the same wizard to switch back anytime.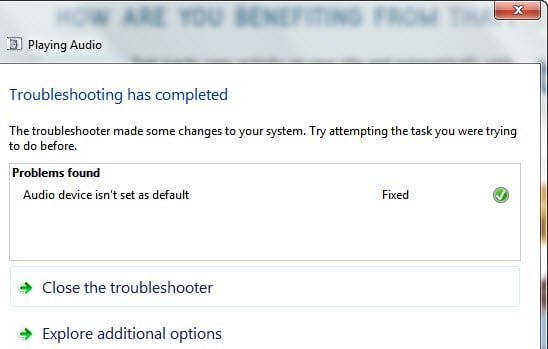 I hope the post was easy to follow, and you were able to fix the problem that was not allowing you to set Audio or Microphone default device.