If you are bored of the regular wallpapers which come along with themes and packs, for change you can try out Bing Image Search to find new desktop backgrounds.  Using it is like searching anything except that this time we use Wallpaper in our keyword. Follow the steps below:
Go to Bing.com
Select Images Tab which will take you to Image Search.
Now type in a term for which you need to find wallpaper. If Possible include wallpaper as part of the keyword to get even more accurate result.
You will be surprised how Bing understands that you are looking for wallpapers and gives you result from websites which include high resolution wallpapers and desktop background. For me the results for wallpaper were listed into suggested categories like Love Wallpaper, Best Wallpaper Ever, etc.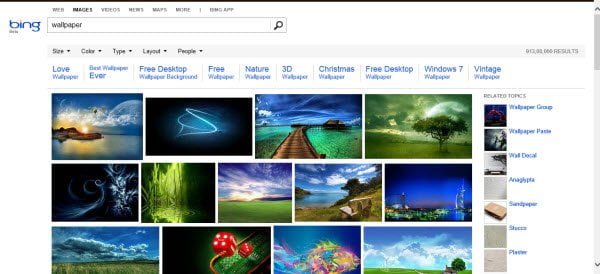 Now, if you take a look right above the result and below the search box, you would see there are options which can be used to filter down the images. The filters are size, colour, type, layout and people. The layout can be used to find wide wallpapers.
Run a Slide-show of wallpapers:
Bign also simplifies finding desktop background by letting you view all the images in the search result as slideshow. You can click on any of the image and slideshow begins. You get to see thumbnail of all the images clicking on which gives you bigger picture. If you are interested, you can switch to full screen mode or see high resolution of the image right there.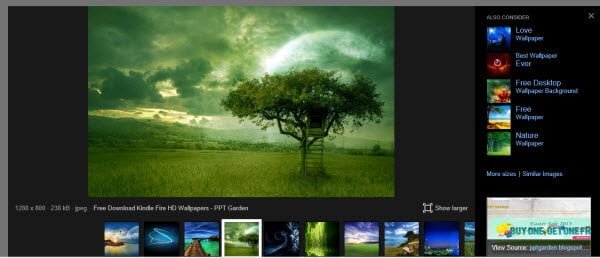 Find same wallpaper with different size
Taking it to the next level, if you hover over any of the images, you would see a small icon on bottom left of the image. They say "More Sizes". So, if you want the same image but of different size, you need to click on it.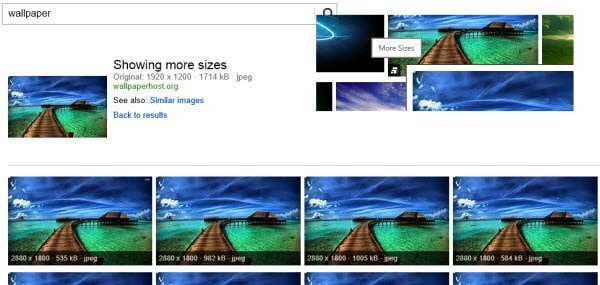 Like you see above, you get lot of options with exact size mentioned.
Summary:
Overall its an excellent way to find new wallpapers because the tons of related wallpaper that is given to users help one to find more wallpaper that matches his or her choice. However, make sure to use these for personal use only.