Browser Chrome treats each of the tabs as separate process which gives an advantage to the users to kill it when a web page loading or plugin might be slowing the browsing experience down. One way of doing this is using the Windows Default Task Manager which also lists the open tabs in same way but Chrome comes with an inbuilt Task Manager which does the killing process even smoother.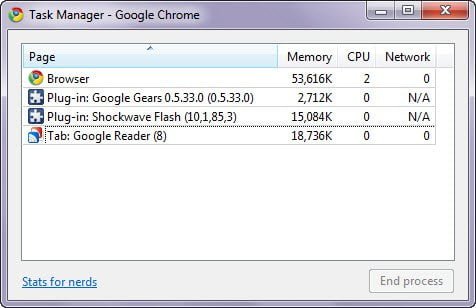 Press Shift + Escape anytime to see the list of tabs which also gives you detail on how much Memory, Network and CPU resource that tab is consuming. You can kill any or all of them by selecting and then clicking the button which says End Process. The advantage you get here is that it keeps the rest of the open tabs safe which might have also got killed when doping from the Windows Task Manager.
In the image above you can see how chrome lists down the plugins also separately which means you have even more control over the notorious plugins which slows down the browser.