PhotoWall Live Wallpaper for Android Phones and Tablets lets you choose photos from your Facebook account or photos from Facebook as your live Wallpaper. It can also pickup wallpaper in your Photo gallery of the phone and keep changing it.
Once installed PhotoWall Live Wallpaper you can play around with the settings so as to specify either to use the photos from Facebook, or from your Phone's Gallery, also you can select the effects for these photos, there is also as option using which you can view the photo in Gallery or on Facebook, just by tapping it on your home screen.
Here are some of the snapshots of the app, here the photos from my Facebook friends can be seen as wallpaper, and the one after this shows the settings of Photowall Live Wallpaper –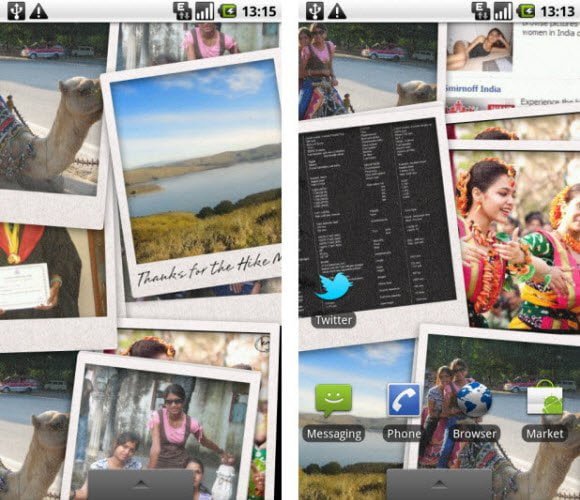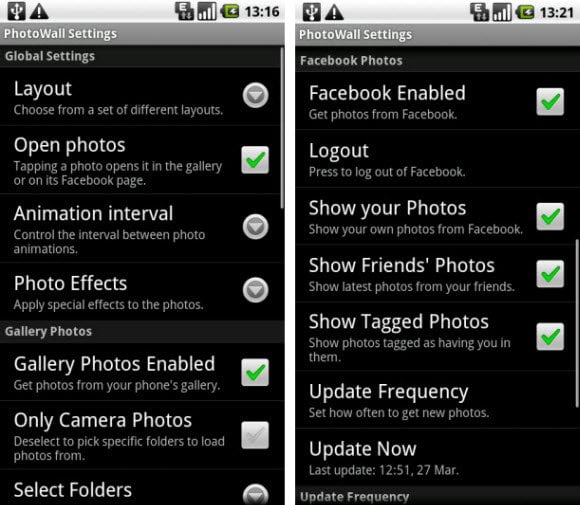 Summarily, as seen on the app page, PhotoWall shows you photos as wallpaper from –
Your phone's camera gallery
Your own Facebook photos
Your friends' Facebook photos
Facebook photos tagged as having you in them.
Photos from Instagram photo feed ( Still in Beta)
Picasa web photo albums
You can also apply effects when setting it as wallpaper.
There are few more options, such as more effects, layout, etc. this can be accessed with the paid version only. Live Wallpapers are a battery hog, so if you are travelling or somehow you want you battery to last long, it better going for simple wallpaper, instead of using a live one.
You can download and install this app from the official Photowall Live Wallpaper app page in the Market.