When watching a long video on YouTube specially when you are at home there is nothing like leaning back and watching it but then comes a problem of playing, pausing and playing the next video of your choice and we all hate that.
TubeMote is an online service which lets you create a channel of your choice and you can play any video from YouTube. The best part is you can login with the same account on your mobile device or phone and control your YouTube Videos played there. You can use iPad, iPhone, Android, BlackBerry also. If you have TV with internet connection, you will enjoy it even more.
How TubeMote Works ?
Signup with them and a unique URL or channel is given to you. Nothing happens initially there.
Next you login on TubeMote using the same account.
Now First launch the URL on your TV and use Full Screen.
Now on your mobile device select a video service and search for a video and play it.
This will start streaming on your channel. Technically this will work from the same computer also but that's not the idea.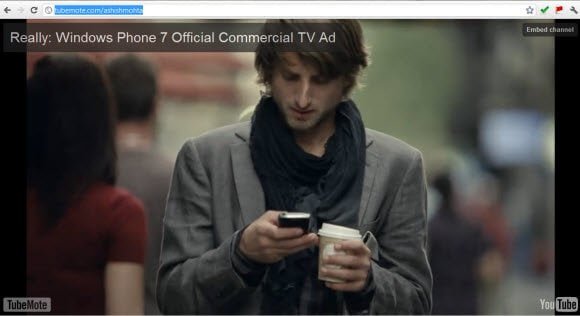 Now go and sit on your couch or lay down on your bed and watch it easy.
What Options you have in Remote Control ?
You get option to Play Videos from services like YouTube, Justin.tv, Scribd, Google or any video on the web.
You have Search Box, Play, Pause, Previous and Next.
You can change video quality to HD
Control Audio from full to mute.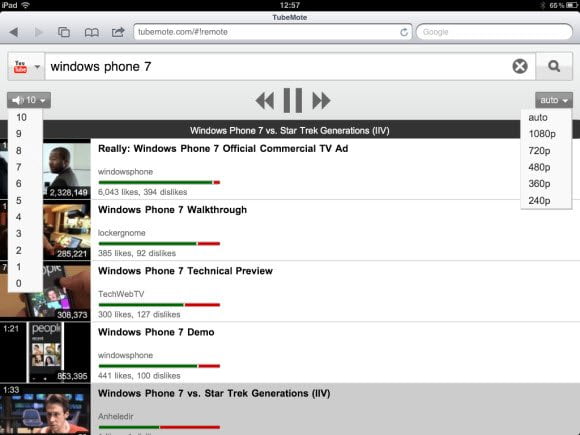 How else you can make use of  TubeMode ?
Show videos to Friends and Family
If you want to share couple of your favorite videos with your friends and family all you need is give the TubeMode Channel URL to them. Then search and play the videos of your choice and they would see as you see.  Another interesting thing is when somebody joins in between, the video streaming starts for him where everybody else is.
This also means that anybody who knows your channel can see what you are watching, so make sure either you don't share it with everybody as there is no password protection or privacy settings available.
Stream your Presentation Live to the world :
TubMode Supports Scribd which is used around the world to share presentations. You can search in scrbd or search your presentation and then run the sideshow. You have option to change the slide show view into book, list, title or slide show and change the zoom percentage. The changes are reflected instantly.