Getting a new desktop background or wallpaper every day makes anybody's day interesting. Today we are talking about a software which helps you use your Favourite Flickr Photographs including one from your account as desktop background without you taking effort to download them individually.
This application is called as Flickr Wallpaper Rotators which downloads and uses pictures from Flickr and use it as Wallpaper. The default setting downloads pictures which are marked as most interesting by Flickr but the real magic is the settings of the app. It works on Windows 7 and Windows 8 both.
How to use this application:
You can use a unique hash tag for photos which you like among your photos
You can choose photos in anybody else's stream using the username.
The picture below explains how I am using Tags and Favourite from my Flickr account in the settings to apply them as my desktop background.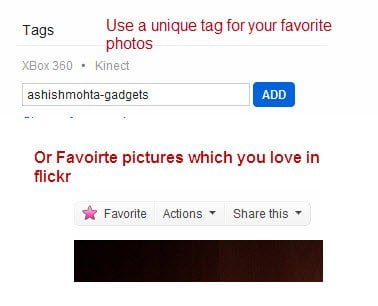 The options in the application lets you search for Tags (I am using the tag shown in the picture above) and favourites section from a particular user which in this case is I.
So you cam combine username and tag here to display only particular set of photos from that particular person. However, you will have to manually find the tags by looking at the Flickr Profile. There is no inbuilt automatic search for this.
Now lets say you don't want all random pictures but only newly posted then can choose from the categories. You have option to choose from:
Newly Posted.
Most Recently Taken
Most Interesting
None or Relevence.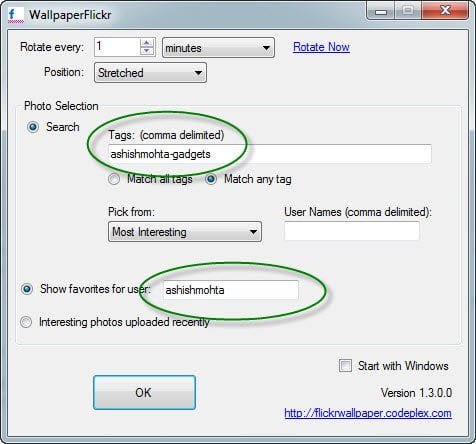 You can also choose the position of the wallpaper and use Rotate Now option of the wallpaper orientation is incorrect. If you are happy with the software and want to use it on day to day basis, I will highly recommend you to check the option in the right bottom which says Start with Windows. This way you will never miss any picture from Flickr.
Overall the application is smooth and does not slow your computer down. In case you feel it is — I will suggest you to decrease the rotation period to a longer time i.e. choose hours instead of minutes.
The application is free for use, Download from here. It is installed as a program in your Windows i.e. Its not a standalone application. Find more Desktop Background Changes here.