The download manager in Firefox has evolved with time bringing in many features but still many of us, use download managers like Download manager Tweakle. Now if you are not interested in using those complex download managers, here is a list of addons which enhance your file download experience by adding small features in it.
Smart Firefox Addons for improving File Download experience
1] Display File Size before download starts
File size of any download is only displayed when you start downloading, and sometimes it is even not displayed. Show file size adds the size display feature in the window that popups before the actual download start.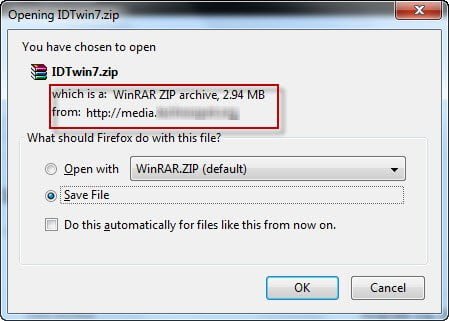 2] Avoid Duplicate Downloads
How many times has it happened that you start downloading the same file again? For me, it often occurs especially files downloaded from Emails, etc. While it might not matter much for smaller file size, but for anything more significant, some of us needs it to be taken care.
DLTracker or Download Tracker checks if the file is already available, which is found by matching the name and size and warn you if it is already there.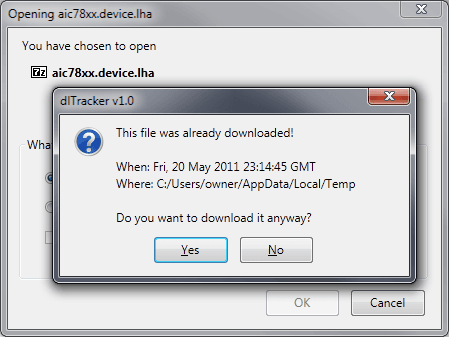 It definitively saves a lot of time and bandwidth in a small amount.
3] Let browser display file if supported
Many a time you don't want to download a file but instead take a look or preview it. However, for technical reasons, Firefox may be forced to download a file (Content-Disposition HTTP header by the webserver from where the data is getting downloaded. In fact, because of the Content-Disposition HTTP header, the user default option can be overridden.
InlineDispostion handles this situation by not letting servers forced to download and instead make users option be honored. So if you have set to view individual files right in the browser, it happens that way!!
4] Preserve download date
Most of the files that are downloaded are modified after they are downloaded. It is a common thing for documents, images, etc. It means you will not be able to figure out when a file was downloaded because the file modification time has changed.
Preserver Download Modification Timestamp takes care of this by preserving the time which is sent by the server and also keeps track of download source and destination.
5] Keep track of the origin of the download
Many a time you need to figure out from a where a file was download, especially after you had deleted the file. No browser keeps a record of it, so if you need to track, here is a recommendation.
Saved from URL is a Windows software which can track all the details about the download. It tracks download URL, download Filename (with full path), Referrer, MIME Type, File Size, Start/End Time, Download Duration, and Average Download Speed.
I feel these addons should get into a core feature of Firefox and many other modern browsers. Though the download managers are getting smarter, these features haven't made it into the browsers yet. So till then enjoy the addons!!