Foxit has launched a PDF Creator Toolbar for Windows; this is an awesome way to create PDF files from almost any printable file. You simply need to download the executable file as setup to Foxit PDF Creator Toolbar, later; you come to see a Toolbar in your web browser window, as shown below.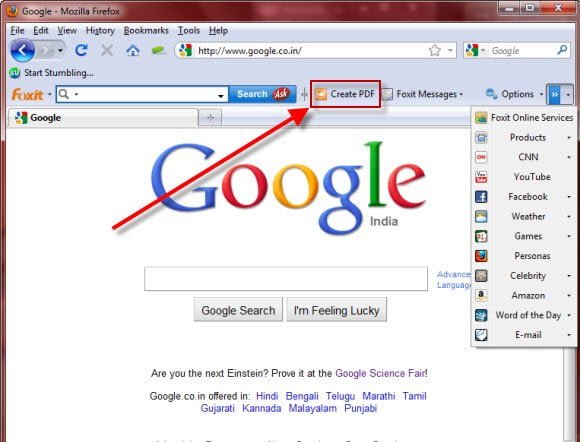 This toolbar, like any other toolbar has several ready links for quick access to shopping, social networking, videos, weather, games, etc. like sites. The added attraction lies in the 'Create PDF' button. Whenever you need to create a PDF file, just click on the 'Create PDF' button, browse and input the path for file and within no time the PDF file will be saved at the desired place on your system.
Now coming to the point.
I hate these toolbars, but need this Free PDF Creator :
Many of us hate installing these toolbars, as they make the browser window look messy, also they cut down on the window size while viewing a webpage, which means more scrolling or key press; I also belong to the same category. Moreover this toolbar gets installed on both Firefox and IE without giving you any option.
So here is what you can do :
Go to The Add-ons section of the browser. Here you will see the Toolbar listed. Click on it and choose to disable it.
Now go to "C:Program FilesFoxit SoftwarePDF Creator Toolbar"
Here you will find the 'Create_batch.exe', create a shortcut to it on your desktop
Now when you want to create a PDF file from an existing DOC, XLS, PPT, HTML, TXT, JPEG, BMP, GIF, etc., run this shortcut, browse the file to be converted to PDF, and save the PDF file now.
Download the Foxit PDF Creator Toolbar; also if you are interested CC PDF Converter is an awesome way to get a Free PDF Creator.