In this post, I have discussed how you can use operators to use the integrated search in windows. It works in Windows 10 and earlier versions of Windows as well.  The search is integrated into the core of the Windows operating system. I have given examples of Folder search, size search, Date search. There can be many more options, just keep trying.
How to use operators in Windows 10 Search
If you have ever noticed, a search tab appears in the File Explorer every time you search for Windows. It offers some interesting ways to search, which you can quickly type and execute once you remember it.
As an example, if you type Size:>600MB, it will search through the computer of files which have Size more than that. Then add another search pattern, lets a name, and it will filter files with that name only.

The search tab offers the following:
Location to search
Date
Kind, Size, and other properties
Searching with Size
You can combine multiple operators, along with the file name you plan to search. So if you are using the file size is in between 600 to 900, then use the following pattern:
size:>600 MB <900 MB A31

Searching with Date
Type date:<dd-mm-yyyy>, and you can find all files which had been modified or created on that day. If you remember taking a picture on a particular day, you can easily search it.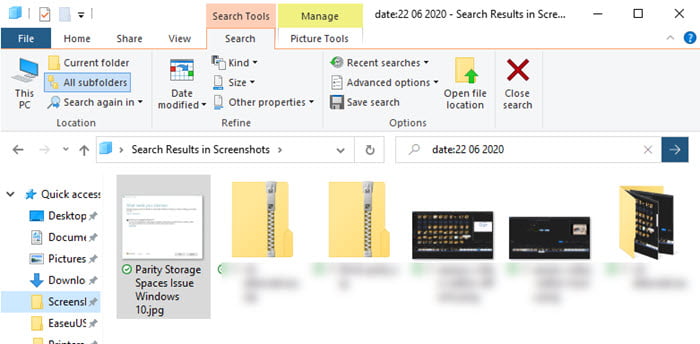 To find files between date, you can try the same method we did for file size.
Searching within Folder
To find only within a single folder, you can use folder:<foldername> <search term>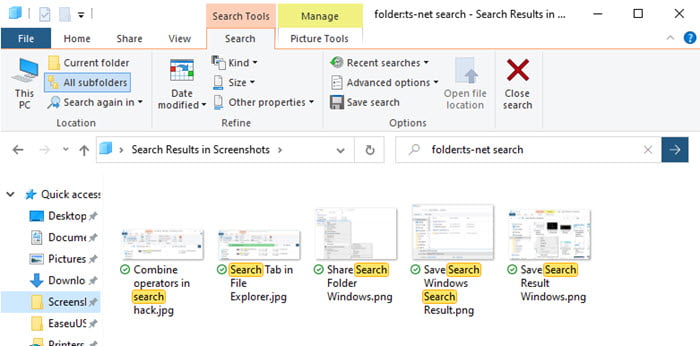 Windows Search is incredibly powerful if you have the files indexed, and you know how to use these operators. While the search tab doesn't reveal much except for single parameters, you can always combine different types of parameters to refine the search results.
Related Read: How to save frequent Windows Search in Windows