FreeRice is an awesome concept, the whole idea goes like this, you play this vocabulary game, and for each correct answer, 20 grains of rice are provided to hungry people for free.
Playing this game helps to enhance your vocabulary at the same time. No login, no account creation is required simply access the page and start playing the game. All money raised by the site goes to the UN World Food Program to help feed the hungry. Sponsors make all payments to the UN World Food Program directly.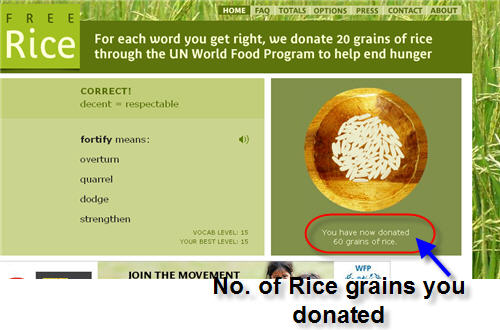 Free Rice automatically adjusts to your level of vocabulary. It starts by giving you words at different levels of difficulty and then, based on how you do, assigns you an approximate starting level. You then determine a more exact level for yourself as you play.
When you get a word wrong, you go to an easier level. When you get three words in a row right, you go to a harder level. This one-to-three ratio is best for keeping you at the "outer fringe" of your vocabulary, where learning can take place. Any word you answer incorrectly, is immediately taught to you and after few more words the same word (which you didn't answer correct) is asked again from you, to test and make sure that you learned it. There are sixty different levels in this game, but only few make it above level 50.
The rice is paid for by the sponsors whose names you see on the bottom of your vocabulary screen when you enter a correct answer.
So play this game, enjoy yourself and help UN to fight hunger at the same time. Hope you like it, have your say.