It's been quite some time we talked about Windows, which is incredibly fast and easy to use, but there is always space for a tweak. UWT or the Ultimate Windows Tweaker is an excellent tool allowing you to turn or turn off features that might be a little buried into the Windows Settings and Control Panel.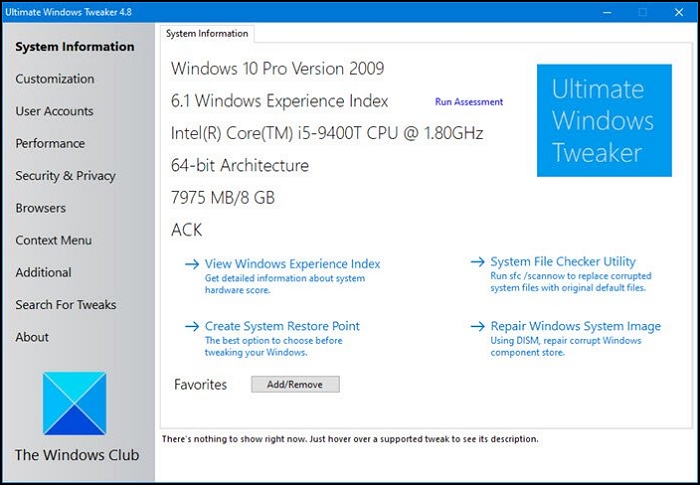 What you would love about this tweaker is the ultimate simplicity and portability. You can carry it on your pen drive and even help tweak your friend's system. Apart from this, it also has the ability to display features only if it is available in Windows 10.
Also, at any point, if you are worried about the effect of changing the settings, you can create a System Restore point to revert back to the previous one.
UWT: An Ultimate Windows Tweaker Utility for Windows 10
System Information
Customization
User Accounts
Performance tweaks
Security tweaks
Internet Explorer
Context Menu tweaks
Additional system tweaks
Search Bar
About tab
The best part of using Ultimate Windows Tweaker is that it's a portable application. You don't need to install, but keep a copy somewhere safe. When you want to change a setting, launch, search, change and quit. You can also share it with your friends, and they can do it with a little guidance. Make sure to help them back up their files.
Here is a video of the product which summarizes how it works:
UTW has been developed by Ramesh Kumar @ Windows valley and can be downloaded from the Windows Club
I hope the post came in handy to make changes to many settings, which would have attracted complex methods, registry changes, and sometimes group policies. Using this, it's like using another software without worrying. If you are worried too much at all, you can always create an image backup of your computer.