After using Google Plus after a couple of days it definitely is worth a try if you haven't tried it out yet and while people are still struggling to get an invite, Lets get to know some features of it which will help you know some aspects.
Now I am not discussing on every details but some very important parts which you would love to know and see it action because you are scared to try it on your profile. I have created videos for them so it will be easier for you to watch.
Making your Profile, Professional
As more users and people connect with you, its a very good idea to make your Profile look smarter and professional if you are planning to use Google Plus account that way.
In your about section you are allowed to add images of your own choice. You can compare it with Facebook but their, the images displayed can be any image where you have been tagged. Since you have full control here, you can impress your visitors by displaying images of events, with high profile people even further.
Go to your profile. If you are logged in you will see a blue button which can be used to edit your profile.
Once you are in edit mode, switch to About tab and you will see place where you can add images.
Now since Picasa is very well-integrated here any image you add here will be saved to Picasa under album which says "Scrapbook" and no this is not coming from Orkut.
You can upload a couple of images here which is max to 6.
All these images can be further rearranged in Picasa.
You should be able to also change who can see these images if privacy is a concern for you.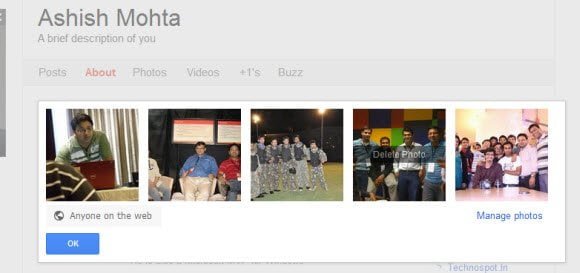 Go to TOP
Whom you want to show association with ?
By default, Google Profile displays all the Circle of people you are associated with and whoever has added you to their circles. Now if you are concerned about that i.e. Some people always want to show how professionally they are connected to the world while some will want only Families to get displayed.
This can be controlled in your Edit Profile section.  Under your profile image, you have will have a grid which displays Users in your Circle and List of users who added you in their circle.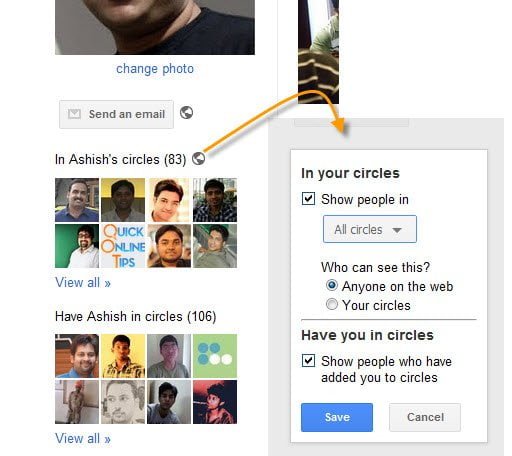 You can click on the grid and select which group to be displayed and then also opt to hide the show the users who have added your. Visibility can be controlled even for this.
Controlling who can Get in touch with you
Unlike Twitter, there is Direct Message for anybody to get in touch with you. However Send Email feature, which is an old feature, can be used. Previously nobody used to bother much about it as the visibility on social network was low when it comes to Google Products.
So coming back to topic,  Now it is possible that when people see your profile they would like to connect with you via email which by default is open to anybody on the internet.
To change this you need to edit your profile and click on the Send an email button which will open the advance settings for you. Here you have option to either turn it off completely or choose which circle can send you the message. You have option even for Extended Circles here.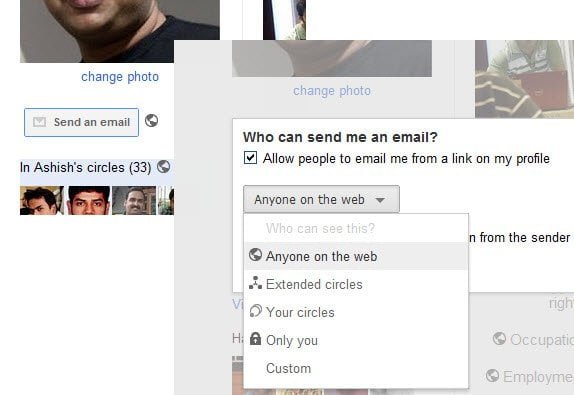 Privacy Settings :
Control who can tag you on photos :
Like Facebook, Users are allowed to tag any person who is in his or her circle. All these tagged photos is displayed under Photos Section of your Google Plus Profile.
Now if you do not want this to happen, Go to Google Plus Settings.
Under Google+, Scroll down to end where you see Photos section.
Here you can choose which circle can tag your photo also you specify which person can tag if you want to go that deep.
As your circle grows, your number of email received for getting tagged, mentioned  etc will increase exponentially. So the best is to turn them down which can be seen under Google + Settings
It is also possible to get notified by SMS, which is costly anyways, but if you would like to use this option, you will have to register a number with Google Plus. Once you get a confirmation code you can add and get verified.
Done this now you can control what kind of notification you will revive on SMS.
Also it is possible that you can send updates via SMS but for India or at least for me it did not work. There is one particular number which will be used here. Also if you want to add more security, you can add a phrase which acts like password along with message update.
So such as when you send a status update it can be "MYPassocde" Hi I am at Singapore @mycirclename"
MYPPasscode is the security pin
@mycirclename is the group with which you want to share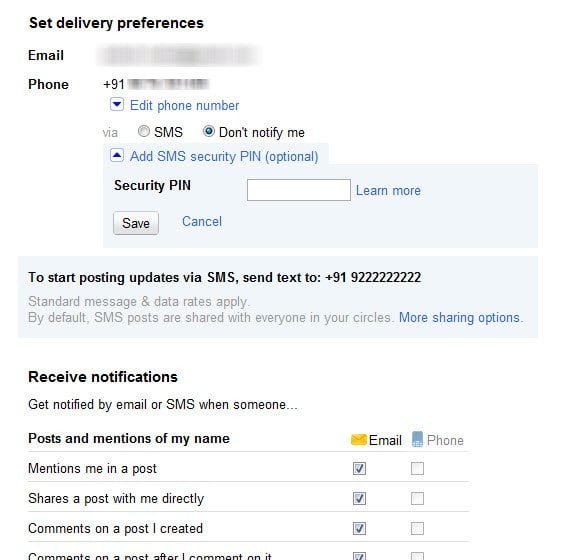 Find Complete details here.
Control Who can send you notification
You can now control on who can send you notification either when tagged or photo tagged. To control this go to
Google Plus Settings > Google Plus
Look for label which says "Who Can send you notifications"
Choose between Anyone, Extended Circle, Your Circles, Only You or Custom


Now when you select custom you get option to choose a circle and add couple of people right there. This is same as when you send an update and tag people in that along.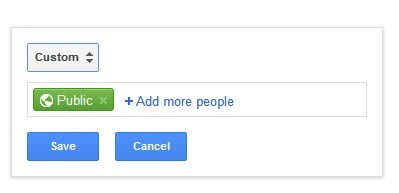 Ready to leave already ?
If for some reason you do not like Google Plus, it does give you a very clear option to take your data out and they call it as Takeout which does not need you to use checkout!!.
Go to Google Plus Settings > Data Liberation.
You have couple of options there which as of now are

Download for Picasa Albums
Your Profile Data
Your Stream data i.e. your status updates.
Buzz
Contacts and Circles.

Click any of them and you will be able to download them to reuse it somewhere else or just as backup for proof.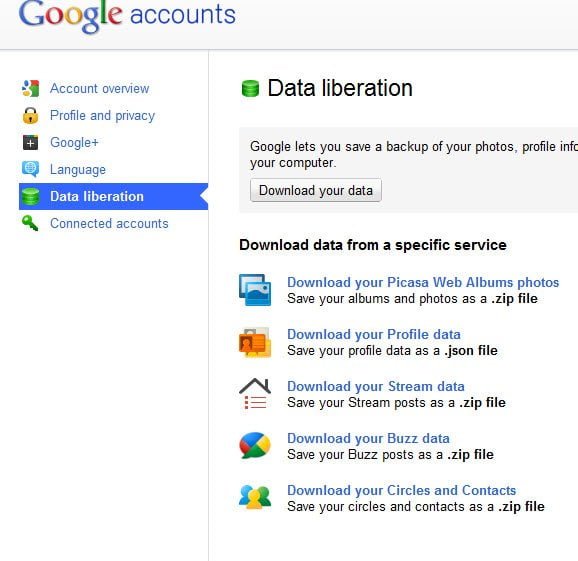 Go to TOP
Downgrade Google Plus Profile aka Delete Google Plus Profile :
Since you already have the backup and you decided to quit Google Plus, you can use option which allows you to delete all your social profile from Google products.
This means that it will only remove all Google Plus features and not your Google products like Gmail, Adsense etc.
Go to Google Plus Settings > Account Overview
Under Services the first link which says "Delete profile and remove associated social features"
Next Option you should choose is "Delete Google+ Content". You will see following details :
Over the next few days, Google will attempt to delete all Google+ features and your Google+ data from your Google Account:

Your circles will be deleted, but people in your circles will remain in your Contacts.

Your +1's will be deleted.

Your posts and comments will be deleted and won't be available to anyone you shared them with.

Any profile information that you did not make public will be deleted.

Many Google+ social and sharing features will be disabled for you on other Google sites.

Content from other services, such as videos, will no longer be visible to people in those circles.

However:

No photos will be deleted: you can still access them in Picasa. To delete them, go to Picasa Web Albums.

Your connections to third-party services will not be affected. To manage them go to Connected accounts settings.

Your chat buddies in Google Talk and Gmail will not be deleted.
Once you confirm all this will happen and you will get a feedback form asking you reasons you chose to quit Google Plus.