When Microsoft launched Windows 8/8.1, it came with the ugly big size Start menu. Nobody liked it, and the option to quickly shutdown, restart, and sleep option took a couple of extra steps. Everything is fixed now in Windows 10. That said, during that time, we shared this tool—Metro UI tweaker—which can add Shutdown Restart Sleep and Switch Tiles to Windows 10/8.1 Start Menu. If, for any reason, you want the same set of tiles in Windows 10, you can use the same tool. We tested it, and it works.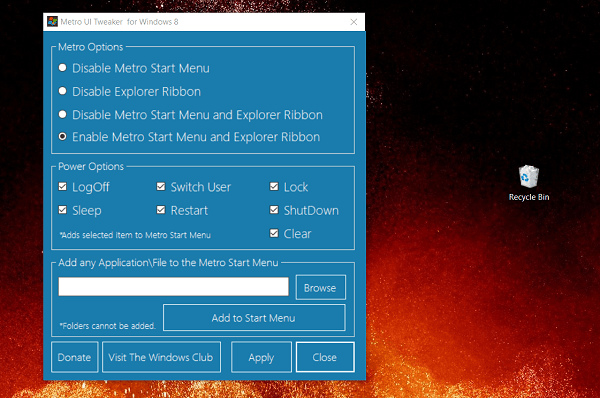 Add Shutdown, Restart, Sleep and Switch Tiles to Windows 10/8 Start Menu
Developed and maintained by TheWindowsClub, Metro UI tweaker can add Shutdown Restart Sleep and Switch Tiles to Windows 8.1 Start Menu. Follow the steps:
Download it from TheWindowsClub, and unzip it.
Locate Metro UI tweaker and then launch it. You may be prompted to download .Net Framework 3.5.1. Install that.
Then relaunch the tweaker, and you will get to see these options

Metro Options
Power Options
Add apps to Start menu

Check the boxes in the power option which you want to appear on the Start menu.
Click Apply and then restart Windows.
Log-in again, and you should see all the tiles listed.
In the case of Windows 10, I saw these tiles getting added as separate apps or tiles. You will need to drag and drop them to the Start menu and arrange it.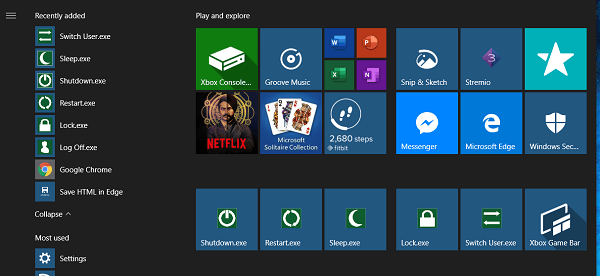 During installation, you will be prompted by the UAC. Click yes and mark the software as safe to install. Since there is no problem that it can do, it is safe to install.
Features of Metro UI Tweaker
Disables the Windows Metro Start Menu.
Removed the Explorer Ribbon Menu Integration.
You can also choose to turn either one or both to get turned off.
Enable those features back.
Now, if you plan to use the Metro Interface, It can add tiles for Log Off, Switch User, Shutdown, Restart, Sleep, and All. Out of these, I will prefer only to add Shutdown and Restart because the rest of the menu can be accessed when you click on the user account on the top right. You can also get the Restart and Shutdown options when you press Alt + Control + Delete Key
Video Demo: