It so happened today on my iPad that any application I launched closed after a couple of seconds of running. It was happening with all iPad Games, Safari Browser and even the App Store. I had no idea what should I be doing as iPad doesn't have a restart option somewhere in the iOS which I can use and what was strange that even after closing all the apps, it kept on crashing and sometimes was freezing.
After making a quick search on Apple Support site, I found the procedure was too easy. Follow the steps as below :
You need to use the combination of Home Button and the Sleep,Wake Button on the iPad.
Home Button is the circular button while the Sleep Wake Button is the rectangular button on top of your iPad.
Now to reset, hold the Home Button and Rectangular button together for at least 10 seconds, as the support says.
This will change the screen and bring a slide to turn off button on the screen. If you slide, it will turn off the iPad.
Now if you hold both the buttons for couple of seconds more, It will reset the iPad and you will see the Apple Logo on the screen.
Next  you will see the Home Screen of your iPad or prompted by the pass code if you had set it up.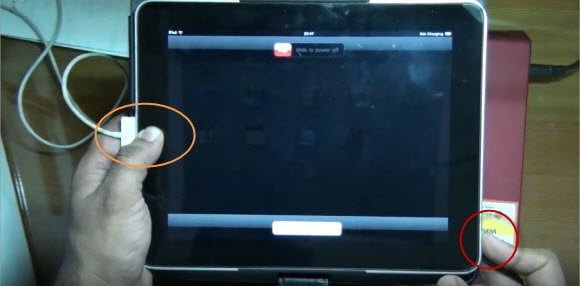 Video Demo :
Below is small video demonstrating how you can reboot, reset or turn off your iPad when it gets slow :
If you are new to iPad check out more tips iPad