Video playback is one of the most critical aspects of the Windows operating system, not only from the entertainment point of view but from a learning and work point of view. A lot of what we consume, learn, and convey is in the form of video content, and issues with video playback can drastically affect the whole PC experience. This article will teach us how to use a video playback troubleshooter in the Windows Get Help app.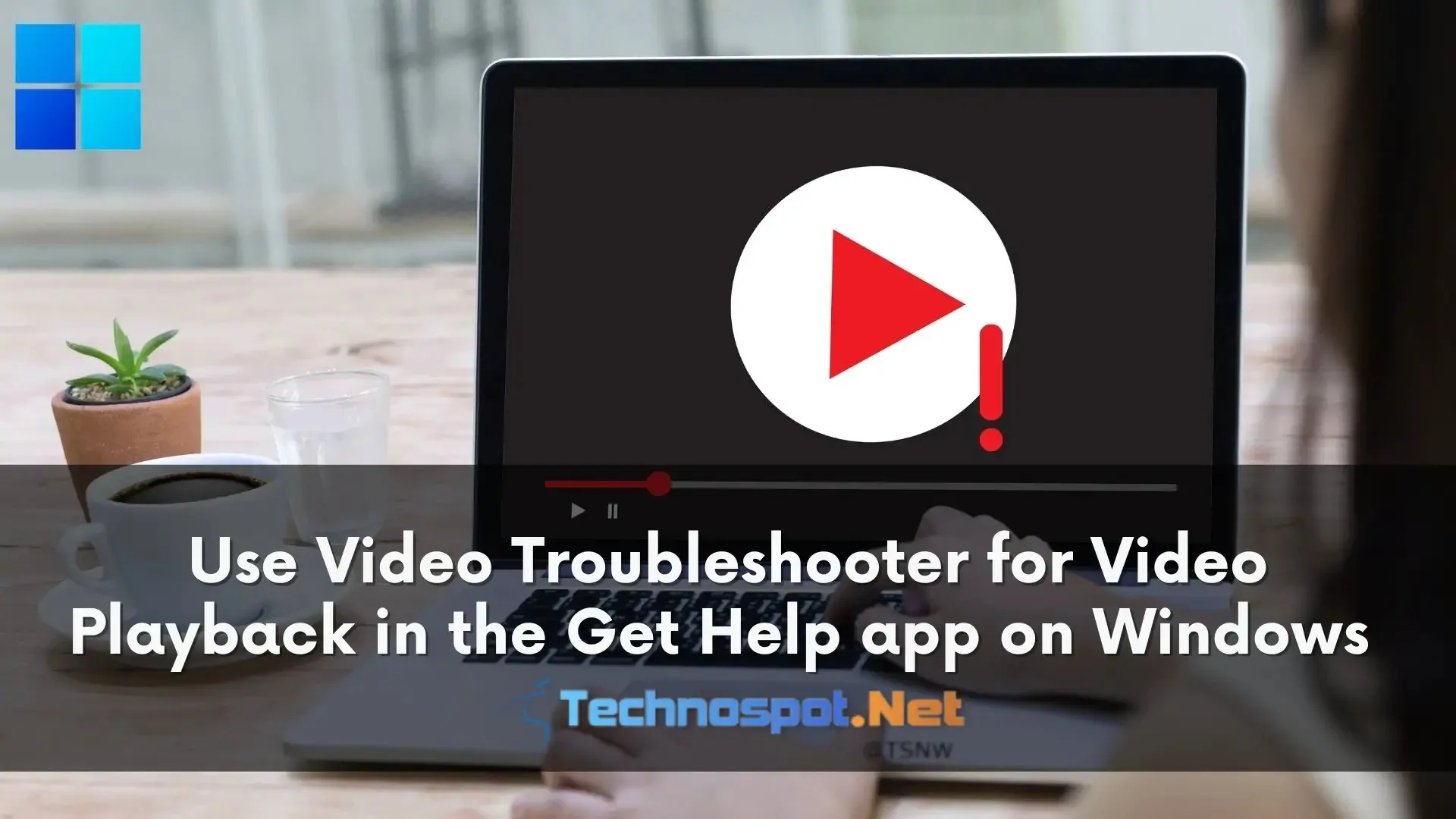 What is the Video Troubleshooter? What Issues Can It Solve?
A troubleshooter is a Windows utility specifically designed to diagnose, fix and suggest potential solutions related to specific components in Windows. The Video playback troubleshooter, much like any other troubleshooter, diagnoses and fixes issues with video playback. It scans for any issues with the drivers, peripherals, video codecs, and any possible setting that concerns video playback. Here are all the issues that the video troubleshooter can solve:
Different refresh rates on multiple monitors can cause video display to malfunction2
Missing or outdated drivers for your camera or graphics card
Antivirus or firewall settings that can block the camera or video apps
Privacy settings that can prevent some apps from accessing the camera or microphone
App compatibility or configuration issues
Now that you know better how the video troubleshooter works and what issues it can solve, let's learn how to use it in the Get Help app for Windows.
How to Use Video Playback Troubleshooter in the Get Help App on Windows
The Get Help app in Windows is the new one-stop solution for every help regarding any issue in the Windows operating system. You can find solutions, troubleshooters, and support options within the app. The app will soon replace old help options like traditional troubleshooters and others. Here's how to use Video Troubleshooter in the Get Help on Windows:
Open the Get Help app in Windows by searching for it in the Windows start menu.
On the app's homepage, search Troubleshoot Video Playback Problems in the search bar.
Now, you will be presented with three options, i.e., Open Video Playback settings and Open Display adapter settings, and I want to continue with this troubleshooter.
To continue with the troubleshooter, select I want to continue with this troubleshooter.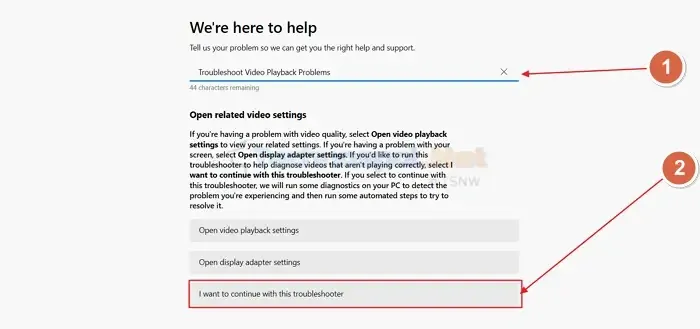 After this, the troubleshooter will scan your PC for all the parameters related to video playback and suggest a few actions.
If the issue persists, you can refer to the self-help articles provided in the latter part of the page.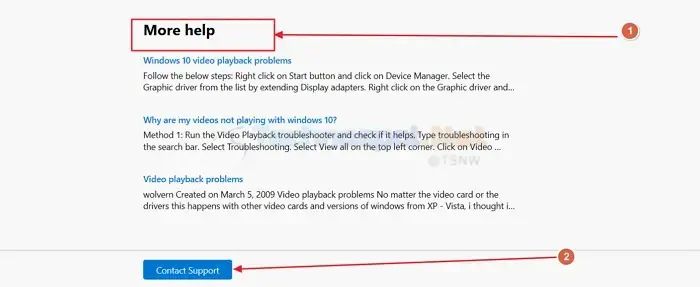 If none works, you can contact the Microsoft support team by clicking the Contact Support button in the bottom right corner.
And that's it. That's how you use the Video troubleshooter in the Get Help app on Windows.
Read: Windows Display Quality Troubleshooter to fix display related issues
Conclusion: 
In this article, we learned how to use the Video troubleshooter for Video Playback in the Get Help app on Windows. Microsoft has always put user experience first; the get help app is one more step towards ensuring that. We hope you found the article to be insightful. Please make sure that you share it with everyone.
Why Do Video Files Get Corrupted?
Video files can become corrupted for a variety of reasons. Common causes include data transfer issues, software bugs, physical damage to storage devices, and malware infections. Corrupted video files often show visual artifacts, fail to play correctly, or become unreadable by media players.
Why Do Some MP4 Files Not Play With Windows Media Players?
Some MP4 files don't play in Windows Media Player because they use codecs like H.264 or HEVC that it doesn't support. It only plays MP4s encoded with MPEG-4 and AAC. MP4s encoded differently won't open, showing errors. Corrupted or damaged MP4s from viruses, failed transfers, or bad sectors also won't play properly, displaying visual artifacts or playback issues.
How Do You Fix Unsupported Media?
When you get unsupported media errors, your player can't recognize the file format or codec. To fix: Use a converter to change to a compatible format/codec, install more codecs, use a player like VLC that supports more formats, or repair corrupted files with video repair software.