Yahoo Messenger recently released iPad version which considering as the first attempt is awesome and specially looking at the User Interface, I have absolutely fallen in love with it. I have prepared a video review which you can see below followed by the feature list and drawbacks.
Features :
Multiple Chat Windows
Remembers the URL which you have shared across chat window i.e. which means you dont have to copy a lot if you want to share with others.
Supports Voice Chat and if you have iPad 2, Video conferencing works though not sure if it is possible between multiple users.
You can share images directly from your Album.
Supports Sending SMS
Very basic settings available as there is not overhaul of features when you compare it to Desktop Version.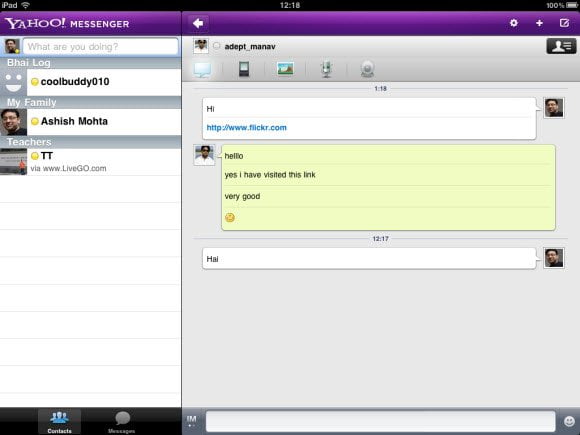 Drawback :
Chat is not stored online from iPad Version. Seems like it is not implemented yet
Audio for Voice Chat is way too low. You will need to use your headphones which is what most of you will do in public place but I still dont get why it is so low when it comes to speakers.
Buzz works by shaking but not all the time. If you saw the video you will know what I am talking about.
Signing in to iPad version doesn't log me off the desktop version but works the opposite way. So if you somebody sends you message, you get on iPad but not on Desktop.
To signout, You need to tap the configuration button and scroll down to find the signout. Very complex
No option to customize look and feel.
Download for iTunes from here