It is a known fact that whenever you watch an online video, the player always creates temporary video files in your browsers cache, before it actually plays it. This is essential for smooth user experience. Also if you have notice that some of the online videos, start playing instantly, if they had been already watched. The reason for this kind of experience is that a unique offline file for that particular video is created in the cache and used again.
VideoCacheView utilizes this feature to help you save a copy on your hard disk. If you are wondering what kind of video, then an online video for personal work, e.g. Tutorial videos so you don't have to stream it all again and watch it again and again to learn from it, is a great example.
How it Works ?
It scans your browser's cache and lists down all the video files available. Then you can select and save it anywhere on your computer. The best part of this application is that it scans the cache of all the browsers installed on your computer i.e. IE, Chrome, Firefox and Opera.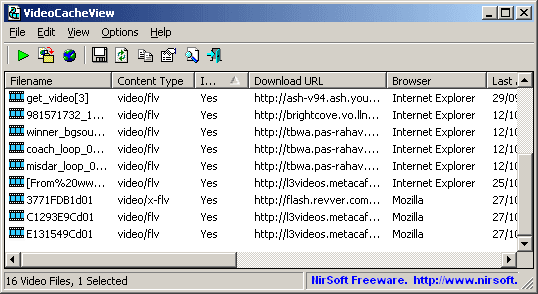 These days to make the streaming even faster, Online Videos are available in cache in multiple files i.e. Split. This application can find out if the split video files are from the same video and then combine them into one file, in the same order they were created.. When viewing the list, you can find out how many number of split files are available.
Other Features :
This application also helps you clean all the video files from cache. This useful when you have loads of split files as when you delete any of the split files, all the split files of the video is also deleted.
Allows you to copy the file name and path for files which are not locked. Locked files are those for which videos are getting streamed.
Drag and Drop files from the application to any where on your computer.
Add Description to video files when exporting which is useful to identify the video files.