So, what do you do to view the status of an ongoing download while downloading a file using Firefox, the way is, have a look at the Download window, i.e., by using the key combination 'Ctrl+J.' Here are a Firefox add-on/ Chrome extensions–Download Statusbar which allows you to have a look at the download status. Usually, the status bar is hidden, but with this addon, you get a dedicated statusbar which will reappear on demand.
View and manage downloads from the statusbar in Firefox and Chrome
Download Statusbar is a Firefox/Chrome extension which keeps track of all the downloads(active and completed) and gives you better control on the overall download progress.
Within the statusbar, downloads are listed horizontally. Each download has a context menu with several options. To close the statusbar, please click on the red close button within the statusbar. Once download starts, click on the icon on the toolbar, and it will reveal the statusbar.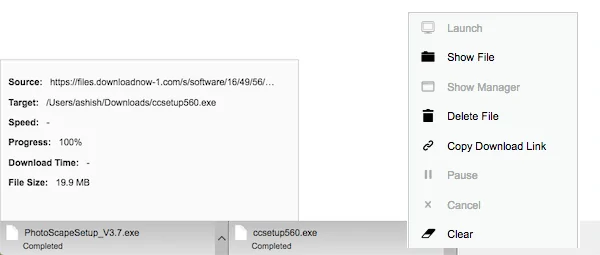 When you right-click on any of the downloads, you get the following options:
Open/launch the file
Show file in file manager/ Windows explorer
Delete File directly
Copy download link
Pause / Cancel and Clear.
Download Statusbar Settings:
Right-click on the extension in the toolbar and open options page. Here you have three sections:
Configure notification sound with preview.
Choose to clear download status after its complete.
Open Download directly once the download is complete.
Change download color to your liking.
The last section is for the download-item width and height as-well-as the font settings.
There is also a reset button at the bottom left corner to reset the settings to the default values.
Download Statusbar seems to be a nifty add-on which allows you to manage and view current downloads, and the progress in the right way. Go ahead and give it a try, share your views about it with us.
Download and Install Download Statusbar