Google Chrome Browser has got a Bookmarks's Sync feature which lets you synchronize your bookmarks across computers.  I started using it today and as a surprise it asked me to view those bookmarks in Google Docs.
Yes you got it right. All your Bookmarks are saved in a special folder in your Google Docs Account which you can view it any time and open links right from there. I saw this when I opened a new tab.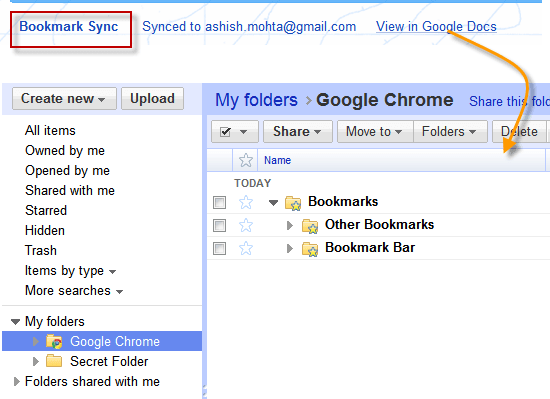 However the drawback is you cannot edit any of those bookmarks and neither you can share the special Google chrome folder by any means.  Since the folder is only for you all share links get disabled when you right click on it
The advantage of putting this in google doc is that even if you don't have Chrome Browser you can access your Chrome's Bookmark on the web any time and the obvious disadvantage is that you cannot edit it here but only on any of the computer once you are signed in. What do you think ?