Cigarette lighters are something which seems almost useless for a non-smoker, but when it comes to a Zippo, you can find the fans of this world-class lighter across the globe. Zippo lighters have a huge fan following in the non-smoker community as well. There are several factors which make this lighter a big hit. The wind-proof flame, the sound made by the lighter lid when opened or closed, etc. I too love these lighters, and I own a Zippo, and if you also belong to the same community of fans of the Zippo Lighter. There are many Virtual Zippo Lighter apps in the Google Play Store, which lets you enjoy using the Zippo virtually on your Android phone.
Virtual Zippo Lighter app for Android [Free]
Virtual Zippo allows you to lit up the lighter by using your thumb on the roller (remember to open the lid of the lighter first). You can have a look at the swaying flame of the Virtual Zippo when you move your device, impressive.
Here are some of the snapshots of the Virtual Zippo, have a look –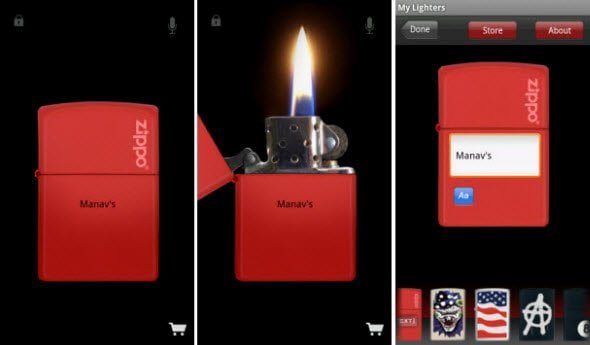 Summarily here is the list of features for the Virtual Zippo for Android –
Open and close the lid of the lighter; this makes a sound like the lid open and close operation in the actual lighter.
reFlame of the lighter sways with the movement of the device.
Several types of lighter designs are available. Using the shopping cart icon on the right bottom of the page, you can choose your favorite design for the lighter body.
Some lighter bodies also allow customization; you can enter your text, which later looks like an engraved text on the lighter.
You can go to the store, and buy a new lighter body for you. Some designs are available for free.
When on the homepage of the app, you can use the menu options, which has settings for 'Microphone' and 'Concert Model.'
So, if you like Zippo lighters don't miss to download this app, and enjoy the Virtual Zippo on your Android Device.
Download Virtual Zippo from the Google Play Store.