You go out shopping, and you get to see a bag carried by some other girl you have never seen before. What you do, take a snap. Now you start looking for the bird on the internet with some description which you see from the image. Bad luck you still can't find it. Here are two websites that help you search for a product from an image and find where to buy them.
Like.com is a site that helps you to find similar images if you go searching for a picture, much accurately. Thanks to the technology they are using, you can find information based on the snapshot you took. And not only this, you can even buy them. It's more like they have integrated Visual Search and E-commerce.
Search product from an image, and find where to buy it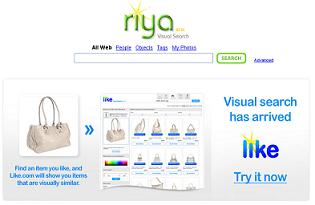 What is Visual Search?
As the name suggests, you search not by keyword but according to the description of the image you give, like color, shape, size, and even price. You choose a product picture, modify it according to your requirement, and depending on that. The visual search engines give a pretty neat result set. So now it is easy for you to find by looking at things rather than using keywords all the time.
How does Visual Search Engine Works?
The visual Search engine has a massive database of images of different products. They have categorized based on the property like, what it contains, color, and other visual attributes. So when you add correctly to the selected object for search, it matches those properties with the one in the database.
What if I am still not satisfied?
It goes like this. When the result doesn't match what you do, change the keyword right!! Similarly, if your search result on the Visual Search engine doesn't match, change the property of the image and search again. Another thing is that suppose you like to look for a pattern or design on the shirt, easy. Just draw a box on the image, and it gives you similar shirts with the same model.

What if I want to find things a celebrity was wearing?
This site has a massive database for this also. They have clipped out things used by a celebrity on different occasions, and you can search on them by just clicking. What they have done is targeted the product and added attributes to it. Now, if you click on the product "Nikole" is wearing, it will take you to the product and show you similar types. If you wish, you can buy as this site is integrated with e-commerce. Look at the image below. Try Like.com now!! ( Acquired by Google )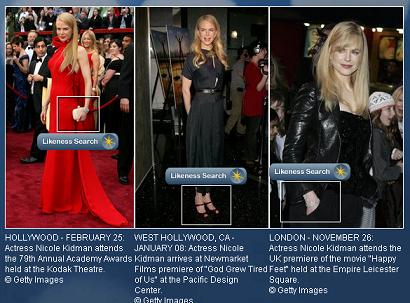 Want to search people by facial recognition?
Riya.com is another site that allows searching a person by face texture and impressions. All you have to do is upload the image to this site, and facial recognition technology is applied, and visual clues are captured. This technology allows you to search for people in photographs and information you need. Go to Riya.com
Update: Google has bought this.