If you ever wanted to make a voice call over LAN, then here comes a portable application–TinyTalk–that can do that for you. We had been using the Chat on Lan software we had talked about Chat on Lan with IP Messenger, but with this, you can instantly make a voice call without using the Internet.
Voice Chat on Lan with Tiny Talk
Once you download, make sure to keep at a place where you don't end up deleting the software. It's a portable application. Once you launch it on multiple computers, you would be able to connect to any of the other people who are using the same software. The software works fine, and uses the same principle of IP Messenger except that will not let you auto-discover all the people using Tiny Talk.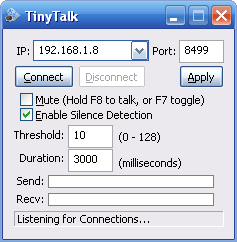 Features and Details:
Supports 8-bit PCM voice data at 11.025KB/s in Full-Duplex operation. Don't expect a high-quality sound but this will be very fast as its on LAN.
If you don't talk for 3 seconds it will automatically pause the transmission. Safe in case somebody drops in and you cannot talk.
Hold and toggle like you are speaking on Transmitters
Configurable port which is missing in IP Messenger.
You can change settings as you can see in the screenshot. I would strongly recommend you to use the keyboard to talk and hold. It will be much faster than using a mouse. Also, the option for silence detection can be unchecked. It will come in handy when your conversation may have breaks, but you don't want the call to drop.
When trying to connect to any person, you will need his IP address and Port Number. Only using these two, you can connect, and make voice calls.
Voice Chat on Lan is definitely useful, especially if you do a lot of networking!
Download Tiny talk via Madhur