Having a search engine for Wallpapers, Sounds good isn't it? Wallbase is a search engine, designed especially to search and download free wallpapers from their database. At first use it looks like a simple search engine which can search wallpaper based on keywords you type into the box.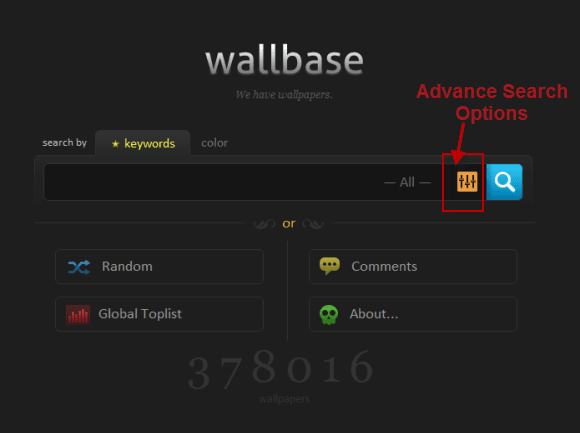 The view changes as soon as you switch to Advance Search. There are tons of options which not only gets wallpaper based on keyword but you can choose for
High Resolution Wallpaper
Search exactly by your monitor resolution
Use filter to find safe wallpapers
Find wallpapers using aspect ration. You can even add your aspect ration in the search.
As the website tracks the popular wallpapers, you can order them by popularity, Views, Favourites, Random, etc.
If there is nothing specific, you can try the 'Random' and 'Global Toplist' buttons to browse the wallpapers. The website also lets you register and mark wallpapers as favourites. This way if you ever lose your wallpaper, you can get here and download again.
These favourites can be marked as public or private. You can search for other users and see their public profile and their favourite pictures. Wallbase is a nice resource for getting loads of high resolution wallpapers, go ahead and try it now. Try Wallbase.
Also make sure to visit our Wallpaper Section to get more Wallpaper Download Resources