Looks like YouTube is finally gearing up its longtime waited rented movies though it has not started it with a collection of over 400 movies on its dedicated movies section seems to be taking a direction. Now you can watch full-length movies on YouTube for free which on an average are one hour plus except the Bollywood Movies which are like 2 to 3 hours, absolutely free.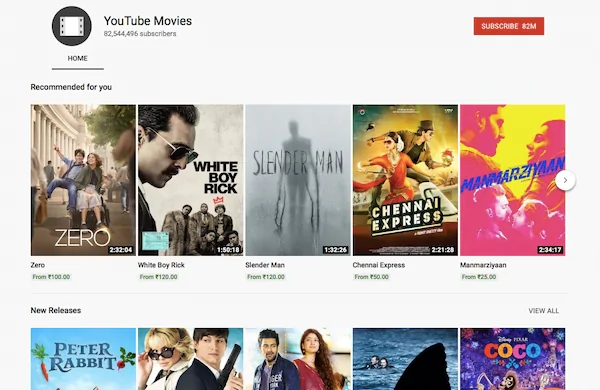 Watch Full-Length Movies on YouTube for Free
There are a couple of categories like Horror, Bollywood, Action, Adventure, etc but a lot of movies cover picture partially nude cover page. I am not sure how YouTube might be handling it except the age restriction policy they have. So if you are handling it over to the kids, you should give it a pass.
Sadly, the feature which used to share details of rating, actors, and movie information has been removed. Now when you click on any of the listings, it opens up the video page which shows the trailer. I would have loved to see movie information easily than loading a full-fledged trailer to find those details.
When you hover over any of the listings, you can add to watch later section. Nevertheless, it has become much easier to watch movies on YouTube if you had missed them watching in theatres.
Lastly, the number of short movies have reduced drastically. After almost 9 years of reporting this for the first time, I don't see any short movies section which one can watch for free.
That said, here is a small tip. If you do not want to spend real money on YouTube Movies, install Google Surveys. It offers a decent amount of money if you participate in the Survey. You can use that money to Watch Full-Length Movies on YouTube for Free.
Movies are not available in many places, but most of them are paid. The only way out to watch them free is by using this technique.