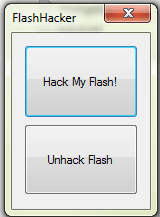 Watching any video online or on your desktop, any keyboard or mouse movement you make results in either getting it off the full screen or brings up the menu bars.  JamxxZ had this problem viewing videos online and he created a fix, Flash hacker,  which allows you watch full screen flash videos e.g. You tube videos on one screen and let you work on second screen with any keyboard or mouse movement happening.
Download his from here.
Close all your browser once
Turn on Flash Hacker.
Launch your browser
Click on hack my flash button to fix.
Now you will be able to work and watch on dual screen without disappearing your full screen video.