How often have you come across a TV show or a movie that isn't available on any widely recognized streaming platform? Frustrating. You look for hours, trying to find one good site that would allow you to relish that movie or show, either by downloading it or streaming it online for free. To relieve you from this bothersome situation, we have put together a list of sites where you can watch full-length TV shows and movies online. Instead of aimlessly wandering on the internet like a ghost, you can visit them.
Most of them have films and shows for free or rent, most of which are unavailable elsewhere. We have covered all if you want to watch full-length TV shows and movies online. So, what are you waiting for? Grab a margarita and read everything about the best website to watch full-length TV shows and movies.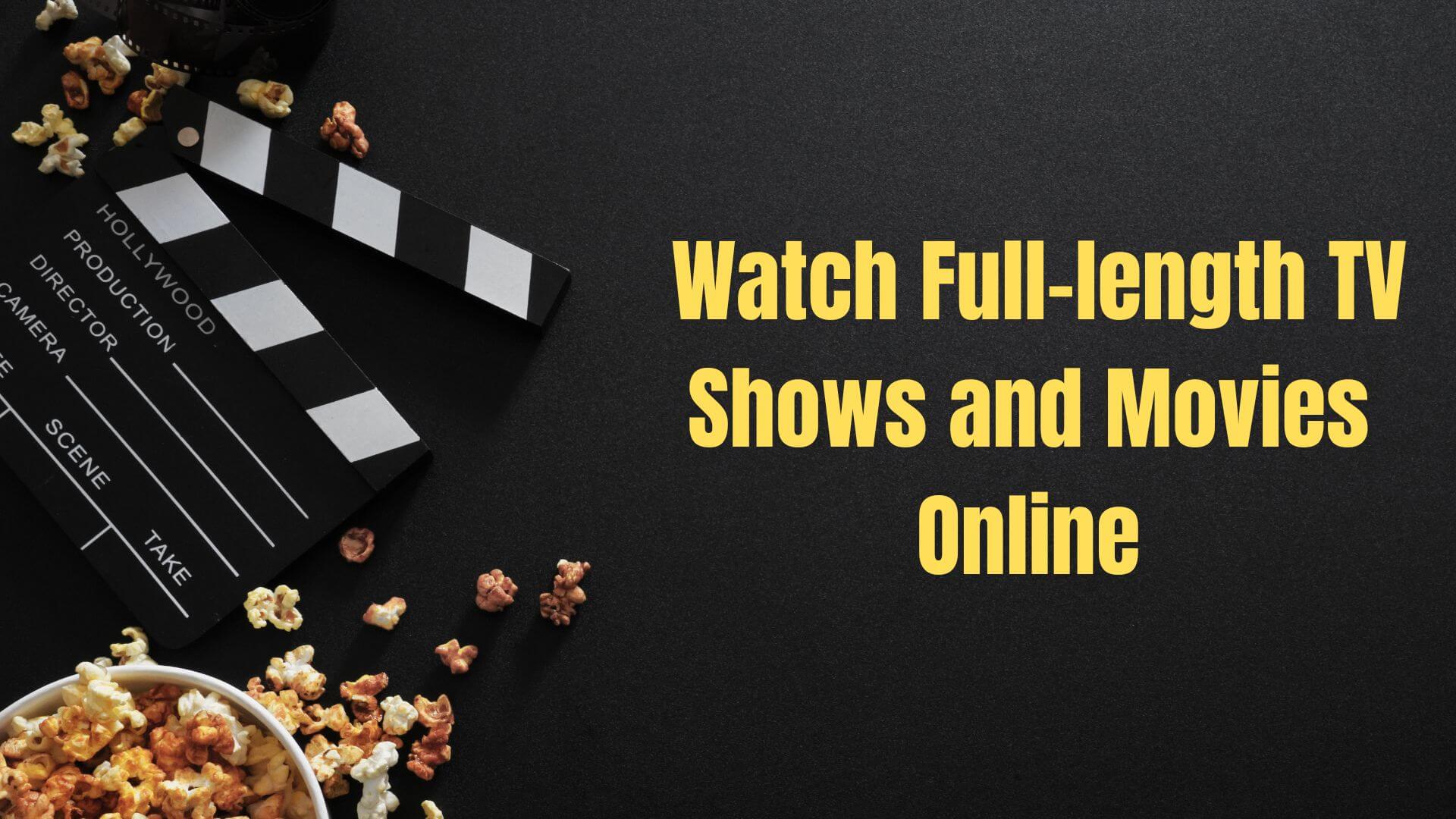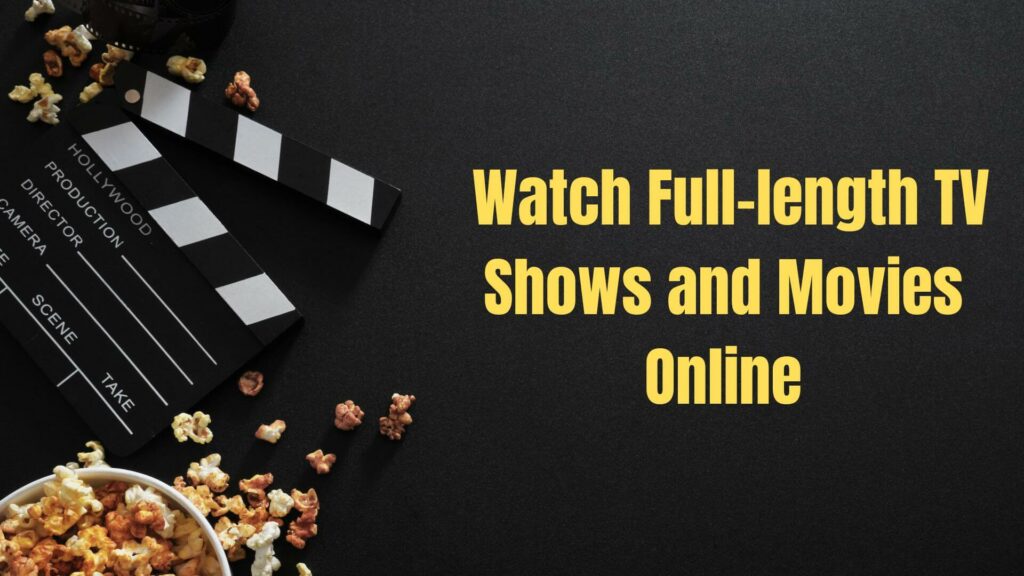 Top Sites to Watch Full-Length TV Shows and Movies Online
Several platforms provide full-length TV shows and movies online. Thus, you can binge-watch with your favorite snacks anytime!
1] Tubi
Tubi is a free, premium, on-demand video streaming app. You can visit the site and start streaming movies instead of downloading the app. With a library of over 40,000 movies and shows, Tubi has around 33 million active monthly users. It is a safe and legal video streaming platform. To keep their service free and legal, they include ads that monetize the content shared by Tubi's partners like MGM, Lionsgate, and Paramount.
You can stream it for free on Android, iOS, Roku, Apple TV, Amazon Fire TV, Xfinity X1, Xbox, Samsung Smart TVs, Sony Smart TVs, PlayStation, and the web.
2] Plex
Plex is another free video streaming service. The site offers access to hundreds of classical gems. The platform provides many choices, from action, crime, and thrillers to drama, romance, and comedy. And the best thing about it? All of it for free! So, get your popcorn and coke, lie back down on your couch and summon your inner couch potato! Because once you get started, it's going to be a while. You can even make your collection and stream it.
This service works worldwide, therefore offering access to content from more countries than any other service. You can watch Plex instantly online through your smartphones or laptops or stream movies and TV shows through the Plex app using streaming media players like Amazon Fire TV, Android TV, Apple TV, Chromecast, Roku, etc. Besides, it is also available on Smart TVs like LG, Hisense, Samsung, VIZIO, etc.
3] Rakuten
Rakuten is the Japanese word for 'optimism.'The developers of Rakuten TV strive to spread optimism through their venture. If you're looking for free documentaries, along with a kaleidoscope of different movies, TV shows, and news to watch, Rakuten TV is your go-to site. It is one of the leading Video On-demand platforms in Europe. This free video streaming platform offers various genres as part of the Rakuten Group. Its ease of application and influence has helped it build a vast global community of millions of users.
4] Crackle 
Crackle, previously called Grouper and Sony Crackle, is a free online video-streaming service. It was purchased by Sony in 2006 and renamed Crackle. One drawback of it is that its services, as of now, are being provided only in the United States and its territories. People from other regions cannot access its services. The site allows you to watch full-length movies without a subscription or sign-in.
5] Internet Archive 
The Internet Archive was established in 1996 to preserve the historical record of the World Wide Web (www). As of today, it contains 273 billion web pages from over 361 million websites, taking up 15 petabytes of storage. It is home to thousands of movies, digitized books, documentaries, news, music, podcasts, and much more. A hub of around 90,000 movies spread across various genres, the Internet Archive offers access to gems otherwise lost to history.
It doesn't stream contemporary movies available on other popular streaming platforms. It aims to preserve stuff that is no longer available on the internet. It has got everything from feature films to noir, from sci-fi and horror to comedy and short films, from world culture documentaries to silent cinema. And all these services are free of cost! No subscription, no payments, and no sign-ins.
6] Yidio 
Your Internet Video, or Yidio, is a video aggregator platform. It aggregates movies across various subscription-based video streaming providers, making all the content available from a single interface. In simple words, Yidio collects content from sites like Netflix, Hulu, Amazon prime, etc., and helps users discover movies and TV shows via one platform. If the film you wish to watch is not free, you can rent them or buy them through the site. It works more or less as a streaming guide.
7] BritBox
BritBox is an online digital video subscription service. It is only available in nine countries across North America, Europe, Australia, and South Africa. As the name suggests, BritBox mainly offers exclusive British content supplied by the service's founders, BBC Studios and ITV plc. An important note is that the services provided in and outside the UK differ in their content. Some movie shows that might be available on the site inside the UK might not be offered on international grounds. Both services function separately. BritBox is not free and requires a subscription.
8] Vudu 
Vudu is one of the most popular streaming services available on the web. It offers a combination of free movies and movies you could rent or buy to watch. Vudu consists of an extensive library of free movies and TV shows and an even more extensive archive of titles you could buy or rent. You must create a free account to stream movies and shows on the platform. And then voila! Stream, rent, purchase, and repeat!
9] Pluto TV
Pluto TV is a free ad-supported video streaming service. It is owned and operated by Paramount Streaming, a division of Paramount Global. With 400 plus global partners, it has 50 million active monthly users. So, if you're confused about what to watch, you must head to this site and have fun. It is free of any payments and passwords whatsoever. It is available in the USA, the UK, Austria, France, Canada, Switzerland, Spain, Italy, and Latin America.
10] Popcornflix
This site is for you if you want to watch full-length feature movies. Popcornflix offers a wide range of classics and films that have become part of the cinema cult. It is available on your favorite streaming devices, including Smart TVs and video streaming devices like Amazon Fire TV, Apple TV, Android TV, Chromecast, Roku, etc.
Conclusion
You always look for something new in a technology-dominated world influenced by tech-driven devices. We all are in a constant dynamic state, always hungry for more content. With OTT platforms changing the way we look at cinema and visual media, choosing one out of hundreds of thousands of choices often gets confusing. Besides the mainstream OTT platforms like Netflix, Amazon Prime, Disney Hotstar, Hulu, etc., hundreds of lesser-known streaming services exist. Unlike the premium players of the OTT game, these lesser-known sites don't always require subscriptions and monthly payments. All the services mentioned above can be browsed to look for movies and TV shows for free. Some movies that are not free can easily be rented or purchased.
These lesser-known sites have begun to stand out these days. With new, updated, and upgraded premium streaming platforms entering the game, sites like Tubi, Plex, Rakuten tv, Vudu, etc. have started gaining more popularity owing to their convenience and affordability. No more aimless hunting and surfing for movies or shows required! No unnecessary stress is needed for changing subscription plans on group streaming days! Watching endless movies with friends online has never been this easy! Choose from an exquisite collection of classics, retro gems, comedies, thrillers, horrors, documentaries, noir, and romance. Watching your favorite movies and TV shows was never this easy.
Is 123Movies legal?
123Movies streams Pirated content; hence it's illegal in most countries. However, privacy is legal in Poland, Switzerland, and Spain, so the service is legal in those countries.
Where Can I Watch All Movies Legally?
Popcornflix, Tubi, and IMDb TV let you watch all movies legally. Then there are other popular streaming services such as Netflix, Hotstar, Disney Plus, Prime Videos.
Is MoviesJoy safe?
If piracy is illegal in your country, MoviesJoy isn't safe, as you would get into legal trouble. However, if your country permits piracy, it's safe for you.