If your iPad is running out of space and you hate sitting before your computer to watch favorite videos and listen to music then  ZumoCast is an excellent solution. This application lets you watch videos / movies and songs which are stored on your PC or Mac without moving them into your iPad.
It supports ivX (divx),Flash MP4 Video (f4v),Quicktime HD Movie (hdmov), MPEG-2 Program Stream File (m2p), Matroska (mkv), AVCHD Video (mts), Material Exchange Format (mxf), Ogg Media File (ogm, ogv, ogx) , SMIL Presentation File (smil), Video Transport Stream (ts), ASF (asf, asx), 3GPP (3gp, 3g2, 3gp2, 3gpp, 3p2), AVI (avi), Flash Video (flv), MP4 (m4v, mp4), QuickTime Movie (mov), MPEG Movie (mpeg, mpg), Real Media (rm, rmvb), DVD Rip (vob, iso) and Windows Media (wmv). This completely frees you from convert videos and music files to formats required for iPad.
Technically you link your computer to their online service and then run the application on your iPad. While setting it up you will need to share folders which has your music and videos or even files. The application running on your iPad then locates your computer and streams video and audio to your computer.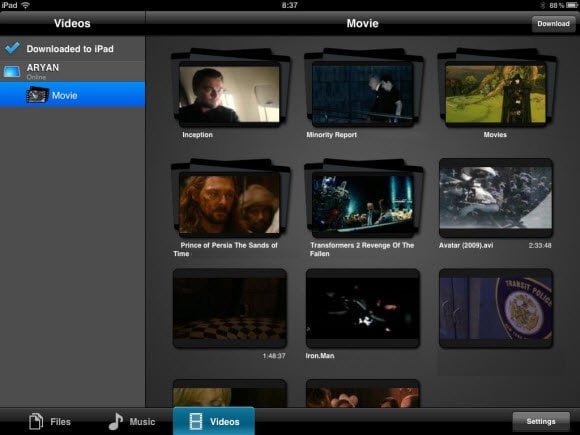 Now for doing this you need to have internet connection but if your iPad and PC or Mac or on same network, it will stream them over the network which means at home you don't consume any bandwidth but if lets say if you are at office and want to watch movie then it bandwidth consumption takes place. But since this application also lets you download movies to your iPad from your computer you can temporarily download and delete it when you have watched the movie enough.
Over the same network I found the video buffering very smooth no glitches and it also supports resume, so even if you close it all of a sudden it gets you back to the same place. It also adjusts video quality according to the speed of the network. It also works over 3G.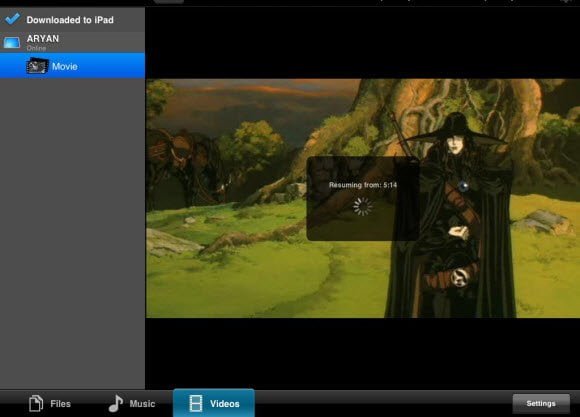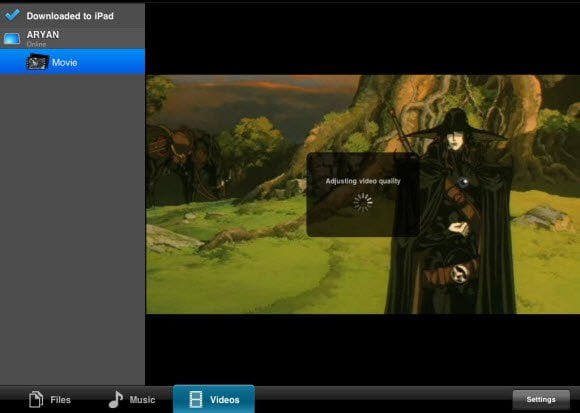 Now the drawback to this application is it needs internet connection to link your computer and iPad even if you are on the same network. Probably that's required for authentication but once connected you can just disconnect and still watch your movies and listen to songs.
Download ZumoCast ( You will need to install a client in your MAC or PC and iPad / iPhone application ) | Thanks Vijay Anand