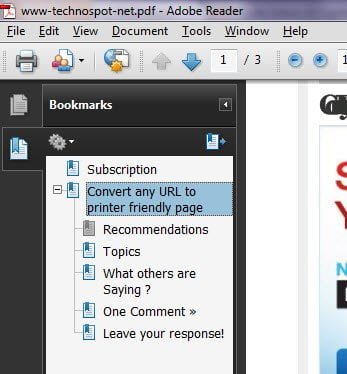 When you create PDF for any long webapge and later on when somebody makes search to find something it becomes a total mess. The only reason that most of the such PDF service just print it plain.
Web2PDF is an exception here. This service when creating a PDF for any Web Page, reads the sections available in webpages in form of h2, h3 html tags and create a easy to navigate menu which you can use to browse sections of webapge easily. Very Handy. These navigation come under bookmarks.
Apart from this a bookmarklet is available which gives you one option to create PDF of any website.
Check Out Web2PDF | Related : Convert any URL to printer friendly page