You might have observed that whenever you browse the websites, some of them request you to subscribe to their service through a prompt message box that randomly appears on the screen. This prompt box is known as a pop-up.
Pop-ups are basically meant for advertising and informing purpose. Many businesses use it to convey their customer about the latest happenings, new product releases, or providing the offers. The notifications you receive on your phone from online food services or the e-commerce apps are mobile pop-up notifications. All in all, it is quite a cost-effective method to communicate with consumers, especially for a startup company.
However, in recent times, the pop-ups' reputation has slopped down, and they are becoming more annoying than useful. The reason is because of its overexploitation by cybercriminals. This excellent feature is being maliciously used to inject hazardous malware programs such as browser hijackers, trojans, etc.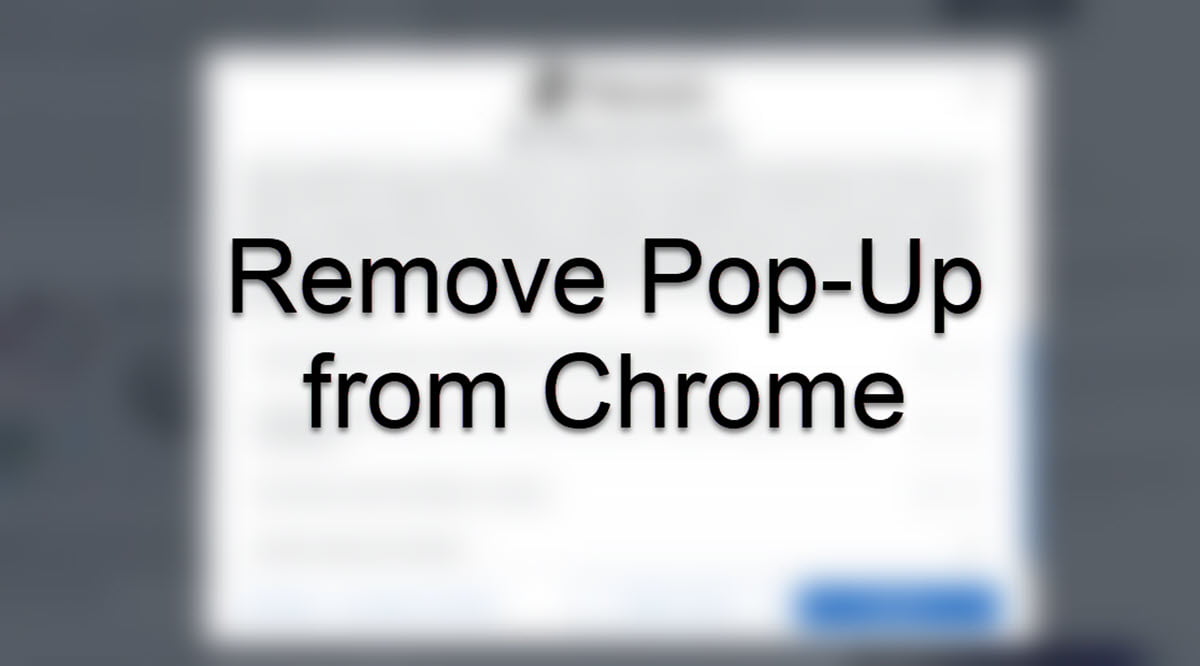 Users are often bombarded with random, irrelevant pop-ups while browsing the internet to complete their essential tasks. This diminishes their experience, and if they, by mistake, click any of those, they may unintentionally invite one or multiple malicious programs or files on their system.
We will now discuss how unintentional pop-ups appear on your screen and how to remove them from the system.
Why do Pop-Ups keep appearing?
As already mentioned, pop-ups are used for both valid and invalid purposes. Here are the top legit reasons for the appearance of the pop-up.
You visited a service site and browsed it for some time. That site may throw a pop-up at you for providing your guidance.
Some blog sites may use pop-ups for asking the visitor to subscribe to their newsletter or the website. A blog site could also display pop-ups for asking the readers to share their blogs.
If you have visited any e-store, you may get discount offers in the form of pop-ups.
Many products or services based sites can deliver you pop-ups based on your search history. (It may be legal or illegal).
Pop-ups are used for malicious purposes too. Here are the top reasons why irrelevant pop-ups are generating on your system.
Your system is infected with Adware, which is displaying irrelevant pop-up ads for the revenue generation.
You might have mistakenly subscribed to a malicious site that is bombarding you with pop-ups.
It is possible that a redirect virus might have compromised your browser, and that may be causing the random pop-ups.
How to remove Pop-Ups from Chrome?
As you might have understood, malicious pop-ups can cause severe damage to the system. They are irritating and frustrating, but they can cause much more trouble by releasing the dangerous malware on your system. It is, therefore, essential to remove them entirely from the system. Here are the top ways to do that.
1] Using the Chrome Malware Scanner
Chrome being a vastly popular browser, provide many advanced features to its users. Google Chrome users can take advantage of the in-built malware scanner of the browser. To use the antimalware, follow these steps.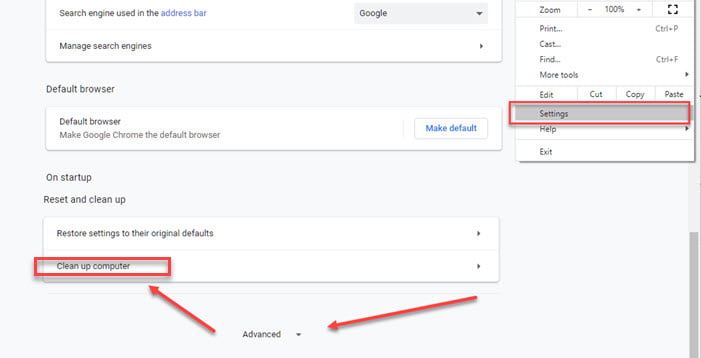 Open the Chrome browser.
Navigate to Settings by clicking on the three-dots at the top-right corner.
Open the advanced settings by clicking on the Advanced.
Look for the "Reset and clean up" heading and click on Clean up computer.
Now click on Find to begin the malware scanning. You can also uncheck the below box to skip sending the scanning details to Google.
2] Block Pop-ups from Site Settings in Chrome
You might have accidentally allowed any suspicious sites to show you random pop-ups. Google Chrome provides you an option to block those sites from displaying you irrelevant ads and notifications.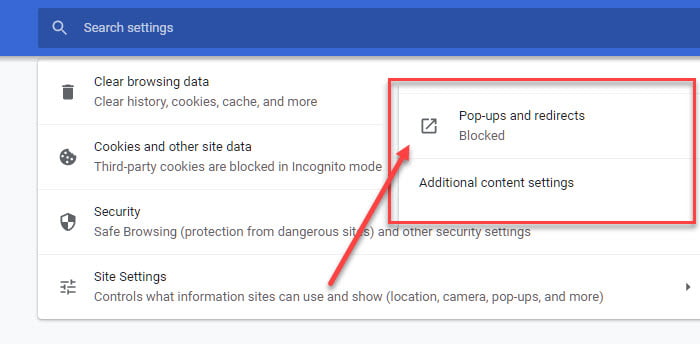 Open the Chrome browser and go to
Click on the Site Settings option under the "Privacy and Security" heading.
Scroll down for the 'Pop-ups and redirects' option and click on it.
Remove the suspicious sites from the 'Allow' list and add them to the 'Block' Block the pop-ups.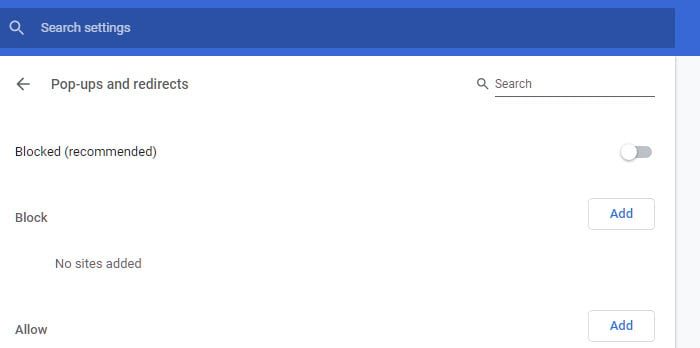 3] Remove Malicious Web Extensions
Some web-extensions present themselves as legit and useful but silently delivers the irrelevant pop-up ads on your browsing screen.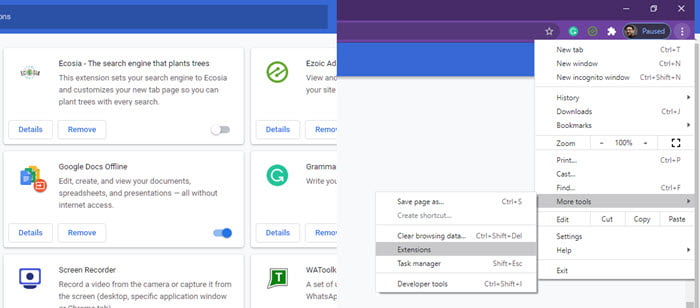 Here is how you can remove the extensions from the Chrome browser.
On the Chrome browser, right-click on the three dots at the top right corner, hover your mouse cursor over More Tools, and select Extensions.
From the list of extensions, look for the suspicious ones and remove them one by one.
4] Using Antimalware Program
If nothing works, you can use the antimalware applications to remove the pop-ups causing applications. Windows 10 comes with the in-built security program known as Microsoft Defender, which is good enough to catch the culprit applications. However, some advanced malware can bypass even the Defender. In that case, you can equip your system with a robust security solution such as Malwarefox for high-level security.
Bottom Line
When you would first experience the pop-ups, they seem irritating but harmless. However, most pop-ups are the gateway for the other dangerous malware programs. Moreover, continuous bombarding of it can diminish your browsing experience and ruin your workflow. Since prevention is better than cure, it is better to prevent pop-ups from entering your system by following the healthy browsing practices and equip your system with a well-defined security solution.