Do you leave your phones, laptops, or PCs open for everyone to read your important emails? Sure, you don't. It becomes more critical when your primary work is on Windows. The person who wants to check your laptop is a few minutes away from stealing your essential passwords if he gets your email address or mobile number from your PC. This article will tell you about multiple ways to lock the screen on Windows. Make sure you read this article till the end for a better understanding. But first, let us look at some of the reasons for you to lock your screen.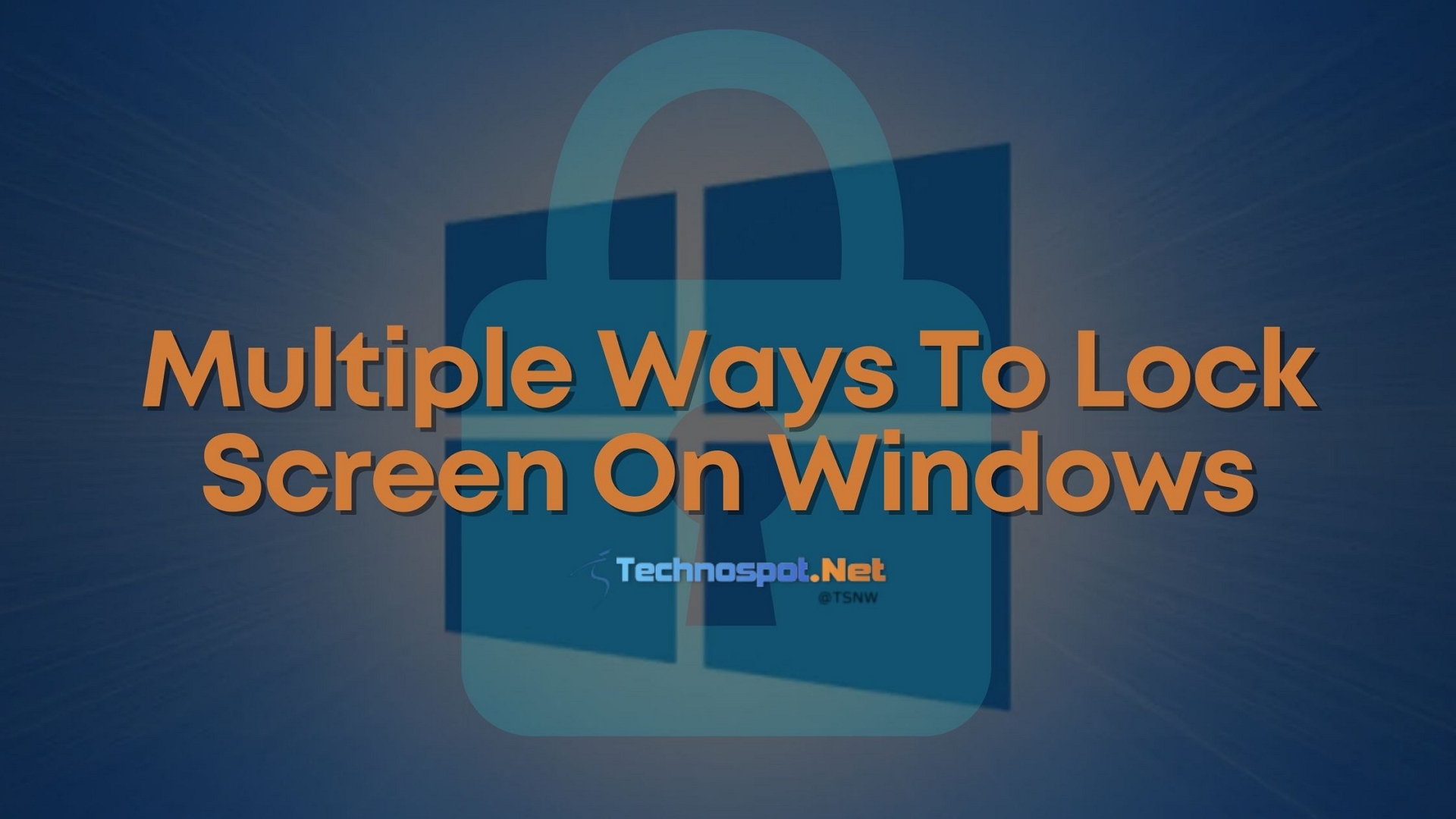 Why Should We Lock Your Screens?
Don't worry. We are not scaring you as it's not a big thing to deal with. You are just a few steps away from resolving this issue. Simply by locking the screen of your tablets, phones, or laptops, you will be relaxed, leaving your laptop open without any suspicion.
In Windows, the login screen is the next thing you see when you lock your system. The Windows keeps active behind the background while your screen is locked. The screen should ask for the account PASSWORD or PIN if anybody tries to use the system in your absence. So to prevent you from stealing your digital photos or notes, we have several ways to keep your system secure, which can help you learn the multiple ways to lock screen On Windows 11/10.
Multiple Ways To Lock Screen On Windows 11/10
You can customize the Windows lock screen to personalize them according to your requirements. It also helps you save energy or battery on your laptop. So, it is a good idea to learn about the different ways of locking your screen. In this article, you will grow at least 1% in learning something significant. There are many ways, some are a few keys away, and some are comparatively long, but there is no harm in remembering them all. We have collected five ways for you in this post.
Keyboard Shortcuts
Start Menu
Task Manager
Dynamic Lock
Windows Screen Saver
Let's look into these methods in more detail.
1] Using Keyboard Shortcuts
Below are some of the keyboard shortcuts you can use quickly to lock your screen.
The very first and easiest way to lock your screen is just three keys away. All you need to do is to press these keys simultaneously. Press Ctrl, Alt, and Delete together. It shows it like pressing Ctrl + Alt + Delete.
After pressing them together, it will display a list of a few options.
The very first option you will see is a Lock screen. Others are Switch user, sign out, change a password, and Task Manager.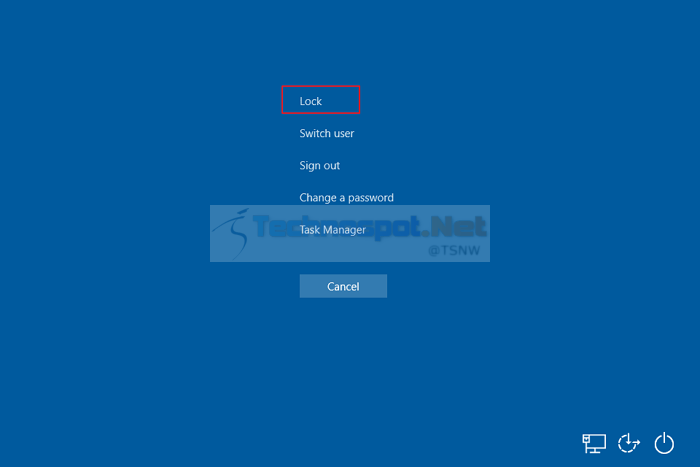 As soon as you press the Lock key, the very next screen of Signing in is displayed. When you try to sign in, it asks to enter the Password or Pin.
This one is the fastest and the very quickest only way to lock your Windows screen in seconds. Just two keys away from you are to make your system secure. The Window key and the key L.
Press Windows + L together and see the locked screen in front of you.
Easy, right?
We can perfectly write it Win + L. You might have done this before probably, and there would not be a surprise. It will again take you to the login screen, and you are good to go with entering Password or Pin if you have set so. Enter the login credentials (Make sure you have not shared your password with anonymous), and you are all set to further sign out or shut down your system. 
2] Using Start Menu
The above two methods were easy and steady to do. If you are looking for another quick way, we have one. You have to click on the Start button or Windows icon. You can also press the Windows button in the lower-left corner among the options. Click on the top one, where is your account name. Select Lock from the menu given.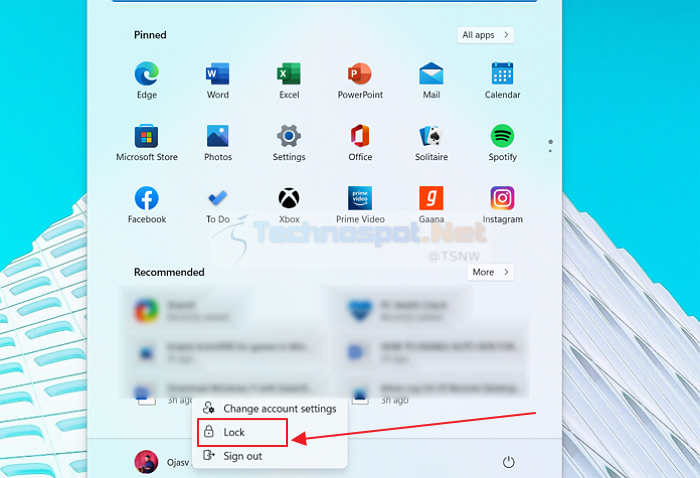 The lock screen will retake you to the sign-in screen, put the Password or Pin, and you can back into your account.
3] Using Task Manager
No more shortcuts now come to the manual method for locking your screen Windows. Taskbar shows the opened files or folders of your system. It also manages your Windows. To do so, follow the given steps:
Open Task Manager By Pressing Ctrl+Shift+Esc or by searching Task Manager. Once it appears, click to open it.
In the bottom left corner, click on more details.
Now, the taskbar will expand, switch to the Users tab.
You will now see the current user, right-click on the username, and select Disconnect to lock your screen.
So in a few steps, you can lock your screen manually. Make sure you have kept a complicated Password or PIN and limit the number of attempts when somebody tries it on the sign-in screen.
4] Using Dynamic Lock
What if you are away from your laptop or PC and unable to reach to lock your screen? How are you going to secure your Windows data? While you cannot, you can set up a method that can automatically lock the PC when you are not around. It can be achieved using the Dynamic Lock feature in Windows.
Before going ahead, you need to pair your smartphone with your PC or laptop via Bluetooth. You can also pair any other Bluetooth device such as earphones, smart band, and so on. Now follow the below steps:
Open Windows Settings from the Sart Menu or use Win + I on the keyboard.
Open User account settings by clicking on the username and opening sign-in options.
You'll see an option to turn on Dynamic Lock in the sign-in options and toggle it on.
It will then scan for your phone or Bluetooth device, keep the connection alive.
The PC will automatically lock if you turn your Bluetooth off or walk away from your desk.
5] Using Windows Screen Saver
You must have experienced the Windows screen locked automatically in some PCs or laptops while nobody is working on it. Some pictures revolve around the screen, and as soon as you try to activate it, it might ask for the password to enter to enable it. Yes, we are talking about screen savers. How do they help us to lock the Windows screen? We will understand by enabling one option to resume the logon screen while not in use.
Go to Windows search and type Change screen saver.
On opening it, a control panel window will open. Select a screen saver from the drop-down menu.
Set, wait time, and then select, on resume, show logon screen option.
When your computer detects some activity, the screensaver will stop and display the login screen.
What Does Alt+Tab Shortcut On Windows Do?
Alt+Tab shortcut on Windows opens a screen displaying all the windows open on your PC currently, and you can toggle between active screens by holding the Alt key and pressing the tab key to move between different windows.
How To Boot In Safe Mode From Log On Screen?
You can boot into safe mode by pressing holding the shift key while pressing the restart key. Once your PC restarts in a blue screen, select troubleshoot, the startup settings, enable safe mode, and click on the restart button to boot your computer in safe mode.
We hope this article helped you reach some valuable methods for different ways to lock the screen on Windows 11/10. We tried to give you short, automatic, and manual solutions for locking your screen. We recommend you set a complicated Password or Pin for your system security. I hope you have learned something new today!