Windows 7  DreamScene feature lets you play a video as  desktop background. The beauty of this applications is that you can run a video without using any video player.
Enabling DreamScene in Windows 7:
DreamScene is not available by default in all version of Windows but if you want to use in Windows 7 Home version and Personal Version, Door2Windows has developed a Windows Dream Scene enabler which turns this feature on for you.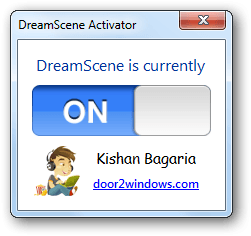 You need to run this using admin mode and it then creates a folder C:Users<username>AppDataRoamingMicrosoftWindows Dream Scene and also changes bit of registry settings to make the whole thing work.
Done this you can now right click on any video and set it as Desktop Background. It supports only .mpg & .wmv format.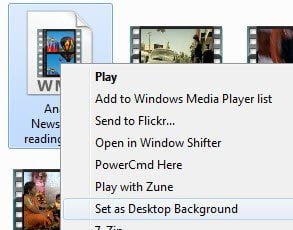 You can also drop videos at the above mentioned folders and select one using the follow steps:
Right click on desktop and select personalization.
Select Desktop background
Now if you have already set a video as background prior coming here, you should be seeing that video along with the video you have added.
You can select which videos can be played one after the other.
Download Windows 7  DreamScene Enabler here.