Twitter has rolled out list feature which was buzzing around form sometime. Since it is in beta not everybody has got this feature but if you did this link will take you there.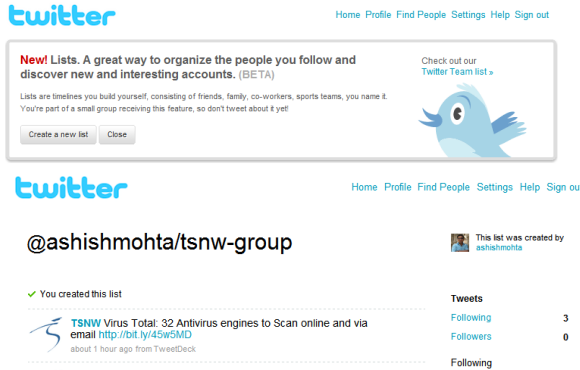 My Initial Thoughts :
This is a great feature to reduce the clutter in your twitter time line on the web version. I can create a lit of few people and then see the list's time line which would show me tweets of only those people.
It's a great opportunity for people who want to brand their network or company. Like I have created a list of our Technospot Network group who are on twitter TSNW Group . On similar lines if you have a huge company online and have people on Twitter, get them into one list.
Lists can be private or public. So if you dont want tell people who is in my list just keep it private.
Applications like Tweetdeck which used to provide columns or grouping of people in one place can now use this feature extensively to either replace it or let people create columns right of the list. We need some merging here and they said they are on it.
Twitter now shows Lists count right next to your followers. This number means in how many public lists are you included. Thus might trigger a reputation algorithm but misusing this is not out of question.
However twitter should add a search box on top of the list url. So I can search and add people or at least add a search box on top of every list .
When Somebody else sees your list he gets an option of Subscribing to the list. However I doubt that it will increase the follower count for all the people in the list. Thanks to Rajesh for helping me with the screenshot below.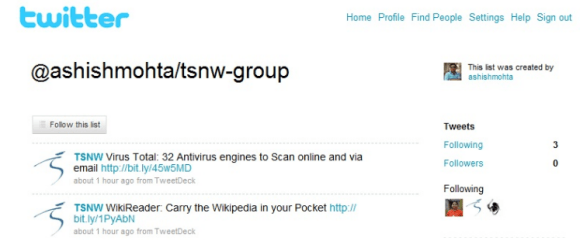 Over to you. Did you get the lists feature on your twitter profile ? Did you started using it ? How did you find it ? Share with us in comments.