If you are an avid Twitter user, you might be aware of #FollowFriday. If somehow you aren't aware of it, it is just a way to make a recommendation to follow a Twitter user to your followers. Generally, as it says, the recommendations are made on Fridays, with the #FollowFriday hashtag in them.
Generally people make recommendations manually by writing the Twitter Handle of the Users, whom they find interesting and useful (based on what they Tweet). Here is an online tool, FollowFriday Helper, which can make this process simpler, it scans your Tweets, and based upon several things like, people who Re-Tweet your Tweets, whom you interact with, etc.
Once you sign-in using your Twitter username and password, you come across the page as shown below.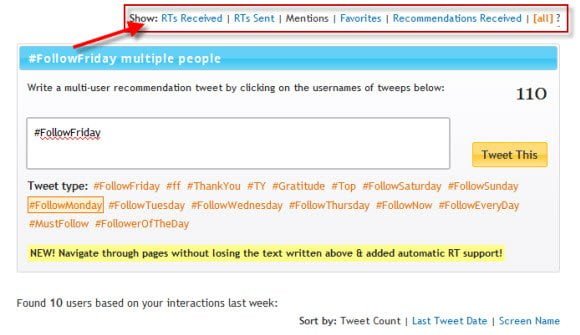 You can see the list of the Twitter users based upon, RTs Received, RTs Sent, Mentions, Favorites, and Recommendations Received, this will show you the list of Tweeps (Twitter users), simply click and add the handles in order to send out a #FollowFriday Tweet.
Once you are done with adding the Twitter handles, simple hit the 'Tweet This' button, and you Tweet will be posted.
FollowFriday Helper seems to be a nice way of making #FollowFriday Recommendations, go ahead and give it a try, tell us your views about it via comments.