The Opera web browser has plenty of features, but those features do not make the browser unique from the others. Therefore, the developers have now equipped a special feature, My Flow. It is a built-in sharing feature that is used to share data. This post will show you Opera My Flow and how to use it.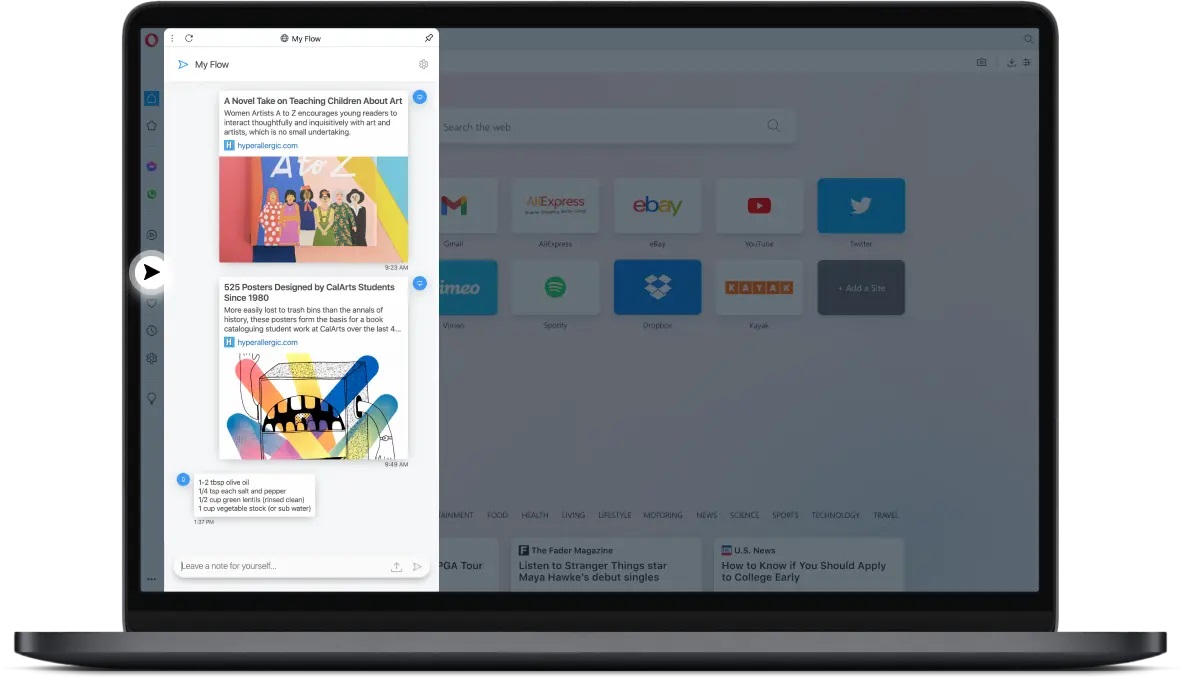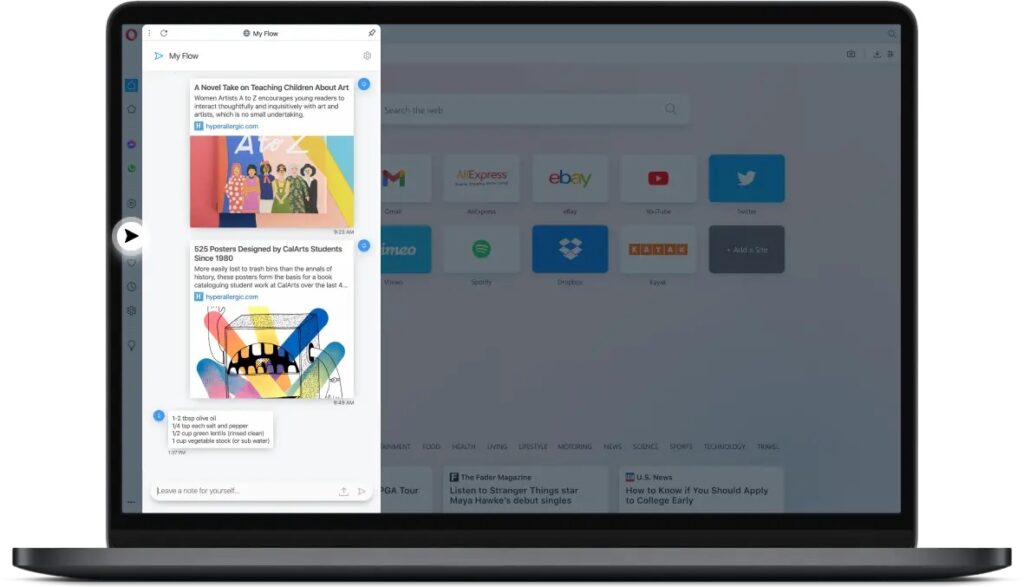 What Is Opera My Flow and How To Use It
My Flow allows users to share content with Opera installed from one device to another. You can easily send a text link from your desktop to your tablet without going through lengthy and troublesome processes. Opera My Flow is simple, private, personal, and a very secure feature that is data encrypted. Therefore, any information that you share is kept secure. All you need to do is start using Opera because this feature comes pre-installed.
Features of Opera My Flow
The simple but unique feature of Opera has made our lives much easier and more flexible. Let us look at some of the most exciting things about Opera My flow.
1] No logins are required
To access Opera my flow, you need not log in to any system. Instead, it can be used directly with the help of a QR code. You do not need an account, login credentials, or a proper setup.
2] Secure
Opera My flow is one of the safest and most private features. All the information you share is encrypted. Therefore, there are no chances of data leaks or data theft.
3] Seamless connection
It is a shared storage feature aiming to connect devices and transmit data flawlessly. This feature is quick to use, convenient, and very easy.
4] Versatile
You can share different kinds of files in Opera My flow. This can include files, videos, links, images, and notes. It is accessible to tablets, phones, and computers.
5] Stability
In My Flow, you can share files up to 10Mb in size. In addition, videos and audio files can be played within My Flow. Content will remain in My Flow for 48 hours or until you delete them.
How to Use Opera My Flow Sharing? (Phone to Computer)
You are impressed by the features. It is effortless to use Opera My flow. All you need to do is follow these steps. Here, We Are transferring data from phone to computer.
Launch Opera.
In the top right, go to the easy set-up menu and enable my flow.
Slide the slide bar, and it will show a QR code.
Go to My Flow on your phone to scan.
Scan the QR code from your phone.
Now both devices are connected, you can start sharing information.
Opera My Flow seamlessly lets you share links, files, videos, images, and notes. It is quicker than Google Drive and is free of cost.
Related: What is Opera Dial? How to use it?
The Conclusion
We hope this has answered your question, what is Opera my flow and how to use it? Today, we can say that it is one of the most exciting features adopted by the Opera web browser. It has made our lives easier, as we can now transmit data from one device to another with a single click. People are very busy in their lives, and such Technologies are an escape. The new internet is taking up the pace.
Related: The Best File-Sharing Services To Try
What Does Opera Do With My Data?
My Flow is an encrypted space shared by Opera Touch and your Opera computer browser that enables you to send files, links, YouTube videos, photos, and personal notes and access them from any connected phone or computer at any time. My Flow supports the playback of videos and audio files. Content will be retained in My Flow for two days or until deleted.
Case #1: Delete Content on Computer
In case you're willing to delete the content, you need to follow the steps:-
Go to my flow on your computer.
Click on settings in the top right corner.
At the bottom, click on clear.
It will ask if you are sure about clearing the data; click clear again.
Case #1: Delete Content on Phone/Tablet
Similarly, if you wish to delete data from your phone or tablet, then these are the steps you need to follow:-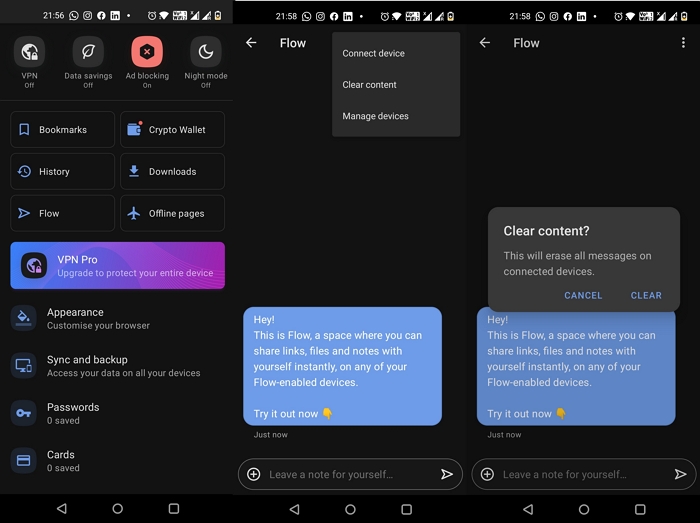 Open Opera on your phone/tablet.
Go to Opera My flow and tap on the three dots in the right corner.
Click on clear content.
Confirm again.
Does Opera Block Social Trackers?
Yes, Opera blocks social trackers. It blocks the trackers from collecting data, which helps in loading pages faster, and protects your system from malicious codes. Its fraud and malware protection warns you about suspicious websites and pages.