Windows 7 comes along with a built-in option, Recovery which provides ways to restore your windows machine to a previous state using easy methods like System Restore to long shot method of reinstalling the Windows again. The idea of coming up with this post is to make you aware that Windows is capable of making backup, performing restore and even from a system image you need not to use a third part application all the time. However there might be reasons where this fails and might need a bit of troubleshooting.
To launch the Recovery mode, Go to Control Panel and Look for option which says "Recovery".  There are in total three ways :
Using System Restore which works most of the time.
Windows in the background keeps creating a save point specially at times when you install a software. This makes sure that in case the software is bringing your computer down or making it slow, you choose this option. Here is an example how it comes right after software installation :
However some users complain of loosing their data and that happens because they are included in  restore.  So if thats the case you can always use another feature "Previous Versions" to get back accidentally deleted file.
Previous Versions are exact copy of your partitions or any folder or any file and you dont need to run a complex backup procedure. Just Right click on any drive and go to properties. Select the tab which says Previous Versions. Here you will see list of previous versions available. Right click on any of them and open and you will see exactly as below.Here you can explore all the files and copy it like any normal files you did on windows.
Using System Image :
Windows Allows you to create a system image which is exact copy of your partitions ( Learn How to create a backup image ) which can be scheduled. When you come to recovery option, under Advance Options you can choose Use a System Image to restore Windows.
Now since you know there is backup option lets know what exactly can you backup. By default Windows will suggest you to it to decide what backup needs to be taken but if you know what is important for you can select which folder and also if you need to have system image for this.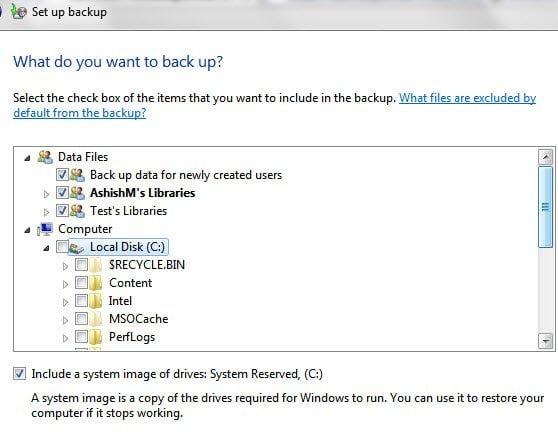 Reinstall Windows
This is the last thing you will like to do and only if you do not have an image backup. Thats why when the first time you install windows always create an image and save it so you can come back to a healthy point where all software are installed and you are ready to work on it.
Choosing this option needs a Windows Installation Cd and will keep all your files in a Windows.Old folder so if you need to recover any data you can still do it but none of the applications will work.
That's all about Recovery Mode in Windows 7 and in case you have a question leave it in comment and share how do you backup and restore your windows to make it working again.