Many users encounter an error in Whatsapp web that says WhatsApp Web: A database error occurred on your browser. It happens when you open web.whatsapp.com and a device is already linked. While Whatsapp does not have an official way to work around this error, there are some ways you can solve this error and prevent it from reoccurring. This article will talk about the fixes to the problem. Please make sure you read this article till the end to solve this issue altogether.
Why Does Database Error Occur In A Browser?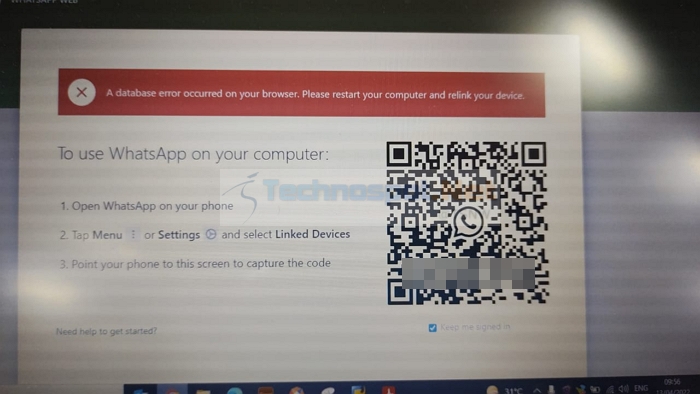 Database error in a browser while using Whatsapp web or any website can occur for various reasons. Every browser includes a database that a website like WhatsApp can use to download and store the content. If the database cannot be read, then the issue occurs. The primary reason behind this could be an unexpected shutdown or browser crash, or sudden closing of the tab when in use.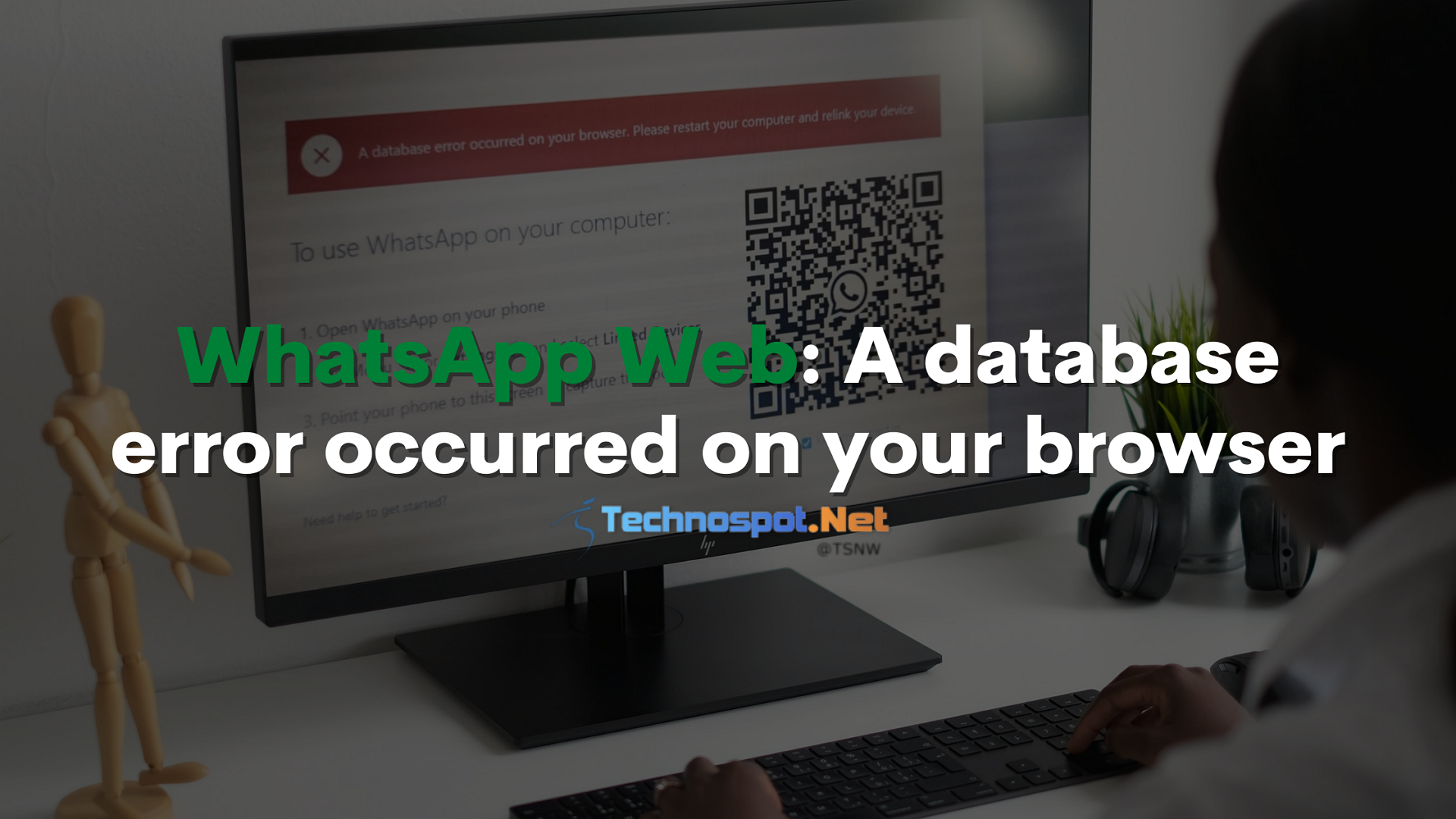 Whatsapp Web: A Database Error Occurred On Your Browser?
Well, now that you know why a database error occurs on your browser, we can expect you to take care of the causes and prevent the error from happening in the first place. Let's talk about the fixes of database errors on Whatsapp web.
Restart PC and Relink
Remove Device from Linked Devices from WhatsApp App
Reset Browser
The last suggestion will result in signing you out of everywhere.
1] Restart PC And Relink
Restarting the device solves many errors; in this case, it also works. It would help if you first restart your computer and then relink Whatsapp web using the QR Code provided on the Whatsapp web. If the issue persists, consider trying other fixes listed in this article.
2] Remove Device from Linked Devices from WhatsApp App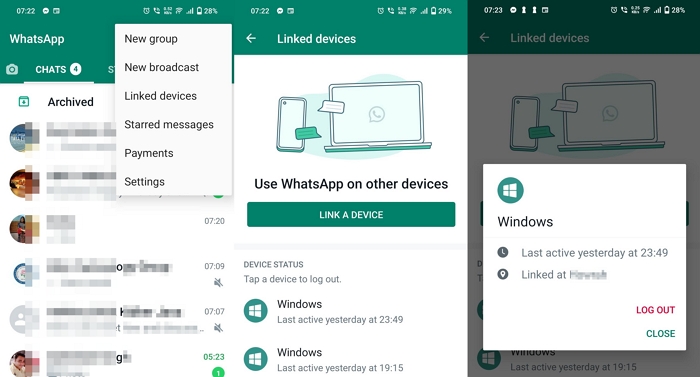 Delinking the device from WhatsApp App on your smartphone will invalidate the connection on the browser, and you can start over. WhatsApp web uses the built-in database in the browser to store something, and any corruption in it can cause a problem. Follow these steps to remove the device from Linked Devices from the Whatsapp app:
Open the Whatsapp app on your smartphone.
In the top right corner of the main page, tap on the triple-dot icon in the top right corner.
In the triple dot menu, tap on linked devices.
Now, you'll see the list of devices your Whatsapp web is linked to. Tap on the device which you wish to remove.
Now, a popup will open. Tap on Log out to remove the device from the linked devices list.
3] Reset Browser
We've already talked about cluttering data in a browser. Resetting your browser once in a while is generally recommended as it can ensure smooth functioning. Here's how you can reset your Chrome or Edge browser.
Resetting Chrome Browser
Here's how you can completely reset your Chrome browser:
Open the Chrome browser on your computer and click on the triple dot icon in the top right corner.
Select Settings from the triple dot menu
In the left pane of settings, click on Advanced to open a drop-down menu of advanced settings.
Select reset and cleanup from the advance settings.
Now, select reset settings to their original defaults in the reset and cleanup settings.
Now a popup will open asking for the final confirmation. Click on the Reset settings to reset Chrome browser settings to default.
Resetting Edge Browser
Resetting the Edge browser is an even more straightforward process. Here's how to do it:
Open your Edge browser and click on the triple-dot icon on the top right to open a menu. Then select Settings.
Select the Reset settings option from the left pane in Edge Browser settings.
Now click on the Reset settings to their default values option. You'll receive a prompt asking for confirmation. Click on reset to reset Edge browser settings to default.
What If Nothing Works?
Well, these methods should fix the error for you, but in case they don't, try these alternative methods:
Set Up Whatsapp Web On Another Browser
If the database error occurs even after resetting the browser settings and relinking, too, then there is a high chance of an issue with the browser itself. In such a case, it is recommended to use other browsers. You can use any browser, but Chromium-based browsers like Brave, Mozilla Firefox, and Opera work more flawlessly with Whatsapp web.
Use Whatsapp App For Windows
Whatsapp App for Windows is the complete fix to this problem. So, if you are okay with installing an extra app for using Whatsapp on your Windows PC, you can head over to the Microsoft Store to download the Whatsapp application for Windows and link your device to it, just like you did for the Whatsapp web.
Conclusion
That was all for our article on solving database error on Whatsapp web. One of the causes of database error can also be too many messages on your Whatsapp. You can try clearing some old conversations so that the database becomes less bulky.
We hope you found this article helpful. Please make sure to share this with everyone who will find it the same.
How Many Devices Can You Link to WhatsApp Web or Desktop App?
You can link your Whatsapp to up to 4 devices on the Whatsapp web or Whatsapp app for desktop. To use Whatsapp on any of these devices, your smartphone and the said device should have an active internet connection.
How To Fix the Sync Issue With WhatsApp Web/Desktop App?
The sync issue is mainly caused due to unstable connections on either of the devices. You can try refreshing your internet connection or relinking your device to Whatsapp web. Whatsapp is also testing a Multi-device feature where you'll be able to use the Whatsapp web independent of the smartphone. You join the Multi-device beta to avoid the issue.