Around 4 days back I received ( I am sure you also did ) an Email from Google Alert Team saying that
We're contacting you because you have an alert of type Web. We've decided to retire Web alerts because (1) they are used by very few people and (2) an alert of type Everything will find the same results.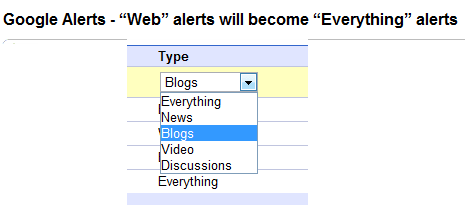 So the Web Alert is gone officially and it seems logical too because the nature of Web is now not just restricted to web pages and Google Alert itself provides with the categories like News, Blogs, Video, Discussion which makes the web, I would love to have "Social Media" or "Twitter" or "Facebook" there. What do you think ?