A software issue is frequently to blame for a computer that won't turn off when you try to shut it down. Either the PC's operating system has a flaw or a program interferes with its correct operation. Most of the time, your PC is not shutting down because your system is updating or an app is still running in the background. If you are wondering why I can't shut down Windows PC, this post will share multiple methods.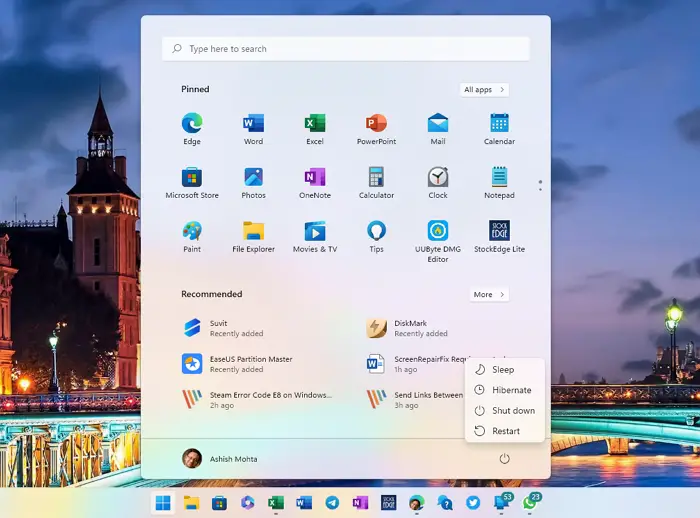 Why Can't I Shut Down Windows PC?
Given below are six methods you can use to solve the issue of not being able to shut down your Windows PC:
Force Shut Down
Turn off Fast Startup
Execute a Full Shutdown With the Shift Key
Use Windows Terminal
Run the Power Troubleshooter
Manage Applications That Launch Automatically
Some of these methods will need admin permission.
1] Force Shut Down
In this method, you have to utilize the power button on your PC to implement a forced shutdown of your Windows PC. To force the shutdown of your PC, press and hold the power button for a short while or until the PC screen goes blank. Remember to close any open apps and save your work before proceeding. However, if you use an older PC, this approach may harm the hardware.
2] Turn off Fast Startup
Fast Startup, also known as hyper boot or hybrid shutdown, is intended to speed up the time it takes for your PC to start up. When you shut down your PC, Windows will save the system files needed during startup. Although it speeds up restarting your PC, it slows the process of shutting it down.
Fast startup is turned on by default in Windows; thus, you must disable it to completely fix the shutting down problem. Here is how to go about it:
Press the Windows key + R to open the Run dialogue box and type powercfg.cpl into the text box and press OK to open the Power Options window.
Click on the Choose what the power buttons do option from the left pane.
On the next page, click on the Change settings that are currently unavailable link. This will enable you to edit the settings under Shutdown settings.
Under Shutdown settings, uncheck the box next to the Turn on fast startup (recommended) option and click the Save changes button.
Close any open programs on your PC and attempt to shut down your PC.
3] Execute a Full Shutdown With the Shift Key
To perform a complete shutdown with the Shift key, click the Shut down option in the Windows Start Menu or on the sign-in page while pressing the Shift key on your keyboard to complete a shutdown.
4] Use Windows Terminal
Windows Terminal has the direct ability to request a forced shutdown, which closes any open programs along with it as well. This is how you perform a complete shutdown using Windows Terminal.
shutdown /f /p
Your PC will now promptly shut down without processing or installing any updates.
The /p option with shutdown turns off the PC without a time-out or warning. It will be instant. However, you need to use it with  /d or /f. The /f option forces running applications to close without warning users.
5] Run the Power Troubleshooter
You are unable to shut down your PC because of a power problem. Luckily, Windows comes with a Power troubleshooter you can use to resolve the issue.
To run the Power troubleshooter, follow these steps:
Open Settings and click on the System option from the left pane. Next, click the Troubleshoot option on the right.
Click the Other troubleshooters option on the right from the next page.
Scroll down and click on the Run button next to the Power troubleshooter.
It will start looking for any prevailing issues. If any issues are detected, follow the on-screen instructions to resolve the issue and try shutting down your PC again.
6] Manage Applications That Launch Automatically
When you want to shut down your PC, applications and software may be challenging to close. This could be the root of your shutdown issues. These applications could start up automatically under Windows Startup without your knowledge.
Therefore, we can stop any startup of necessary applications via Task Manager in Windows. Additionally, this will speed up startup and shutdown as well. So, this is how you disable the applications through Windows Task Manager:
Press the Control + Shift + Esc keys together to open Task Manager.
In the Task Manager window, click the Startup tab to display a list of applications on your PC.
Right-click on the application you want to remove and choose the Disable option from the context menu.
After you disable all the applications that pop up during start-up or while shutting down your PC, check whether you can shut down your PC without any issues.
Conclusion
So, one of these tried and tested methods will help you shut down your PC without any hindrance. If none of these methods work, you can also try to shut down your PC by removing your laptop's battery and then trying to turn on the PC. You can also reset Windows and do a system restore to check whether they will help your PC to shut down.