You may have stumbled across an instance where you find yourself stumped over why your headphones aren't giving any output, even though they're correctly plugged into your Windows PC. To be honest, various reasons can cause your headphones not to work the way they should. In this article, we'll be going over a list of possible reasons for our headphones not working correctly in Windows, and we'll also be discussing multiple ways to fix the issue. So without any further ado, let's find out why plugging headphones in Windows doesn't work as expected.
Reasons Why HeadPhones Are Not Working in Windows?
As mentioned earlier, there can be several reasons that can cause headphones not to work properly or not work at all in Windows 11/10. In this section, we'll be going over some of the most common reasons behind headphones not working. There always is a chance of our headphones being faulty themselves. So, make sure to confirm that your headphones are working with another PC or phone before assuming that any one of the following reasons is the issue you need to fix:
Outdated Audio Drivers: There's a possibility that your headphones aren't being detected by your Windows if the audio drivers aren't up to date yet.
Audio Playback Is Not Allowed: If in Windows Sound Settings, the headphones are, they may not give any output whatsoever. It would help if you allowed Windows and apps to use the device for audio for them to start working again.
Windows Isn't Updated to the Latest Version: Although this may seem hard to believe, there is a chance that your older Windows version, due to some reason, has stopped detecting your headphones.
Audio Jack/USB Port Is Damaged: Irrespective of the type of cord your headphones come with, they won't work if the audio jack or the USB port itself is damaged. You can check for that by plugging the same headphones into a different machine and testing them.
These were the most common reasons that may be responsible for your headphones not working on your Windows machine. Now let's look at the fixes and solutions we can try to make our headphones work with our Windows 11/10 flawlessly.
Fix: Why Plugging Headphones in Windows Doesn't Work
Now that we've made sure that our hardware is working, i.e., there's nothing wrong with our headphones and our USB port/audio jack. Let's move on to the solutions we can try to make our headphones work fine.
Allow Audio Playback
Set As Default Device
Enable Disable Headphone via Device Manager
Update Audio Drivers
You will need Windows 11/10 admin user account to execute some of these.
1] Allow Audio Playback
If your headphones are selected as the Playback device but don't allow Windows and apps to use the device for audio, they won't give any output. Here's how you can check and allow audio playback: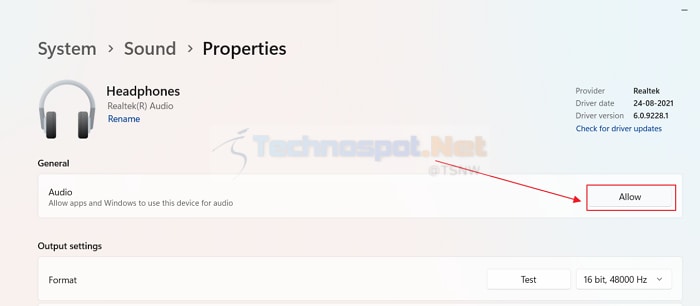 Make sure your headphones are connected to the system.
Find and right-click on the speaker icon on the bottom right side of your desktop in the taskbar.
Click on Sound Settings, and look for your headphones.
Click on the arrow button beside the headphones option to open the settings for the specific device.
Now, the first option will be to allow Windows and apps to use this device for audio. Click on the Allow button next to it.
2] Set As Default Audio Device

Making your headphones the default device for the system's main audio output might also solve the problem of headphones not working. Follow the steps listed below to do that:
Open Windows Sound Settings by right-clicking the speaker icon in the bottom right corner of the taskbar.
You'll mostly see two devices, i.e., a speaker and headphones. You'll also see some additional devices (if connected to your computer).
To set a device as default, you'll have to select the respective device by clicking on the radio button before it.
The default device settings are only applicable until the headphones or the speaker stays plugged in. If either of the devices is plugged out, the other one is automatically changed to the default.
3] Enable Disable Headphone via Device Manager
In case updating your audio drivers also doesn't work or if there are no updates available, you can try disabling them and re-enabling them:
Open Windows device manager. You can search for the same in the Start menu or use the keyboard shortcut (Win + X, followed by M).
Find the Audio inputs and outputs option in the Device Manager and click on it to expand it.
Now, right-click on the headphones option.
Now, from the right-click menu, click on the disable device.
Restart your machine, and re-enable them using the same method that you used to disable them. You'll now see an enable device option in place of the disable device.
Make sure your headphones aren't connected throughout this process and restart your PC again.
4] Update Audio Drivers
As mentioned earlier, there is a possibility that a pair of headphones doesn't work correctly with a Windows machine simply because the audio drivers of the computer aren't up to date or corrupt. Follow the steps listed below to check and update your system's audio drivers:
Open Windows settings by pressing Windows+I or accessing them from the start menu.
Click on Windows Update in the left pane.
Now, from the Windows Update menu, open the Advanced options.
In the Advanced options, click on the Optional updates option.
You'll see all the available updates for drivers under Driver Updates in the optional updates. If there is an update available for your headphone drivers, you'll see that too.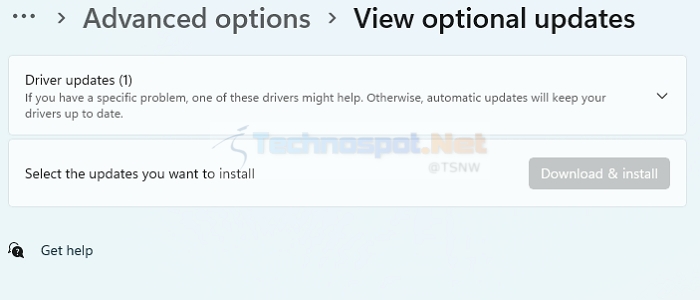 You can also download the driver from the OEM website by noting the Model number, or you can use third-party apps to download and install the driver.
At times, it has been noted that audio stops working after a Windows update. If that has happened, check out the troubleshooting guide designed specifically for this scenario.
These are some ways you can try to fix the issue of headphones not working in Windows. Problems like these happen when the system cannot detect the headphones or the system settings are incorrect.
Setting up a new audio output device on Windows can be a bit troublesome sometimes. It takes just a few tweaks in the overall system settings to fix it. That is why we mentioned some of the most common issues Windows users stumble upon when using headphones.
We also went over a few solutions that you can try if you're facing the same problem. We hope the post was of help, and you now know why plugging headphones in Windows doesn't work.
Why Does My Windows Computer Not Detect My Headphones When I Plug Them In?
There can be various reasons for Windows not detecting your headphones when plugged in. The most common ones are having outdated drivers, damaged aux connector or headphone jack, and obsolete Windows drivers. If these are not the reasons, you can try your headphones on another device. If they work with it, then there is an issue with your PC; if they don't, there's possibly an issue with the headphones themselves.
Is It Safe to Download Audio Drivers From the Internet and Then Install It on My Computer?
It is unsafe to do so. If you wish to install any additional drivers for your audio devices, or any other device, you should only do so from the manufacturer's official website. Other drivers available on the internet can bring malware, computer viruses, or spyware.