Normal users might just think that plugging in the Headset to the machine running Vista will allow them to use it but that's not the case vista. I received a bluetooth headset along with my dell studio 15 laptop which I was excited to use. I connected it via bluetooth. What came to my surprise was that the speakers were still working. and there was no sound in headphone except that I can control the music player.
After breaking my head for half an hour finally I found what was wrong. in windows Vista when you connect the headphones it doesn't switch. The user has to go and select the device which is listed in Sound Settings. Unless you do it, vista keeps on using the older one.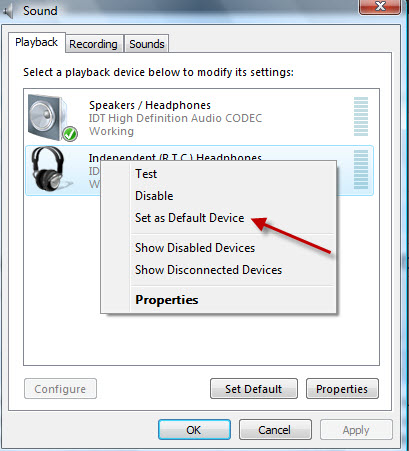 So just select the one which you want to use as default device and start using it. I hope if you have the same problem you don't waste another half an hour for this. In case this doesn't work, Learn how to use Audio Recording Troubleshooter to switch the default device.