Home Group Network is one of the biggest features in Windows 7.  It is basically
A virtual group where you can add trusted computer at your home or friends over wireless
Give them same kind of sharing and permissions.
You also manage these settings from one central place.
Stream Media to all people in same way
Share Libraries with them.
And Make your lie much easier when it comes to managing home network.
To start with, Home Group is available in your Network and Sharing section. This gets enabled when you add first computer to it. So when you click on Home Group you get options on what you would like to share i.e. Videos, Pictures etc. Once done with this you are ready to explore more features of Home Group.
As this is a new feature in Windows 7, computer running windows 7 and which have decided to go for Home Network options can really benefit the features.
You also are allowed to set a password for your home group when you create it for the first time. This runs with an extra level of security so you can only allow certain people to join in even in the home network.
Home Group Settings
If you see the above Home Group Settings screen you start with sharing the libraries (a new feature in Windows 7) and you can share your media i.e. pictures, movies etc but you would require Windows Media Center for this.
Other Settings
If you take a look at Other Home group actions they all are pretty important. It allows you to change the password, print password in case you would like to give it to your kid or parents and also if you had already joined an existing home group you can also leave and create your own.
Home group trouble shooter is very important because in case anything messes with this group there are lot of features this wizard can fix if you are left with no clue.
Advanced Home group Settings
The fun actually begins in the advanced sharing settings which forms a strong backbone for Home Group. This feature allows you to configure settings for the whole group right from file sharing, media sharing, printer sharing, network discovery etc.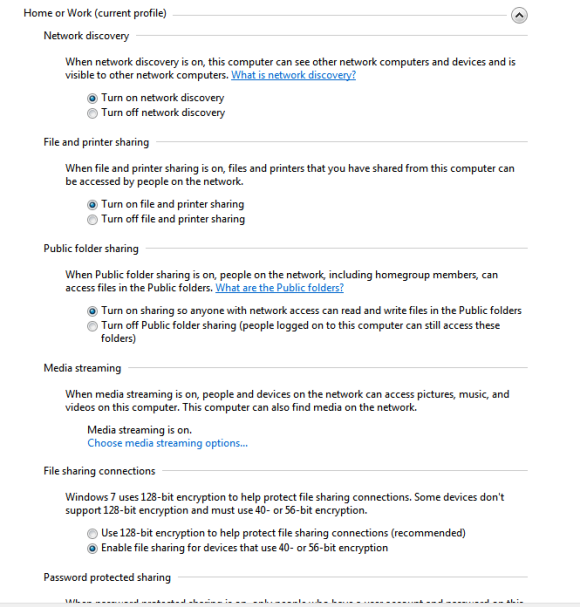 Coming back to Home Group trouble Shooter :
This wizard guides in a step by step process when you have a problem with home network you cannot figure. It starts right from network detection, refresh recently applied settings, security permissions, file and printer sharing problems etc.
Overall Home Group is an excellent feature to bring all your trusted and family computer at one place and managing all the settings in one shot instead of doing it one by one but then again everybody needs to have Windows 7 Install which I would highly recommend as it is much faster than Vista and XP both.