If you deal with a lot of copy, and editing work on Windows, then defragmentation is an option you should try. The inbuilt function can optimize disk drives, so you get better copy speed and an overall boost in performance. This post will show how you can schedule Windows defragmentation or drive optimization.
How To Schedule Windows Defragmentation or Drive Optimization (Windows 11/10)
If you use HDD, then technically, it's called defragmentation, but if you use SSD, then it's trimming. SSDs have the brain to manage space and deliver performance., They don't need defragmentation. However, if you wish to, Windows performs trimming options for SSDs.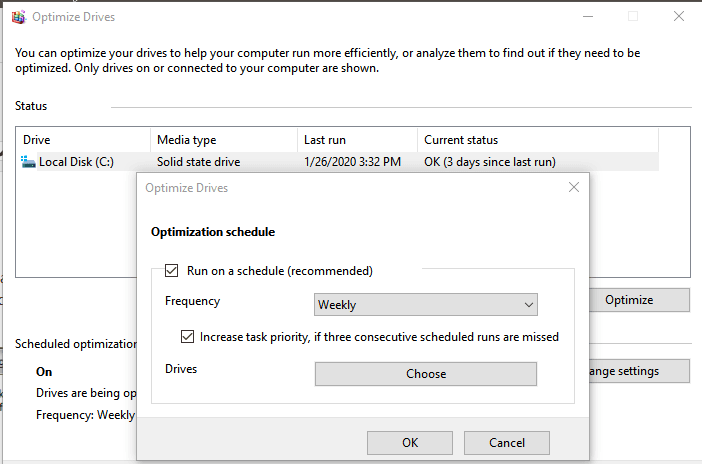 Follow these steps to schedule defrag or optimization on Windows PC
Type defrag in the Start menu.
Click on the program with the name—Defragment and Optimize Drives.
Select the disk for which you need to schedule the process
Click on the Change Settings button, and here you can choose

Frequency: Weekly, Monthly, or Daily
Increase task priority if three consecutive scheduled runs are missed.
Click on the Choose button to select drives
Make sure to choose the Optimize drives option.
If you want to do that instantly, you also have the Optimize drive button up front.
Schedule Disk Defragmenter in Windows 7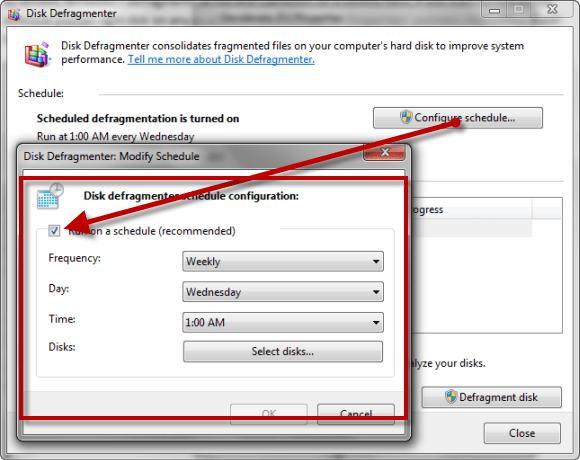 Windows 7 had a precise scheduler. Here you can choose to defragment your disks on a daily, weekly, or monthly basis, or if you have an old system, which is slow and lacks resources, you can remove the scheduled defragmentation option (uncheck the 'Run on a Schedule' option), and defragment it manually whenever you are not working on your computer.
I highly recommend you perform it weekly for HDD and monthly for SSD. The later life span depends on how many times they are re-written, hence lower the better. Most SSD has an overprovisioning feature that takes care of speed and optimization.
I hope you were able to schedule Windows 11/10 defragmentation process to optimize drives to increase performance.