Are things looking small on your PC? Do you want bigger text? There can be multiple preferences or need-based reasons for wanting to change the font type or size, and in this article, we'll go over several ways using which you can increase text size in Windows 11/10. Once the change is made, it will permanently increase the text size.
Why Adjust Text Size in Windows?
In this section, we'll take a brief look at the general reasons behind wanting to increase the text size in Windows.
Finding Trouble in Reading Default/Smaller Text Sizes
Windows 11/10 has been reported to have a relatively small default text size, icon size, and such. In that case, people with weaker eyesight aren't the only ones that find reading the default size text in Windows 11/10 a bit difficult. Constantly trying to read smaller text can cause eye strain and headaches.
Making It Easier To Read Documents and Go Through System Features
Bigger texts will be easier to read, and they'll also assist in the overall peripheral vision of the user.
Preferring Larger Fonts for Appearance Purposes
Some users prefer a larger font size on their Windows computers.
There are multiple approaches for making fonts appear bigger in Windows 11/10, and in this article, we'll be going over three ways you can do that. So without further delay, let's learn about these three ways to increase the text size in Windows 11/10.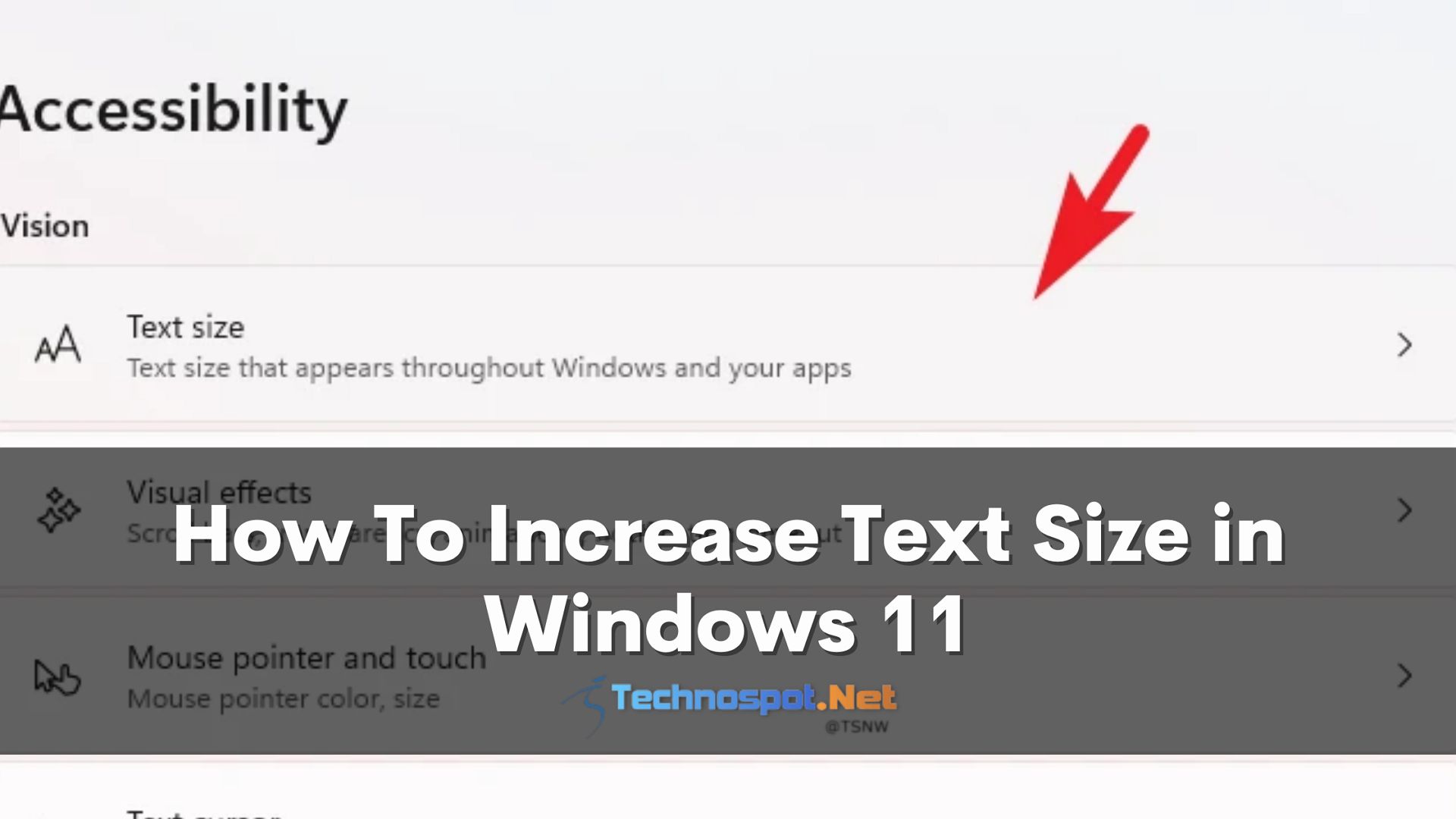 How To Increase Text Size in Windows 11/10
In this section, we'll be going over three different methods using which you can make the text size in Windows 11/10 appear larger. All these methods can be executed on your PC and are relatively easy to do.
Via Accessibility Settings
Via Scaling And Layout
Via Screen Magnifying
Let's have a detailed look at these methods.
1] Via Accessibility Settings
Windows provides an accessibility setting option that makes Windows computers more accessible and more friendly for people with specific needs. There are many different options under You can use Accessibility settings for customization purposes. Accessibility settings are also the primary way of altering text size in Windows. Follow the steps listed below to increase the text size in Windows 11/10 using accessibility settings:
Launch Windows settings by either pressing Windows key+I from the Start Menu or click the gear icon from the start menu.
Find and open the Accessibility section from the left pane.
Navigate to the Text Size option. Click on it to adjust the slider according to your needs or preferences. You also can make the text smaller than the default value from here.
Click on Apply, and your text size will change according to your preferences.
Increasing text size in Windows 11/10 via accessibility settings is relatively easy and is generally the most used way of making text size larger in Windows. However, there are two more unique ways of doing so.
2] Via Scaling and Layout
Scaling and Layout is a feature that you can use to enlarge the whole Windows display of everything on your Windows computer, including text size, app icons, and menus. Follow the steps below to do so:
Launch Windows settings by pressing Windows + I.
Navigate to System on the left side of the screen and click on it.
Find and click on Display.
Under the scaling and layout option, you'll find options 100%, 125%, 150%, and 200%. The default value is 100%, and you can set it to any of the other three options to increase the size of text, icons, and menus on your computer.
Restart your computer once to ensure thorough execution of the changed settings.
We recommend using 125% scaling as the options beyond that might be too big for users who don't have much trouble seeing and reading texts on their Windows PC. This setting will increase the font size, and apparently.
3] Via Magnifying Windows Screen Itself
The third and the last way we'll be discussing in this article using which you can enlarge the text/font in your Windows 11/10 computer is using the in-built screen magnifier. Just like the primary method of increasing the text size, the option for enabling the screen magnifier in your Windows device is also present under the Accessibility tab in the system settings. You can follow the steps listed below to do that:
Launch Windows settings via the Start Menu or by pressing Windows + I together
Locate and click on Accessibility on the left side of the screen
Find and click on Magnifier to enable/disable it.
Note: To enable and disable the screen magnifier more easily and quickly, you can press Windows + (plus sign) to magnify the screen and Windows + Esc to turn it off.
Conclusion:
Finding the default text settings small in Windows 11/10 is entirely subjective, but it is always better to know how to change the font size per one's requirements and choices. In this article, we went over a step-by-step overview of three different ways to make the texts in your Windows 11/10 computer larger in size and easier to read. With that being said, we'll conclude this article hoping that it was of assistance to you.
Related: Do you find everything small on your PC? Then follow this easy guide to fix it.
Can I Change Font Color In Windows?
You cannot change font color in Windows. Windows has recently introduced the ability to change fonts. You can, however, use some unreliable third-party methods to change font color in Windows. However, that will only work on the system, not the applications or websites you open.
Can I Change Systemwide Font In Windows?
Yes, with Windows, you can now change the font system-wide. For this, open Windows settings, then head over to the Personalization settings from the left pane. In personalization, select fonts, which will open a section where multiple preinstalled fonts will be available. You can install multiple fonts from the Windows store or upload custom fonts.