Windows 7 is going to solve one of the biggest problem by supporting  native video formats like H.264, MPEG4-SP, ASP/Divx/Xvid, MJPEG, DV, AAC-LC, AAC-HE in its core. With the new Media Foundation and Infrastructure and Directx 11 coming to Windows 7 it can take full advantage of the High Definition and Divx Video format with it.
So we can just forget about installing the codec files for Windows 7 and play the videos naturally in Windows 7.Windows 7 will include playback and transcoding of different video formats, DirectX Video Acceleration-High Definition (DXVA-HD), and overlays
Popular format name : MP4, DivX, MJPEG
File extension mappings :  .mp4, .m4a, .mp4v, .mov, .avi, .divx
Supports Change format of video and audio content as part of the process of transferring content from PC store to device.
Play and trans code whole range of formats that come from cameras : Camcorders using AVCHD container, H.264 in MP4 , FlipVideo using Xvid
New Media Foundation and Infrastructure in Windows 7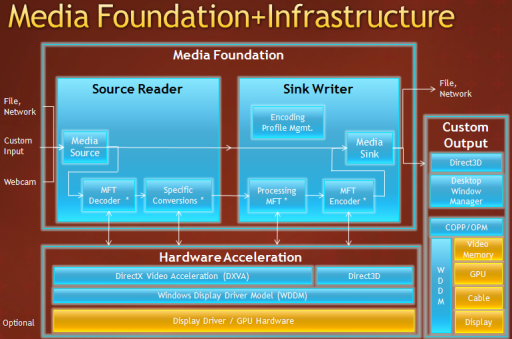 Here is the Official Microsoft powerpoint on Video Improvements In Windows 7 which you can download and get more details on it.