Windows Vista and XP and had features where some of the most used applications get used to pinned automatically on top of everything in Start menu but when I upgraded to Windows 7 , I found this feature was missing and not having common application there was becoming a problem.
Today morning I found that it wasn't missing  but it seems Windows 7 is not doing it by default and to add your favorite application on start menu you will have to pin them manually to Start menu.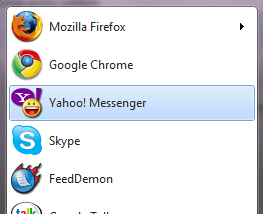 When you right click on any thing available in Start Menu, you can pin it to Start Menu and  Task Ba so that it appears on your Start Menu or to Taskbar.